2019 Class of Texas Big Board: Looking at the top sophomores
College coaches are headed out across the state and several class of 2019 prospects will be picking up offers soon. Here is a look at the early top players in Texas.
Every year, we put together a 'big board' of the sophomores across the state of Texas. The class of 2019 is shaping up to be one of the best ever in the state. There will certainly be plenty of big names not on this list that will pop up between now and when they sign but all of these prospects have the potential to be big recruits.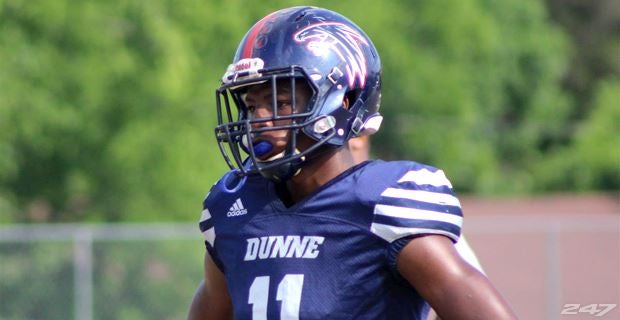 QUARTERBACK:
-Grant Gunnell, Houston St. Pius (6-5.5/192): Gunnell threw for close to 5,000 yards and 72 touchdowns in only 12 games as a sophomore. He is already a national recruit. He is a pocket passer all the way but is a better runner than would be expected with his height.
-Roschon Johnson, Port Neches-Groves (6-0/180): The dual-threat sophomore put up incredible numbers, throwing for 2,318 yards and 26 touchdowns while running for another 1,650 yards and 30 scores. He is likely a quarterback all the way but, at the very least, he's one of the top 'athlete' recruits in the country.
-Shae Suiaunoa, Clear Lake (6-3/195): A dual-threat, a lot of Suiaunoa's passing yards came via screens or quick slants. He is still learning to be a QB but has all the tools. If he doesn't end up progressing under center, he will be a top safety prospect. His combination of size and athleticism is very intriguing and he already has a Utah offer.
-Grant Tisdale, Allen (6-0/200): Though he played behind a senior this year, Tisdale still got plenty of opportunities in mop-up duty. He also came in as a runner quite often and proved tough for defenses top stop. It will be interesting to see how he does as a junior when given the reins to the high- Powered offense.
-Jake Smith, Tyler Bishop Gorman (6-2/195): Smith played in one of the most prolific passing offenses in the state, averaging over 400 yards per game as a sophomore. He is a big kid in the pocket and should garner a lot of long looks on the camp circuit.
-Carson Welch, Arlington Oakridge (6-4/185): A big pocket passer, Welch has a strong arm and isn't afraid to take a hit. He needs to cut down on bad throws but that's to be expected from a young quarterback.
-Chandler Rogers, Mansfield Lake Ridge (6-0/170): Rogers played behind a junior that has offers this year and served primarily as a runner. He looked very good on the camp circuit, though, so he will get looks at QB despite the fact he likely will not start until his senior year.
-Carson Collins, Lucas Lovejoy (5-11/180): Though he is on the shorter side, Collins has solid mechanics and does well with the intermediate throws, finding windows across the middle.
-Peyton Matocha, Houston St. Thomas (6-4/200): A big kid with deceptive running ability, Matocha has a lot of coaches intrigued by his potential. St. Thomas could become a popular stop this spring.
- Dylan Wright, Ennis (6-3/185): Wright actually spent this season on the JV squad but the coaching staff is very high on the dual-threat prospect.
-Chris Herron, Langham Creek (6-1/170): Herron started the year at receiver before moving over to quarterback. He suffered growing pains but also had moments of brilliance.
-Jaiden Howard, Crosby (6-1/150): Howard started a couple games this year when Mannie Netherly was out with an injury and he proved to be a very elusive runner. He could be another player that eventually ends up in the 'athlete' category but he will have a chance to prove himself as a full-time starter next year.
-TJ Goodwin, Cy Falls (6-4/185): Goodwin threw for almost 1,300 yards but he needs to work on his accuracy. However, he has the tools.
- Sloan Henry, Keller (6-3/220): A big pocket passer, Henry played behind a senior this year but was accurate when he was in the game. He's got a strong arm and is one to watch for sure.
RUNNING BACK:
- Noah Cain, Denton Guyer (5-11/201): The nation's top sophomore running back is currently ranked as the No. 5 overall prospect in the country for his class. He's big and fast and will have his choice of any school in the country.
- Deondrick Glass, Katy (5-8.5/180): Glass is not the biggest back but he still runs with power. His best attribute is his speed to the edge, though. He has averaged well over 10 yards per carry in his first two seasons on varsity.
- Titus Swen, Haslet Eaton (5-11/185): Playing for a first-year program without any seniors, Swen almost led Eaton to a playoff berth. He ran for 1,272 yards and also caught 35 passes.
- Deion Hankins, El Paso Parkland 6-0/205): He doesn't get a ton of press playing in far West Texas but the big back ran for close to 3,000 yards as a sophomore.
- LaDarius Wickware, Tyler Lee (6-1/185): A bigger back, Wickware runs hard between the tackles. However, he also did quite well in a spread offense. Lee will put up huge numbers as a team next year and he will be a big reason why.
- Justin Dinka, Flower Mound Marcus (5-10/170): Dinka is not the biggest back but he proved hard for defenders to stop. Though they knew he was getting the ball early and often, he still averaged 170 yards rushing in his 10 games.
- Garrison Johnson, Wolfforth Frenship (5-10/210): A bigger back, Johnson would rather run a defender over than try to make them miss. He has that SEC and Big Ten mentality and already has early offers because of it.
- Noah Smith, Cy Ridge (5-8/180): The younger brother of Arizona State commit Trelon, Noah spent a lot of time as a receiver this year. However, look for him to becomes a bigger part of the running back rotation as a junior.
-Darwin Barlow, Newton (5-11/180): Newton has a lot of very good young players and Barlow put up some very big numbers in the playoffs.
- Cameron Grant, Tyler John Tyler (5-8/170): Though he is on the small side, Grant's running ability really helped open up John Tyler's passing game, one of the best in the state. He is also a good receiver out of the backfield.
- Sincere McCormick, Converse Judson (5-9/175): McCormick has been playing on varsity for two years on one of the best Class 6A programs in the state. He has a knack for turning receptions into big gains.
- Keiran Grant, Cuero (5-9/170): Though he is a bit overshadowed on his own team, Grant is already a two-year starter at running back. Also playing defensive back, he came close to 1,000 yards rushing as a sophomore.
- Ed Williams, Odessa Permian (5-9/175): Williams is very quick to the edge. Once he bulks up a bit, he can be a dangerous all-around back.
- Jamon Johnson, San Marcos (5-11/165): It's been a while since the Rattlers have produced a big-time prospect but Johnson has the potential. He's a home run threat every time he touches the ball.
- Kyron Cumby, Plano (5-8/160): Cumby was one of the lone bright spots for Plano this year, averaging around nine yards per carry.
- Kris Morris, Padadena Dobie (5-11/180): A two-year starter on a Class 6A team, Morris would likely be a more well-known name if he were at a bigger program.
WIDE RECEIVER:
- Arjei Henderson, Fort Bend Travis (6-1/200): Henderson is a bigger, physical receiver that has some of the most impressive sophomore film in the country. He caught 100 passes for 1,401 yards this year and will see plenty of offers start coming his way very soon. Get to know his name for sure.
- Jalen Curry, Stafford (6-3/185): A bigger receiver, Curry also has serious speed. He picked up an SEC offer from Auburn before his sophomore season began and he definitely lived up to expectations.
- Theo Wease, Allen (6-2/185): Allen was not short on playmakers this year but Wease still managed to put up solid numbers. He is a good route runner and knows how to use his size to his advantage.
- Marquez Beason, Dallas Bishop Dunne (5-11/170): Beason is listed as an athlete but will likely be recruited as a receiver. He has very good change of direction and can play in the slot or outside.
- Trejan Bridges, Hebron (6-1/170): Bridges did a very good job stretching the field for Hebron this season, catching 50 passes with nine touchdowns.
- Keontae Burns, Pittsburg (6-3/175): The East Texan impressed on the camp circuit last summer, picking up his first offer before playing varsity ball. His size is intriguing for sure.
- Ke'Andre Street, Tyler John Tyler (6-4/190): There weren't enough passes to go around at John Tyler this season but Street still put up impressive numbers. He is a big target in the red zone and has sure hands.
- Kam Brown, Colleyville Heritage (6-0/160): Originally thought to be more of a cornerback prospect, Brown became the go-to receiver for a Heritage team that made a deep playoff run. With his length, though, it's not out of the question that he is also recruited on defense still.
- Garrett Wilson, Lake Travis (6-1/185): Wilson is on a team loaded with FBS seniors but still managed to put up big numbers as a sophomore. He will be one of the main focuses of the Cavalier offense going forward.
- TQ Jackson, Jefferson (6-2/175): Jackson was a dynamic big play threat as a sophomore. He had 1,100 yards receiving on 40 catches. He also has very good size.
- La'Vontae Shenault, DeSoto (6-0/160): The younger brother of Colorado WR commit Laviska, Shenault spent most of this season biding his time in a loaded receiving corps. Still, he had several big plays on the year.
- Lloyd Hill Jr., Euless Trinity (6-3/180): The son of the former Texas Tech standout of the same name, Hill Jr. does not get a lot of passes thrown his way in Trinity's run-heavy offense. When he does get the ball, though, he makes the most of it.
- DJ Baptist, Hutto (6-0/180): Despite Hutto having one of the top running backs in Central Texas, Baptist fell just shy of 1,000 yards receiving this year. He's got very good speed for his size.
- Kealon Jackson, Bellaire (5-8/165): Speed. Jackson has plenty of it. He looks like he has been shot out of a cannon on go routes and on kick returns.
- Chase Lane, The Woodlands College Park (6-0/175): Playing outside receiver, Lane averaged just over 10 yards per catch. However, he is likely a slot at the next level and is dangerous in space.
- David Clayton II, Grapevine (6-0/160): The speedy Clayton, which his 58 receptions and 11 touchdowns, was a big reason for Grapevine's 10- Win season this year.
- Zakhari Franklin, Cedar Hill (5-10/165): Franklin played behind a number of FBS juniors and seniors so his touches were limited as a sophomore but the staff at Cedar Hill is very high on him.
- Shea Whiting, Alief Taylor (6-2/170): Alief Taylor had its best season in school history and Whiting helped keep defenders honest with four-star junior Brennan Eagles lined up on the other side.
- Braylon Henderson, Plano East (5-9/153): A quick receiver in the slot, Henderson is dangerous after the catch. He averaged just shy of 20 yards per reception this season.
- Donovan Ollie, Wylie (6-2/180): Ollie was a bright spot for Wylie this season, catching over 50 passes with 10 touchdowns. He will be one to watch this spring for sure.
- Isaiah Wofford, Denton (6-0/170): Denton had an incredible season this year and Wofford was a big reason why. He scored touchdowns on 10 of his 23 total catches.
- Jordan Jones, Jersey Village (6-1/180): Cy-Fair ISD has been producing a lot of big-time prospects as of late and Jones could be the next one to come out of Northwest Houston. He easily led Jersey Village in receiving this year.
- DaViciea McCartney, Garland Naaman Forest (6-0/165): McCartney was the top receiver for a surprising playoff team. Naaman Forest did not pass the ball a ton but he was still able to make plays.
- Ty DeArman, Arlington Bowie (6-0/175): Though he might make the move to QB next year, DeArman was the district's Newcomer of the Year playing WR. He is very good after the catch.
TIGHT END:
- Austin Stogner, Plano Prestonwood (6-5/220): Stogner can put his hand down in the dirt as a blocking tight end but also proved himself a capable receiver this year, averaging 20 yards per reception.
- Thomas Gordon, Strake Jesuit (6-4/220): Playing in a tough district with all the Katy schools, the tight end put up impressive receiving numbers with 45 catches as a sophomore.
- Jalen Wydermyer, Dickinson (6-4/210): Wydermyer has plenty of room to fill out his frame as a flex tight end. He has good hands and could provide mismatches at the next level.
OFFENSIVE LINE:
- Brannon Brown, San Antonio O'Connor (6-4/305): The younger brother of Texas Tech standout Baylon, Brown has the length to play tackle but the footwork to play guard. He will see numerous offers this spring.
- Andrew Coker, Katy Taylor (6-7/305): Coker helped pave the way for a 2,000- Yard rusher this season and has a frame college coaches love. He is athletic but may end up being better suited as a right tackle at the next level.
- Tyler Johnson, Conroe Oak Ridge (6-4/280): With long arms and a lean frame, it's easy to see why Johnson picked up several offers this past spring. He will add to that list soon.
- Kenyon Green, Atascocita (6-5/280): A varsity starter on a very good Class 6A team since his freshman year, Green is already quite polished for a sophomore. He has the athleticism colleges covet in a left tackle.
- McKade Mettauer, The Woodlands (6-4/310): A guard at The Woodlands, Mettauer has helped the Highlanders to their best-ever season. The offense rolls along in both the pass and run games and he's a big reason why
- Jade Ashalintubbi, Elysian Fields (6-5/320): A big kid in East Texas, Ashalintubbi is just scratching the surface of his potential. He is very strong and moves very well for his size.
- Jonah Brewster, Frisco Wakeland (6-6/290): Brewster was a bit overlooked on an offensive line that helped Wakeland make a surprise run to the third round of the playoffs. However, it's hard to ignore his size.
- Stanley Mark, Cibolo Steele (6-4/272): A mauler as a run blocker, Mark helped pave the way for several FBS running backs this season.
- Branson Bragg, Crandall (6-3/265): A center prospect, Bragg should find himself in high demand. He is strong for his size and will only get bigger in the offseason.
- Jordan Phillips, Duncanville (6-5/323): Phillips is a big offensive guard suited for a spread offense. He is hard for defenders to get around and moves his feet well for his size.
- Reid Francis, A&M Consolidated (6-4/285): Francis is a high school tackle that also has the ability to play center. Centers, especially ones with length, are very valuable due to their scarcity.
- Ben Mason, Plano West (6-3/290): Mason can play guard or center. He's a strong guy on the interior of the line.
- Rodquice Chaney, Alief Elsik (6-4/270): Also a defensive end, Chaney was athletic enough to play tight end as a freshman. He has the potential to be a very good prospect.
- Austin Rodriguez, Plano Prestonwood (6-2/285): Currently playing tackle, Rodriguez is a bit raw but he has a mean streak. He will move inside and should be an ideal fit at center.
- Ben Ghormley, Crandall (6-4/255): Also a baseball player, Ghormley can play either tackle or guard at the next level.
- Carson Pharris, San Antonio Reagan (6-5/285): He does not have quite the experience as the others but his size and frame are both very intriguing. Reagan had a great season this year so he will get noticed in the spring for sure.
- Javonne Shepherd, Houston North Forest (6-6/279): Not exactly a hotbed for recruiters, North Forest has been one of the more consistent winning teams as of late. Shepherd's coaches are very high on him and it's easy to see why.
DEFENSIVE LINE:
- DeMarvin Leal, Converse Judson (6-4/255): A big defensive end, Leal could end up being a pass-rushing tackle when all is said and done. Coaches that went by Judson in the spring raved about him and he has already picked up offers from Oklahoma and Oklahoma State.
- Marcus Stripling, Katy Mayde Creek (6-4/225): Mayde Creek has not produced many recruits over the years so the fact that coaches have already found Stripling should say something. He is a good pass rusher that also is strong enough to play the run.
- Hunter Spears, Sachse (6-4/260): The size of a strongside defensive end, Spears plays quicker than his measurements would suggest. He could find himself as a national recruit in the class.
- Bryton Thompson, Atascocita (6-4/262): A big defensive end, Thompson will most likely play inside at the next level. He helped Atascocita make a deep playoff run and could find himself even higher on this list a year from now.
- Braedon Mowry, Katy Taylor (6-3/230): Mowry is very quick off the edge, having compiled 13 tackles for loss and four sacks as a sophomore. His film is definitely fun to watch.
- Jaime Ferguson, San Antonio Madison (6-2/245): After transferring from Judson, Ferguson proved to be a solid pass rusher for a big defensive end, finishing with 15 tackles for loss as a sophomore.
- Shemar Pearl, Plano West (6-4/225): Pearl was one of the bright spots for Plano West this year. He has the quickness to be a pass rusher but may end up as a strongside end at the next level.
- Jayden Jernigan, Allen (6-1/262): A former defensive end, Jernigan made the move to defensive tackle this year and is very quick on the interior.
- Jevon Leon, Alief Hastings (6-2/240): Hastings was a young team this year but Leon is a bright spot for the future. He had 15.5 tackles for loss and 3.5 sacks against a very tough schedule.
- Nelson Ceaser, Fort Bend Ridge Point (6-4/210): A very good pass rusher, Ceaser helped Ridge Point to an undefeated regular season, finishing with 7.5 sacks as a sophomore.
- Josh Ellison, A&M Consolidated (6-3/300): For being a noseguard, Ellison is quick off the ball. He had six sacks and 10 tackles for loss as a sophomore.
- David Neal, Austin Westlake (6-2/220): Neal makes plays from his defensive end position. He had multiple double- Digit tackle games in the playoffs.
- Gilbert Ibeneme, Pearland (6-3/240): Though he is a bit raw, Ibeneme jumps out immediately with his long arms and athleticism off the edge. He will be a name to watch for sure.
- Khris Pruitt, Pearland Dawson (6-3/240): Pruitt lined up all over the front four for Dawson but his future is likely at defensive tackle. He is quick from the interior.
- Lloyd Murray Jr., Wichita Falls Hirschi (6-1/300): A big body on the interior, Murray is a bit raw but he is quick for his size.
- Gerald Irons III, Klein Oak (6-1/260): The son of former Nebraska lineman Gerald Jr. and the grandson of former NFL standout Gerald, Irons III has the bloodlines to be very good.
- Kasual Savoy, Alief Hastings (6-2/260): The defensive tackle is a good run stopper and has the frame to add plenty of weight down the road.
- Patrick Bayouth, Houston Episcopal (6-3-245): Episcopal loses a pair of five-star seniors in the class of 2017 but Bayouth is part of the next wave of talent at the schools.
LINEBACKER:
- Anfernee Orji, Rockwall (6-1/205): The younger brother of 2018 four-star LB Alston, Orji is more like an athletic safety playing the linebacker spot now. His quickness allows him to make a ton of plays.
- Maki Carabin, Alamo Heights (6-2/215): Already a two-year varsity starter, Carabin plays sideline- To- Sideline. He's likely a middle linebacker at the next level but is athletic enough to play any of the three spots.
- Chance Cover, Byron Nelson (6-2/210): An inside linebacker prospect, Cover plays downhill very well and is able to shed block like a MIKE should.
-Marcel Brooks, Fort Worth Nolan (6-3/190): A bigger high school safety, Brooks is a violent hitter that should be able to make the transition to linebacker.
- Josh Blagowsky, Plano East (6-2/200): Though he sometimes plays outside, Blagowski is likely a MIKE at the next level. He loves playing downhill.
- Jay Abdallah, The Colony (5-11/190): Abdallah might end up making the move to safety at the next level but he's a good pass rusher, finishing with eight sacks as a sophomore. He also had five forced fumbles.
- Corey Parks, Converse Judson (6-0/220): A high school defensive end, Parks is built like an inside linebacker.
DEFENSIVE BACK:
- Brian Williams, Dallas Bishop Dunne (6-0/185): The early top player in the state for the class, Williams is an incredibly physical safety that also has a knack for the ball. He is one of the most complete players in the country, regardless of position.
- Jamal Morris, Fort Bend Bush (6-1.5/185): Morris is a lengthy safety that can play in the box but can also cover receivers in man. He is one of the better cover safeties in the state and has a lot of schools intrigued early on.
- Demani Richardson, Waxahachie (6-1/190): A bigger safety, Richardson loves to play violently. While it's not out of the question that he grows into a linebacker, he moves very well in coverage and would have no problem playing in the secondary at well over 200 pounds.
- Jalen Catalon, Mansfield Legacy (5-9/175): One of the best pure football players in the state, Catalon is a slightly undersized safety. He simply makes plays, though, averaging close to 20 tackles per game as a sophomore.
- Jonathan McGill, Coppell (5-11/180): Also spending time as a WR this season, McGill is already a two-year starter for a Class 6A program. He had seven interceptions this season.
- Myles Heard, Fort Bend Dulles (5-11/180): Dulles has some good young talent and Heard is a safety with an eye for the ball. He loves to hit.
- Monto President Jr., Temple (5-11/197): The younger brother of Tulsa QB Chad President and UCA S commit Ashton Logan, President Jr. was part of a defense that allowed Temple to make a very deep playoff run. He is very physical.
- Deondre Dansby, Denton Guyer (5-10/180): After playing on varsity for Denton Guyer as a freshman, Dansby moved to Abilene in the offseason. He had over 100 tackles from his cornerback spot as a sophomore while also adding three interceptions.
- Anthony Watkins, Fort Worth South Hills (6-0/180): Watkins loves to hit, finishing with double- Digit tackles in several games as a sophomore.
- Rance McInnis, Cy Ranch (6-0/185): For a safety, McInnis has very good ball skills. He had two interceptions in a game against a very good Cy- Fair team as a sophomore. He will get a lot of attention playing for a loaded Cy Ranch program.
- Erick Young, Fort Bend Bush (5-11/187): A physical corner, Young also has a nose for the ball, returning two interceptions for touchdowns as a sophomore.
- TJ McDaniel, Coppell (5-10/175): The brother of former Notre Dame RB Cam, McDaniel also spent some time at running back this year. However, he is already a two-year varsity starter at cornerback.
- Ronald Nunnery, Alief Elsik (6-1/175): Also a standout basketball player, Nunnery covers a lot of ground from his safety spot.
- Xavier Gipson, Dallas Woodrow Wilson (5-9/150): Though he is a very good cornerback as well, Gipson really made his mark as a returner this year. He had four punt return touchdowns and two kickoff return touchdowns on the season.
- Xavier Player, Cibolo Steele (5-11/160): Player is definitely on the skinny side but he closes fast and has a good eye for the ball. He got a lot of playing time on one of the best defenses in the state.
- David Charles, Converse Judson (5-10/195): The safety is always around the ball and has good speed for his size.
- Cameron Pair, The Colony (5-9/175): Pair is an undersized safety but definitely has a nose for the football.
- Jared Pedraza, Franklin (5-10.5/187): The safety is from a small school but he likes to deliver big hits.
ATHLETE:
- Jordan Whittington, Cuero (6-1/190): Also a candidate to play safety at the next level, Whittington is probably too dangerous with the ball in his hands to keep away from the offensive side of the ball. He is a dangerous return man as well. He already holds numerous offers and will be able to choose any school in the nation.
- Tamauzia Brown, Newton (6-0/170): Brown's freshman film was good and he stepped things up even further as a sophomore. He averaged almost 30 yards per catch, ran for over 500 yards and had four interceptions on defense.
- Joseph Carter, Plano East (6-1/200): Carter missed much of the year with an injury from 7-on-7 but he will definitely turn the eyes on coaches this spring. His future is probably as a receiver but he's also a very good safety.
- L'Ravien Elia, Beaumont West Brook (6-0/175): Elia threw for over 1,100 yards and ran for over 1,200 as a sophomore. He would prefer to play quarterback but he has the talent to line up at a number of spots.
- Josh Foster, Newton (6-0/160): Though he had limited touches on offense, he is still dangerous with the ball. On defense, Foster had over 100 tackles to go with four interceptions.
- Bobby Wolfe, Houston Madison (6-1/185): A standout receiver as a freshman, Wolfe made was a first- Team all- District selection as a cornerback this year. He's intriguing as a bigger defensive back for sure.
- Ainias Smith, Fort Bend Dulles (5-8/176): The younger brother of Georgia cornerback Maurice Smith, Ainias is a standout on both sides of the ball. With his speed, he's very dangerous in the slot.
- Chase Griffin, Hutto (5-10/160): A high school quarterback, Griffin could play the position at the next level. However, due to his height, schools will probably recruit him as an athlete. He threw for over 3,000 yards with 31 touchdowns as a sophomore.

(Want to see what GigEm247 is all about? Try it COMPLETELY FREE until 2017!)
CBS Sports HQ Newsletter
We bring sports news that matters to your inbox, to help you stay informed and get a winning edge.
Please check the opt-in box to acknowledge that you would like to subscribe.
Thanks for signing up!
Keep an eye on your inbox for the latest sports news.
Sorry!
There was an error processing your subscription.
Rocco Carley did no play last season with the Beavers, taking a redshirt

Turk had declared for the 2020 NFL Draft and signed with an agent but is now allowed to return

Players are back on campus for 'voluntary' workouts, but Riley believes that's the wrong move...
Jacolby George has pledged to The U again

Ranking each SEC team by its projected strength of schedule in 2020

Linebacker Amen Ogbongbemiga said he tested positive despite being well protected in the large...
CBS Sports was with you all day covering National Signing Day as the Class of 2020 wrapped...

Complete analysis, highlights and coverage of the 2020 College Football Playoff National Championship

Live scores, highlights and updates from the Miami (OH) vs. Louisiana football game