247Sports Still-too-early Top 25 countdown: No. 9 Oklahoma State
The Cowboys have plenty of talent returning off a 10-win team, is this the year they unseat Oklahoma in the Big 12?
Editor's Note: This is the 17th of a 25-part series. Using our still-too-early Top 25, 247Sports is giving a post-National Signing Day outlook for college football's top teams.
Oklahoma State Spring Game: April 15
Mullets and singlets might capture the headlines surrounding Oklahoma State football at the moment, but make no mistake, the Cowboys' product has been among the nation's strongest the last two seasons.
Oklahoma State followed up a 10-win campaign in 2015 with another 10-win run in 2016. It's the fifth double-digit win season in the last seven years for Mike Gundy and the Cowboys, and they're set up for another strong run in 2017.
Quarterback Mason Rudolph is back for his senior season, as are many of the team's strongest contributors. The Cowboys still have to push through in-state rival Oklahoma, but they check in at No. 9 in 247Sports' Still-too-early Top 25.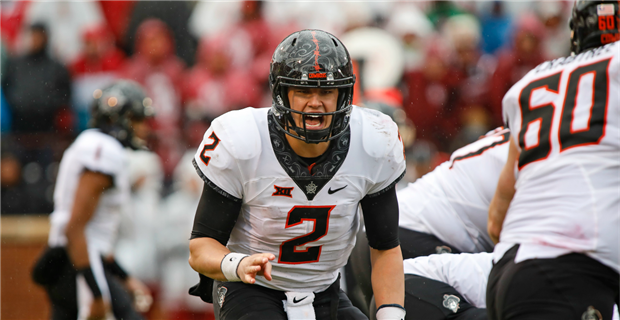 Offseason Outlook
(Returning Starters: Offense – 7, Defense – 6)
It's been this way for a few years now, but the Cowboys offense runs through Rudolph.
One of the nation's best pocket passers, Rudolph threw for 4,091 yards, 28 touchdowns and 4 interceptions in 2016. He's a great deep ball thrower (9.1 yards per attempt) and is in firm command of the Cowboys attack.
The rest of the offense spirals off the quarterback.
After a few years of searching for consistent running back production, the Cowboys found a breakout star in freshman back Justice Hill (1,142 yards, 6 touchdowns). Star wideout James Washington (71 catches, 1,380 yards) returns as does the team's second-leading receiver Jalen McCleskey (73 catches, 812 yards).
Oklahoma State will have to replace tight end Blake Jarwin and his backup Zac Veatch in addition to left tackle Victor Salako. But the Cowboys have depth at tight end, and they've been consistently strong in their production of offensive line talent, so those losses can easily be mitigated.
The Cowboys were a middle-of-the-pack defense nationally, but in terms of the scoring-heavy Big 12 they were in the upper tier.
Oklahoma State's run defense (82nd nationally) was an issue. Departing safety Jordan Sterns led the team with 101 tackles, which is usually a sign of poor tackling in the front seven, and a young front four will also lose its most effective pass rusher in Vincent Taylor (13 tackles for loss, 7.5 sacks) to the NFL draft.
Also leaving are linebacker Devante Averette (81 tackles), linebacker Jordan Burton (61 tackles, 2 INTs) cornerback Ashton Lampkin and starting nickelback Lenzy Pipkins.
That's a lot of departed production for a defense that is one of the main reasons the Cowboys were able to reel off seven straight wins in the middle of Big 12 play.
There's young talent behind those players, but Oklahoma State will need to be a collective unit in 2017 without a scheme buster.
Offseason Storyline to Follow
Pressure on the quarterback was a big question mark for Oklahoma State entering 2016 after Emmanuel Ogbah left for the NFL. That didn't prove to be too much of an issue as the Cowboys finished 32nd nationally in sacks per game and 29th in tackles for loss last season.
But that question will come up once again this offseason with the departure of Taylor.
Accounting for 13 tackles for loss and 7.5 sacks, Taylor was Oklahoma State's top pass rusher and the only Cowboy to earn more than 10 tackles for loss. All of that production came from the interior of the line, too.
Just junior Tralund Webber, who had nine tackles for loss and six sacks, returns in 2017 with more than 3.5 sacks on their resume from last season.
Webber is a potential breakout star next year, which is a good thing for Oklahoma State because someone in the front seven needs to be. A balanced effort is fine, but the Cowboys need some young sack producers to emerge.
Instant-Impact Addition
Patrick Macon (LB): The National Junior College Athletic Association Defensive Player of the Year, Macon should help the Cowboy defense right away.
The 6-foot, 217-pound junior could slot in either of Oklahoma State's two vacated linebacker slots, especially on the outside where he's a pass-rushing terror. Macon, one of the players who could emerge as the defensive star Oklahoma State needs, led the NJCAA with 27.5 tackles for loss last season to go along with nine sacks.
Previous Teams Ranked in 247Sports' Too-Early Top 25 Countdown
No. 25: Oregon
No. 24: Florida
No. 23: UCLA
No. 22 Boise State
No. 21: Texas
No. 20: South Florida
No. 19: Miami
No. 18: West Virginia
No. 17: Stanford
No. 16: Kansas State
No. 15: Georgia
No. 14: LSU
No. 13: Michigan
No. 12 Louisville
No. 11 Wisconsin
No. 10 Auburn
These Jayhawks got a tremendous surprise they weren't expecting

Jovon Durante announced on Twitter he's headed to FAU

From Week 1 through the title game, everything runs through Atlanta this season
A concert is a nice way to break up preseason camp

Mills was arguably Georgia Tech's most important player coming into the season

Hugh Freeze's phone records reportedly show another troubling pattern for Ole Miss