25 spring football thoughts: Chasing Alabama, QB battles and new coaches
Spring football is here. With so much going on across the country, CBS Sports columnist Dennis Dodd breaks down what fans need to know and pay attention to over the next two months.
It used to be possible to pull up a lawn chair to the sideline and watch. Scrimmages weren't televised. Quarterback battles weren't scrutinized like presidential primaries.
It was a simpler time when there actually used to be a spring break during spring practice. Usually, that would signify a more relaxed time. Not so in 2016.
Forget the lawn chair on the sidelines. At certain schools, you'd get the fish eye from a security guard. Forget a coach mentioning anything about the depth chart. That might scare away the next quarterback. Never mind that guys are coaching for their jobs … in March.
Spring practice is supposed to be fun. It's supposed to be laid back.
You be the judge wading your way through these 25 things to watch this spring …
1. Hail to the Sunburned: Yeah, baby, Spring Fling '16. Get a cooler, load up the car. We're driving all night to Florida. Son of a beach, dude. Sun's out, guns out ... and all that. Wait, what? We actually have to work? We actually have to practice? Bummer. What time's bed check?
While these words may or may not have actually been spoken within the Michigan program, they are an indication of Jim Harbaugh's growing influence -- on Michigan, the Big Ten, college football, the NCAA and social media.
Going forward, spring break no longer means sunscreen and a hangover for the average player. It means having your team work out on their days off. It means taking advantage of loopholes. It means gaining a competitive advantages. At least, that's the way some saw Michigan's spring practice trip to Bradenton, Florida last week. But if you're Harbaugh, it means thumbing your nose at the world. Michigan's coach is probably the first with an ability to instigate NCAA legislation through Twitter.
There's something Trump-ish about Michigan's coach. He doesn't care who he offends on his way to the ultimate goal. You have to admit, he is delivering. Harbaugh won 10 games in the Big Ten with a roster didn't look like it could come close to 10 wins in the Big Ten. Then he killed it in recruiting. Then he took his team to Florida on their week off. No one seems to be complaining except those that could lose football games to Michigan.
2. Alabama's next act: No quarterback? No Heisman winning tailback? No problem. Alabama will most likely go into 2016 favored to win their fifth championship in the last eight years. What you won't see this spring: Doubt … despite the loss of a quarterback Jacob Coker and tailback Derrick Henry. Somehow, the majority of draft-eligible juniors stayed at Bama, including College Football Playoff National Championship offensive MVP O.J. Howard.
3. No tackle zone: Some Dartmouth engineers have built a robotic tackling dummy that is threatening to revolutionize the game. Last week, the Big Green's conference -- the Ivy League -- said it would stop tackling in practice. It all has to do with the increasing concern over head trauma. The inventors of the Mobile Virtual Player took the MVP to the American Football Coaches Association in January. "It blew the ceiling off," said John Currier CEO of MVP LLC. "Coaches were standing around with their cell phones filming it."
Is this the end of tackling as we know it? It sure seems like we're trending that way.  Chuck Bednarik may be turning over in his grave. Meanwhile, the MVP folks are spending part of the spring hawking their device to some Big Ten and NFL coaches. We know Michigan State is interested. Never thought we'd see the day, Mark Dantonio.
4. Expectations raised further for Deshaun Watson: We want to see a repeat CFP appearance ... and more. A Heisman would be nice for the Clemson quarterback, who is still ascending. His influence on the game continues to grow. Nationwide, quarterbacks averaged 2.93 yards per rush. That's a 58 percent increase since 2005. In 2015, quarterbacks accounted for 16 percent of the rushing yards. In 2005, that number was barely over 10 percent. Thank mobile quarterbacks like Watson, who is the second-leading returning rushing QB in 2016 (1,105 yards).
5. Five big quarterback battles
• It's a four-headed monster at Alabama with the departure of Coker. For the third straight year, Nick Saban is looking for a new signal caller.
• 2015 redshirt Deondre Francois and freshman Malik Henry are poised to challenge Sean Maguire at Florida State.
• Houston transfer John O'Korn might have the advantage at Michigan over four challengers.
• At Notre Dame, Malik Zaire is back from injury. DeShone Kizer did nothing to embarrass himself as Zaire's replacement. Brian Kelly can't go wrong.
• Fourth-year junior Max Browne tries to win the job over redshirt freshman Sam Darnold at USC.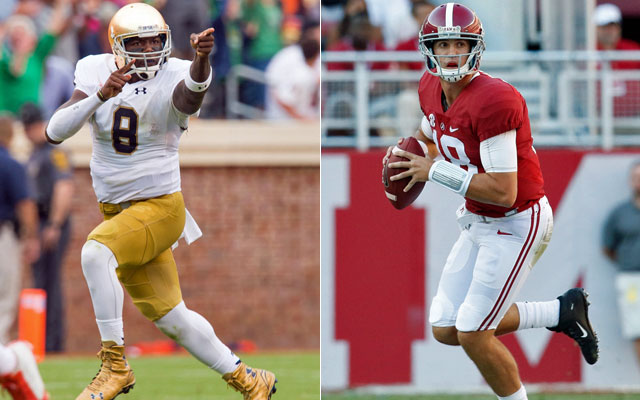 6. Lovin' Lovie: OK, so Illinois' new coach hasn't been in college since 1995. Yes, we know, a lot has changed since then. The former Bears' and Bucs' coach will have to get up to speed on concepts like … recruiting. While Smith finds his way, the movement continues. That would be the movement to get more minority coaches in the game. Smith becomes the 15th African-American coach (out of 128 in FBS) for 2016 (11.7 percent). That's up from 11 in 2014.
7. Big 12 expansion: The spring will not end without the Big 12 getting close to deciding something about its future. The league is considering some combination of expansion and/or a conference network and/or a conference championship game. Watch the Big 12 spring meetings, May 31-June 2 in Dallas, closely. A final decision should come this summer. There hasn't been this much realignment upheaval since The Great Reshuffling of 2010-11.
8. No retreads allowed: No head coach experience? No problem as 22 of the 29 new coaches have never held that role in FBS. That ranges from Bowling Green's Mike Jinks, who was in high school three years ago, to Georgia's Kirby Smart. What's it all mean? It could be that ADs are willing to roll the dice on The Big Thing. It could be that new guys are cheaper. None of them, including Smart, are sure things. Whatever the case, the clock is ticking on all of them. They've got about five years, on average.
9. Beer. At The Swamp. What could go wrong? Actually, Florida's recent announcement it will offer beer and wine at games isn't the apocalypse it seems to be. Only those in premium seating will be able to exercise their right to party. Booze in these private seats is actually a common and growing practice across the country. But you can bet alcohol sales to the general public will be even more commonplace soon. There is a pilot program -- by the NCAA -- to serve beer and wine this year at the College World Series.
10. A Hill to climb at TCU: That bowl comeback against Oregon was great, but we're looking for a different kind of comeback from the Horned Frogs. It starts with quarterback Kenny Hill, who went from Heisman candidate to flame out at Texas A&M. Hill reemerges at Fort Worth with equal parts promise and -- from observers -- trepidation. Hill would be less of an issue if Trevone Boykin had not ended his career with an ugly bar incident in San Antonio. If Hill wins the job by beating out three challengers, Patterson will be replacing Boykin with a guy with previous off-field issues.
11. Taysom Hill's courage: BYU's senior quarterback has suffered three season-ending injuries. The latest was a gruesome and painful Lisfranc injury (basically a broken foot) in the 2015 season opener. Then he lost the coach who recruited him as Bronco Mendenhall bolted for Virginia.
Hill is smart enough to be working on Wall Street, athletic enough to give the NFL a shot, old enough to be a graduate transfer elsewhere. (Mendenhall offered him a spot at Virginia.) Instead, he is returning to BYU. Of course, this makes no sense. Apparently, loyalty still means something. Hill is guaranteed nothing. He'll have to beat out sophomore Tanner Mangum, who threw for 23 touchdowns after Hill went out. Bravo, Taysom.
12. James Conner's courage, squared: You may have heard Pittsburgh's tailback has vowed to play in 2016 despite a diagnosis of Hodgkin's lymphoma. Your jaw may drop when you realize he's working out with his teammates this spring while undergoing chemo.
13. Early entries: The good: The NFL will have its pick from a near-record 96 juniors who have declared for the draft. The bad: The NFL only drafts 256 players. That guarantees a lot of future Applebee's managers won't hear the phone ring on draft day.
The good: Nine of those will be Ohio State players. That solidifies Urban Meyer's coaching chops able to recruit, coach and spit out talent that is NFL ready. The bad: If Meyer continues to be this good, he'll have a depth issue with too many players leaving too soon.
14. Which way, Aggies? Let's first express sympathy to Kevin Sumlin for the loss of his father. That makes the concern over the transfer of Sumlin's star quarterbacks (Kyler Murray, Kyle Allen) and the importance of filling a newly renovated Kyle Field secondary.
It's mattering less that Sumlin has the program on its best four-year run in more than 20 years. Using the most optimistic of metrics, Texas A&M has the fourth-best program in the SEC West. Maybe it's the Ags settling to the "proper" pecking order as an SEC newcomer. Maybe Sumlin still has the touch. In a weird "swap," Kyler Murray -- one of those departed quarterbacks -- transferred out to Oklahoma, while former Sooner Trevor Knight transferred into A&M.
15. Texas Strong: This is a crucial spring for Texas' third-year coach, mostly because Charlie Strong is in his third year at Texas. Longhorns want a return on their investment. The recent recruiting class offered promise, but there's still no obvious quarterback on the roster who looks like he can spin it in the nation's highest-scoring conference. With Texas' network floundering -- in part because of the floundering football program -- something has to happen, quick, in Austin. We suggest an eight-win season for Strong, for starters.
16. Is Penn State "back?" Since the Jerry Sandusky sanctions in 2012, the Nittany Lions have a better winning percentage than Auburn and Texas. In that span, they've won one fewer game (29) than Miami, which had its own off-field problems. Penn State has avoided dipping below .500 since Joe Paterno's departure. However, there is some feeling that the worst is yet to come because of the cumulative effects of the penalties. Don't tell that to coach James Franklin, who lost defensive coordinator Bob Shoop and quarterback Christian Hackenberg.
Seventeen starters return. The offensive line can't be much worse. Ohio State and Michigan State visit Happy Valley. It will be interesting to see what the Nits consider success this season. I'm betting that a third consecutive 7-6 season won't be it.
17. Les' leverage: Les Miles stared down his athletic director and the administration in one of the weirdest non-firings of all time. The Tigers return locked and loaded for another SEC West run. Quarterback Brandon Harris should improve a notch. Offensive line is a veteran unit. Leonard Fournette led the nation in rushing. All that young talent is maturing once again. The Alabama game is in Baton Rouge, Nov. 5 to be exact. Note to LSU administration: Please don't eff with your excellent coach.
18. On the hot seat: These are the top five coaches, among those in Power Five conferences, who could be looking for new jobs next season -- Kevin Sumlin, Texas A&M; Charlie Strong, Texas; Mike MacIntyre, Colorado; Gus Malzahn, Auburn; Les Miles, LSU
19. Christian McCaffrey's next challenge: Get the Pac-12 in the playoff. Yes, there's that much pressure on the best all-purpose back of a generation at Stanford. The math goes like this: The Pac-12 stands first in line to be the first Power Five conference left out of the playoff in consecutive years.
By the looks of things, the conference will struggle to have a team in the preseason top 10. Stanford might be the best bet after David Shaw led the Cardinal to a fourth major in five years. McCaffrey enters the spring and the season as perhaps the nation's best player. Without him, Stanford (and perhaps the entire Pac-12) doesn't have a chance.
20. Football Four, spring edition
Peach Bowl semifinal: Clemson vs. LSU
Fiesta Bowl semifinal: Alabama vs. Oklahoma
21. They're still playing football at Tennessee? In what is supposed to be a breakout year for Butch Jones and the Vols, they will have to accomplish the feat of possibly winning the SEC East amid scandal. Ten starters back on offense, seven on defense. Tennessee is already assured of playing the biggest game of the season -- that is, most-attended -- vs. Virginia Tech, Sept. 10 at Bristol Motor Speedway. However, until further notice, the Title IX lawsuit and all it alleges will continue to hang over the program.
22. Notre Dame security: Trying to think of something critical to say about Notre Dame. Just can't. They were in the playoff conversation last season. Corey Robinson could be the nation's best "student-athlete." Brian Kelly seemingly can't lose in the spring quarterback battle (see above). Actually, Kelly can't lose, period. If he stays through the life of his recent contract extension, only Knute Rockne will have lasted longer at Notre Dame.
23. Hunker down you hairy Hurricanes: The ex-Georgia coach remains the best hire in one of the wildest silly seasons on record. While some felt Mellow Mark may take a year off after his firing, Mark Richt jumped in with both flip flops when the interest from The U was reciprocal. Things might finally be settling down in Coral Gables. Still, it seems weird to see Richt throwing up the "U."
Welcome to the U!! pic.twitter.com/UipyK61KoG

— Mark Richt (@MarkRicht) February 3, 2016
24. The most exciting team to watch in the spring will be … Syracuse. This is not necessarily a prediction that the Orange will be successful in Dino Babers' first year. It is a prediction that watching Babers install his spread attack will be like transforming a block of granite into an Olympic sprinter. Interesting, to say the least. In two years at Bowling Green, Babers took the Falcons to two MAC title games, winning one. His offense averaged more than 42 points per game last season. Before that, Babers was an FCS whiz at Eastern Illinois.
Naked eye inspection: Syracuse remains one of the slowest teams in the country. That will change. With Cuse considering a massive Carrier Dome upgrade, Babers' offense could fall in line with a massive Orange turnaround on the field. It may not happen quickly, but eventually under Babers, the Orange will at least be quick.
25. Never be the guy to follow the guy: Good luck to these three guys, each replacing the winningest coach in their school's history -- Will Muschamp (Steve Spurrier, South Carolina), Justin Fuente (Frank Beamer, Virginia Tech) and Barry Odom (Gary Pinkel, Missouri).
CBS Sports HQ Daily Newsletter
Get the best highlights and stories - yeah, just the good stuff handpicked by our team to start your day.
Please check the opt-in box to acknowledge that you would like to subscribe.
Thanks for signing up!
Keep an eye on your inbox for the latest sports news.
Sorry!
There was an error processing your subscription.
Christian McCaffrey and Leonard Forunette were once admonished for decisions we now shrug...

SportsLine's advanced computer model simulated every college football bowl game 10,000 tim...

Fralic was inducted into the College Football Hall of Fame in 1998
Shawndarrius Phillips was recently charged with domestic battery, but the warrant was issued...

Malzahn's Tigers went an underwhelming 7-5 in 2018

Josh Nagel is on a 20-6 run on spread picks and just locked in his bowl confidence selecti...