25 things to watch: The playoff will affect everything, except elite's status
The College Football Playoff and landmark court decisions will change lots of things in the sport, except this: Alabama should end up on top.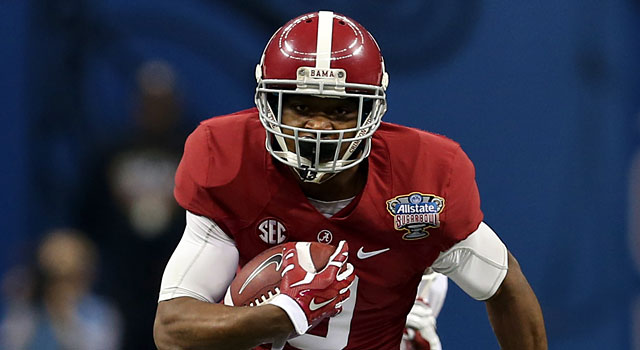 1. The Playoff
It will rule our lives. Heck, it dominated the conversation in the two-year gestation period it took to pump out this offspring.
Like it or not, the playoff -- excuse me, College Football Playoff -- is what matters this season. It's new. It's largely unknown. It's how we will determine the national champion. Four teams, three games. It's almost more about who gets in than who wins.
The math tells us that at least one Power 5 conference is going to be left out. The 13-person selection committee automatically becomes the most powerful such body in college sports.
All of it is essentially outside the NCAA's control. The CFP being overseen by the commissioners, selected by 12 respected administrators and one former media member.
In the process, our college football lives are about to change. Even before the first selection committee poll comes out Oct. 28, we'll be obsessed with the top four. Braxton Miller's injury already has upset the natural order of things.
No more midweek football? That changed when ESPN/CFP decided on a Tuesday night release of the poll -- a full three days after the games.
Nothing like taking a while to contemplate the results. Initial question: Will coaches hide injuries (even more) in order to protect their spot in the poll? It won't matter much in October but it sure as heck will be a factor in late November/December.
Will the SEC continue to dominate like it has the previous eight years? Will the Pac-12 emerge as a legitimate challenger to that dominance? Does the Big 12 need to institute a conference championship game?
Will our interest in the nation's second-most popular sport wane? Absolutely not.
2. The New Year's Six
Or the 12 teams that will participate in the six top-tier bowls rotating through the playoff.
National semifinals
No. 1 Alabama Crimson Tide vs. No. 4 Oregon Ducks , Sugar Bowl
No. 2 Florida State Seminoles vs. No. 3 Michigan State Spartans , Rose Bowl
Others
Ohio State Buckeyes vs. Clemson Tigers , Orange
Marshall Thundering Herd vs. South Carolina Gamecocks , Peach
Oklahoma Sooners vs. Auburn Tigers , Cotton
UCLA Bruins vs. LSU Tigers , Fiesta
3. The Champion
Alabama ... because the tailback trio of Kenyan Drake, Derrick Henry and T.J. Yeldon are the best in the country ...
Because Amari Cooper should be in the NFL by now.
Because the Tide won't play a true road game until Oct. 4.
Because the Auburn game is at home.
Because the Tide are motivated after winning merely 11.
Because Kirby Smart is still there.
Because Chris Davis isn't.
Because ... Nick.
4. The Athlete
They have free scholarships, sure, but those hardly measure up in a multi-billion for-profit industry that takes advantage of them as a pass-through.
It's up to them to take advantage of that schollie, sure, but they don't account for a knee replacement at age 50.
Everything seemed to change for the college athlete-student in the offseason. Unionization, a landmark settlement in a class-action concussion case, O'Bannon.
The college athlete now has leverage. He/she is self-aware. They realize they are the product. Going forward, players will be compensated over and above tuition in some form. The collegiate model is dead. It is now a court-appointed model.
In the future, athletes may negotiate the start offseason practices, the exact composition of those "voluntary" offseason workouts. If not, well, don't forget they are the product. They can choose whether they want to play.
What if they staged a playoff and none of the participants showed up?
5. The SEC
Simple math tells you the Strength Everywhere Conference can't be as good. Call it chaos theory. Nothing lasts forever, and with four other major conferences getting richer themselves all the time, well, there's a reason everyone competes.
A playoff means participating SEC team(s) will have to win one more game to have a hope of keeping the streak alive (eight consecutive BCS title-game appearances, seven wins). Meanwhile, NFL early entrees have drained the conference of talent. Alabama, LSU, Texas A&M and Georgia are all breaking in new quarterbacks.
Can it all continue?
6. The Pac-12
Larry Scott's Conference Creation is largely regarded at least on a par with the SEC going into the season.
The Pac-12 features 10 returning quarterback starters. Ten of the 12 schools have changed coaches in the past three years. Eight of the 10 have either won 10 or played in a BCS bowl in their careers. That includes Stanford's David Shaw, who might have the nation's toughest program. That goes against the age-old perception of the Pac-12 being a finesse league.
Oregon, Stanford and UCLA are ranked in the top 11. No other league plays nine conference games -- five on the road every other year -- plus a conference title game. The league was 31-6 outside the conference last year and has one of the best non-con schedules this year.
The once-sleepy Pac-10 has woken up and grown up.
7. The Metrics
They're sneaking into every corner of the game. Just like the nerdy sabermetricians took over baseball, advanced statistics are taking over college football.
Maybe college football's nerds dress better and go out on dates every once in a while, but the dig-down cannot be ignored. Advanced metrics are being used by everyone from Mark Helfrich to agents to ADs searching for The Next Big Hire.
8. The Game
It has never been more popular. Try as they might, the stakeholders can't screw it up.
The Power 5 are ruffling their pocket squares about taking their ball and going home. The Group of Five are struggling to stay relevant. The ticket managers, networks, even parking concessionaires are capitalizing on our insatiable desire.
After all the lawsuits, escalating salaries and diva coaches, maybe the best thing that can happen this first week is some good, old-fashioned upsets.
Remember those? They just don't seem to happen anymore. A total of 1,297 games have been played since 2010 with a spread of 14 points or more. The underdog has won only 77 times, or 5.9 percent of the time.
Of those 77, only 22 of those upsets were by an FCS team over an FBS or Group of Five school over a Power 5.
Thus, in the past four years, it can be argued that only 1.7 percent of the time has there been a real upset.
Cinderella indeed.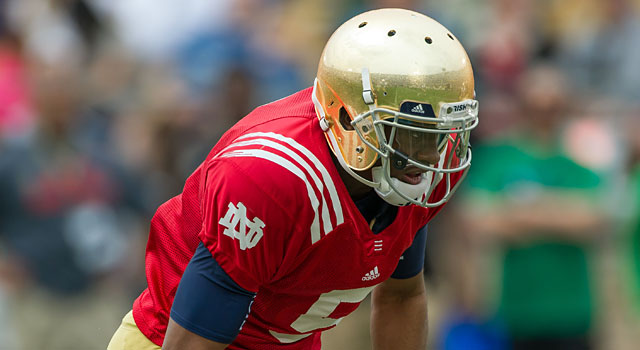 9. The Irish
There has been much moral hand wringing over "academic dishonesty" at Notre Dame Fighting Irish .
Let's boil this down: Brian Kelly won't be fired for academic fraud. He could be fired if the Irish win seven. In that sense, ND is no different than the usual state-school football factory.
If the Irish go 10-2, we're writing in December about football, not about copied homework.
10. The other human polls
The impact of the preseason version of the AP and coaches' polls were diminished shortly after their August release.
That's sad. What used to be a rite of fall, the coaches' and AP media polls will further fade into near insignificance when the selection committee takes over in late October.
11. The Expendables
The 60 schools that play in the MAC, Sun Belt, American, Mountain West and Conference USA are competing for one spot in the New Year's Six bowls.
You can look at this a couple of ways: Either it is unfair, quasi-legal access to a $7.2 billion enterprise (one spot for 60 schools!). Or an anti-trust-vetted fair reflection of the existing market.
Except, wait, it gets worse. Independents Navy, Army, Notre Dame and BYU have even worse access than the Group of Five leagues. Those schools have to get into the playoff -- top four -- for automatic access. (Except for Notre Dame, which can appear in the Orange Bowl a maximum of twice in the next 12 years.)
Aside from the Irish, the last time one of the three other schools finished in the top four was BYU (national champion) in 1984.
12. The All-Name Team
Submitted each year without comment ...
Defense
DL -- Silverberry Mouhon, Cincinnati
DL -- Remington Peck, BYU
DL -- Finesse Middleton, Louisville
DL -- Gimel President, Auburn
LB -- Eric Striker, Oklahoma
LB -- Zeek Bigger, East Carolina
LB -- Rodman Noel, NC State
DB -- Chevoski Collins, Texas
DB -- Cassius Sendish, Kansas
DB -- Prince Charles Iworah, Western Kentucky
DB -- Cheatham Norrils, Toledo
Offense
QB -- Gunner Kiel, Cincinnati
WR -- Geronimo Allen, Illinois
WR -- Bug Howard, North Carolina
WR -- MacGarrett Kings, Michigan State
RB -- Jazzmar Clax, UConn
RB -- Brisly Estime, Syracuse
OL -- Damien Mama, USC
OL -- Tobijah Hughley, Louisville
OL -- Chongo Kondolo, Nebraska
OL -- Halapoulivaati Vaitai, TCU
TE -- Westlee Tonga, Utah
13. The Stiff Arm
History tells us the Heisman winner will most likely come from a top-10 team with at least nine victories who does at least one dramatic thing in November. Johnny Manziel and Jameis Winston broke the seal on freshmen winning the award. But elsewhere, the usual (unwritten) rules apply.
A likely list of finalists ...
5. Rakeem Cato, Marshall -- because the inspirational product of Liberty City deserves a trip to New York.
4. Brett Hundley, UCLA Bruins -- because no one in football has prepared himself better for the NFL. He listened to coach Jim Mora Jr. about returning. He reached out to current NFL quarterbacks for advice. It will be one magic season for Rick Neuheisel's best recruit.
3. Bryce Petty, Baylor Bears -- because he'll have a nice season in September playing against the likes of SMU, Buffalo and Northwestern State.
2. Jameis Winston, Florida State -- because Heisman voters just don't give out back-to-back awards, even if Seminoles do repeat.
1. Marcus Mariota, Oregon -- because in this age of upheaval, this kid is a humble student-athlete who keeps his head down and produces. Perfect Heisman story. 14.
14. The Coach of the Year
Mark Dantonio, Michigan State Spartans . Swimming against the tide of an offensive explosion, the Spartans' coach makes every Saturday feel like it's 1966.
To beat Michigan State, you're going to have to beat up Michigan State. That isn't likely to happen, ever, as long as Dantonio is in charge. The Spartans should be in the first playoff making a case for physical, defensive football.
15. The Network
At this point, I believe we are legally obligated to write the words "SEC Network". There, over. That wasn't so bad was it?
16. Seriously, though ...
A network won't have anything to do with wiping out a corner on a toss sweep. Actual pulling guards do that.
A network can't replace Braxton Miller. Coaching, play calling, weightlifting, knowledge all does that.
No matter how hard it tries, a network can't make a rivalry.
Networks are nothing more than value added to our viewing experience. Larry Scott still hasn't realized the potential of his Pac-12 bundle. The SEC Net just launched. Its league is still mighty. The Big Ten Network is by far and away the most successful until further notice.
But the Large 14 hasn't been to a championship game since 2007.
17. The Date
The season will be largely defined with a series of showdown games on Nov. 8. If you want to fast forward to the championship race, you could likely sleep in for two months and awaken to these epic clashes.
•Alabama at LSU -- Time will tell if this is Game of the Century III. Certainly implications on the SEC West and national races.
•Ohio State at Michigan State -- Winner takes the Big Ten, playoff berth?
•Baylor at Oklahoma -- Sooners want revenge for blowout loss in Waco. Basically have to win this to win Big 12.
•Iowa at Minnesota -- Sorry, but the battle for Floyd of Rosedale is always big.
•Texas-San Antonio at Rice -- Conference USA West at stake.
•Notre Dame at Arizona State -- The average high temperature on this date in South Bend is 33 degrees. The heat will be turned up in Tempe.
•UCLA at Washington -- Last regular-season road game for Pac-12 South favorites. For U-Dub, the home team is 6-1 in this series since 2005.
•Texas A&M at Auburn -- It was in this game last year that we found out the Tigers were for real. Auburn beat a top-10 team and Johnny Manziel on the road.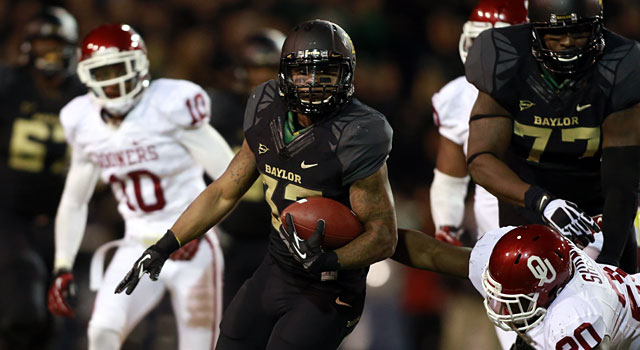 18. The Trends
IN: Ice bucket challenges
OUT: Dry humor
IN: Schedule strength
OUT: BYU
IN: Bio-recognition locker access (thumbprint)
OUT: Hey coach, I lost my key!
IN: Selection committee
OUT: Infractions committee
IN: (full training table) Ruth's Chris
OUT: (old training table) Granola bars
IN: Ed O'Bannon
Out: Bill O'Brien
IN: Snapping the ball as often as you damn please
OUT: Any criticism of up tempo offenses in relation to player safety
19. The Anniversaries
5 years ago, 2009 -- Alabama began its current dynasty by winning the first of its three national championships in the past five years.
10 years ago, 2004 -- Auburn went 13-0 and didn't play for the BCS title. That started Mike Slive on a long, slow, slog to right a wrong. The playoff that you see today began as a realistic concept after the Tigers were left out in 2004.
20 years ago, 1994 -- Rashaan Salaam won the Heisman. Colorado won at Michigan on "Hail Mary To The Victors." ... Nebraska began a run of three titles in four years.
30 years ago, 1984 -- BYU became the last non-BCS school to win a national championship.
20. The Hall of Famer
On Oct. 7, Kansas State's Bill Snyder will turn 75. That will make him automatically eligible for the College Football Hall of Fame.
If he makes it to the Class of 2015 -- a no-brainer at this point -- Snyder would become the fourth active coach (at the time of his induction) to enter the hall. The others: John Gagliardi, Joe Paterno and Bobby Bowden. Not bad company.
21. The Books
Read these new releases and get immediate, additional knowledge of the game:
The Opening Kickoff, Dave Revsine
A Thinking Fan's Guide To The College Football Playoff, Stewart Mandel
The Storm And The Tide, Lars Anderson
Season of Saturdays, Michael Weinreb
Thanks, guys; your literary agents can buy me lunch.
22. The Explosion
Look for the national offensive explosion to continue.
In 2013, records were set for most yards per rush (4.46), most yards total offense (412.3), most yards per play (5.73). The 29.4 points per team were the second-most in history.
New records have been set in 11 of 15 offensive categories tracked by the NCAA since 2007.
23. The Newbies
Please welcome Georgia Southern and Appalachian State (Sun Belt). That makes it 128 teams in the Football Bowl Subdivision.
23. The Bowls
There are a record 39 of them this season (40 in 2015). So much for the concern about a playoff affecting the bowls.
You know how I know this? They're playing a bowl in the Bahamas -- on Christmas Eve.
24. The Darkhorses
In other words, the next Auburn. A team completely off the radar from a major conference most likely to play for the national championship after starting the season 1) unranked, 2) without a single vote in the polls and 3) having gone winless in its conference.
Among those that qualify under those strict parameters -- Virginia, Purdue, Cal, Kentucky and North Carolina State.
See any Auburns in there?
25. The Final Wish
Health for the players. Stability for the game. Quiet in the courtroom. A sense of fairness from the commissioners.
A concert is a nice way to break up preseason camp

Mills was arguably Georgia Tech's most important player coming into the season

Hugh Freeze's phone records reportedly show another troubling pattern for Ole Miss
They aren't necessarily great teams, but they're teams I'm really interested in following this...

The Irish will wear them on Nov. 18 against Navy

The fourth-year coach of the Nittany Lions led the program to the 2016 Big Ten Championshi...