250 2013 college football spreads released by Golden Nugget
The Golden Nugget casino in Las Vegas released 250 college football lines for the 2013 regular season.
• 7 min read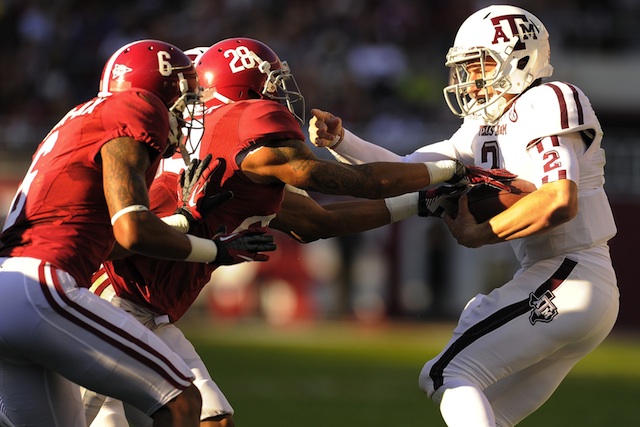 Some of the most anticipated college football games on the 2013 schedule now have point spreads in Las Vegas, courtesy of the Golden Nugget.
The casino released 250 game lines from the 2013 schedule, highlighting the top games from the opening weekend all the way to the Army-Navy game on Dec. 14. While there is guaranteed to be movement between now and the kickoff, these lines give us an early look at what the Vegas oddsmakers think of the game's elite teams.
A few interesting tidbits from the lines:
1) Alabama is not only favored in all their posted lines, they are often heavy favorites. In eight SEC games posted, the defending champs are favored by an average of 20.9 points.
2) Texas has been highlighted as a team to watch in 2013, with many experts predicting a return to Big 12 title contention. In these lines, the Longhorns are favorites in every game but one -- the Golden Nugget lists Texas-Oklahoma as a pick 'em. 
3) Georgia , Louisville , Oregon and Ohio State join the Crimson Tide as teams favored in every game listed by the Golden Nugget.
What stands out to you? Let us know in the comment section below or let us know on Twitter (@EyeOnCFB)
(A tip of the hat to our friend Adam Kramer for the lines)
Thursday August 29
UNLV at Minnesota (-13)
North Carolina at South Carolina (-12)
Mississippi at Vanderbilt (+4)
Saturday August 31
Washington State at Auburn (-11.5)
Northwestern (-10.5) at California
Nevada at UCLA (-15)
Colorado vs. Colorado State (-3.5)
Temple at Notre Dame (-24)
Penn State (-6.5) vs. Syracuse
Mississippi State vs. Oklahoma State (-14)
BYU (-3.5) at Virginia
Boise State at Washington (-2)
Alabama (-17) vs. Virginia Tech
Georgia (-3.5) at Clemson
LSU (-4) vs. TCU
Monday September 2
Florida State (-13) at Pittsburgh
Saturday September 7
Washington State at USC (-21)
South Carolina at Georgia (-4)
Syracuse at Northwestern (-13)
South Florida at Michigan State (-16)
Notre Dame at Michigan (Pick 'em)
San Diego State at Ohio State (-21.5)
West Virginia at Oklahoma (-16)
Texas (-7.5) at BYU
Oregon (-21) at Virginia
Florida (-2.5) at Miami
Arizona (-17) at UNLV
Thursday September 12
TCU (-4) at Texas Tech
Saturday September 14
Mississippi State (-1) at Auburn
Wisconsin at Arizona State (Pick 'em)
Ohio State (-21) at California
Boston College at USC (-21.5)
Nevada at Florida State (-26)
Iowa at Iowa State (-4)
Louisville at Kentucky (+14)
UCLA at Nebraska (-6)
Tulsa at Oklahoma (-18)
Alabama (-6) at Texas A&M
Mississippi at Texas (-8)
Oregon State at Utah (-6)
Washington (-11) vs. Illinois
Central Michigan at UNLV (-4)
Tennessee at Oregon (-25)
Notre Dame (-14) at Purdue
Vanderbilt at South Carolina (-11)
Thursday September 19
Clemson (-11) at North Carolina State
Saturday September 21
Oregon State (-6.5) at San Diego State
Arizona State at Stanford (-10)
Michigan (-12) at Connecticut
Tennessee at Florida (-12)
North Carolina at Georgia Tech (-4.5)
Michigan State at Notre Dame (-6)
Auburn at LSU (-18)
West Virginia (-2) at Maryland
Arkansas at Rutgers (Pick 'em)
Kansas State at Texas (-9)
Utah at BYU (-7.5)
Colorado State at Alabama (-41)
Thursday September 26
Virginia Tech (-1) at Georgia Tech
Saturday September 28
Texas A&M (-17) at Arkansas
USC at Arizona State (Pick 'em)
Miami (-10) at South Florida
LSU at Georgia (-6)
Southern Mississippi at Boise State (-21.5)
Oklahoma at Notre Dame (-2)
Florida (-20) at Kentucky
Florida State (-17) at Boston College
Wisconsin at Ohio State (-11)
Colorado at Oregon State (-22)
Wake Forest at Clemson (-21)
Arizona at Washington (-5)
Stanford (-18.5) at Washington State
Oklahoma State (-11) at West Virginia
Mississippi at Alabama (-17)
South Carolina (-14) at Central Florida
California at Oregon (-34)
Thursday October 3
Texas (-12) at Iowa State
UCLA (-5) at Utah
Saturday October 5
Washington at Stanford (-10)
Oregon (-37) at Colorado
Arkansas at Florida (-17)
Ohio State (-8) at Northwestern
Arizona State vs. Notre Dame (-4)
Minnesota at Michigan (-15)
Clemson (-8) at Syracuse
Kansas State at Oklahoma State (-9)
TCU at Oklahoma (-9)
Louisville (-17) at Temple
West Virginia at Baylor (-7)
North Carolina at Virginia Tech (-6.5)
LSU (-9) at Mississippi State
Michigan State (-9) at Iowa
Georgia Tech at Miami (-7)
Kentucky at South Carolina (-23.5)
Georgia (-11) at Tennessee
Thursday October 10
Arizona at USC (-7)
Rutgers at Louisville (-10)
Friday October 11

Temple at Cincinnati (-18)
Saturday October 12
South Carolina (-12) at Arkansas
Colorado at Arizona State (-27)
California at UCLA (-16.5)
Missouri at Georgia (-18)
Alabama (-30) at Kentucky
Florida at LSU (-4)
Texas A&M (-4) at Mississippi
Michigan (-2.5) at Penn State
Boston College at Clemson (-22)
Oklahoma vs. Texas (Pick 'em)
Georgia Tech at BYU (-3)
Stanford (-13) at Utah
Pittsburgh at Virginia Tech (-13.5)
Oregon (-14) at Washington
Oregon State (-13) at Washington State
Northwestern at Wisconsin (-6)
Baylor at Kansas State (-5)
Thursday October 17
Miami at North Carolina (Pick 'em)
Friday October 18
Central Florida at Louisville (-11)
Saturday October 19
Washington at Arizona State (-5)
Utah at Arizona (-12)
UCLA at Stanford (-10)
Oregon State (-13) at California
Minnesota at Northwestern (-15)
USC at Notre Dame (-5)
Florida (-6) at Missouri
LSU at Mississippi (-2)
Iowa at Ohio State (-23)
TCU at Oklahoma State (-10)
Florida State at Clemson (-2)
Georgia (-10) at Vanderbilt
Auburn at Texas A&M (-24)
Arkansas at Alabama (-29)
Washington State at Oregon (-35.5)
Friday October 25
Boise State at BYU (-1)
Saturday October 26
Utah at USC (-18)
Arizona (-20) at Colorado
North Carolina State at Florida State (-20)
Louisville (-13) at South Florida
Oklahoma State (-14) at Iowa State
South Carolina (-7) at Missouri
Penn State at Ohio State (-16)
Texas Tech at Oklahoma (-14)
Stanford (-3) at Oregon State
Vanderbilt at Texas A&M (-16)
California at Washington (-17)
Tennessee at Alabama (-27)
Notre Dame (-18) at Air Force
Northwestern (-12) at Iowa
West Virginia at Kansas State (-9)
UCLA at Oregon (-20)
Texas (-3) at TCU
Arizona State (-15) at Washington State
Friday November 1, 2013
USC at Oregon State (-2)

Saturday November 2
Auburn at Arkansas (-3.5)
Arizona (-11) at California
Colorado at UCLA (-22)
Miami at Florida State (-8)
Georgia (-4) vs. Florida
Navy at Notre Dame (-18)
Michigan at Michigan State (-3)
North Carolina (-2.5) at North Carolina State
Illinois at Penn State (-19)
Kansas at Texas (-31.5)
Clemson (-13.5) at Virginia
Iowa State at Kansas State (-13.5)
Ohio State (-17) at Purdue
Mississippi State at South Carolina (-15)
West Virginia at TCU (-10)
Thursday November 7
Oregon (-4) at Stanford
Oklahoma (-6) at Baylor
Friday November 8
Louisville (-10.5) at Connecticut

Saturday November 9
UCLA at Arizona (-4)
USC (-17) at California
TCU at Iowa State (+9.5)
Nebraska at Michigan (-4)
Penn State at Minnesota (+8)
Florida State at Wake Forest (+18)
Kansas at Oklahoma State (-29)
Notre Dame at Pittsburgh (+10.5)
BYU at Wisconsin (-8)
Texas at West Virginia (+12)
LSU at Alabama (-11.5, 39.5)
Virginia Tech at Miami (-3.5)
Auburn at Tennessee (-8)
Thursday November 14
Georgia Tech at Clemson (-9)
Friday November 15
Washington at UCLA (-2)
Saturday November 16
Georgia at Auburn (+15)
Oregon State at Arizona State (-4.5)
Washington State at Arizona (-19)
Stanford at USC (-1)
Syracuse at Florida State (-16)
Michigan at Northwestern (-3)
Houston at Louisville (-17)
Michigan State at Nebraska (-6)
Iowa State at Oklahoma (-20)
Purdue at Penn State (-13.5)
Oklahoma State at Texas (-6.5)
Alabama at Mississippi State (+23)
Ohio State at Illinois (+23)
TCU at Kansas State (-4.5)
Utah at Oregon (-28.5)
Florida at South Carolina (-5)

Saturday November 23
Oregon at Arizona (+12)
California at Stanford (-22)
Arizona State at UCLA (-3)
USC at Colorado (+24.5)
Kentucky at Georgia (-29)
Michigan State at Northwestern (-3)
BYU at Notre Dame (-11)
Memphis at Louisville (-24)
Texas A&M at LSU (-1, 47.5)
Wisconsin at Minnesota (+10)
Indiana at Ohio State (-25)
Baylor at Oklahoma State (-11)
Washington at Oregon State (-5)
Nebraska at Penn State (Pick)
Michigan at Iowa (+10.5)
Oklahoma at Kansas State (+4)
Virginia at Miami (-15)
Vanderbilt at Tennessee (-1)
Thursday November 28
Texas Tech at Texas (-16)
Mississippi at Mississippi State (+6.5)

Friday November 29
Iowa at Nebraska (-14)
Miami at Pittsburgh (+7)
Washington State at Washington (-14)
Iowa State at West Virginia (-7.5)
Oregon State at Oregon (-16)

Saturday November 30
Alabama at Auburn (+24)
Arizona at Arizona State (-5)
Notre Dame at Stanford (-5.5)
UCLA at USC (-7)
Florida State at Florida (-2, 44)
Georgia at Georgia Tech (+9)
Tennessee at Kentucky (+7.5)
Arkansas at LSU (-17)
Minnesota at Michigan State (-14)
Ohio State at Michigan (+6, 50.5)
Texas A&M at Missouri (+13)
Virginia Tech at Virginia (+10)
Penn State at Wisconsin (-9)
Northwestern at Illinois (+13)
Kansas State at Kansas (+21.5)
BYU at Nevada (+7.5)
Clemson at South Carolina (-4.5)
Baylor at TCU (-5)
Thursday December 5
Louisville at Cincinnati (+3)
Saturday December 7
Oklahoma at Oklahoma State (-3)
Texas at Baylor (+8)
Saturday December 14
Army vs. Navy (-9)
McElwain will coach receivers and help coordinate the offense for the Wolverines

Nathaniel Watson Jr. was involved in a car accident that injured a passenger in early Febr...

The honorable Tom Fornelli presides over the ASU vs. UM case
Arkansas State is seeking $650,000 for a canceled home game last September due to Hurricane...

Friday Five is tackling the big questions this week

Two unnamed players are being investigated for an incident at an off-campus apartment