5-star Miami commit laughs at Urban Meyer's sad face
Miami OL commit KC McDermott told 'Bleacher Report' that Ohio State coach Urban Meyer looked like a baby about to cry when the 5-star prospect told the Buckeyes coach he was not interested in playing in Columbus.
• 1 min read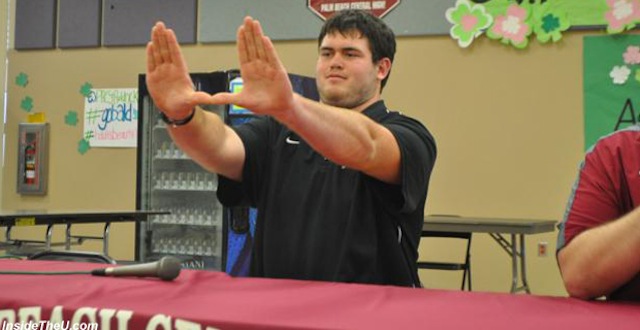 Ohio State coach Urban Meyer has been known as a relentless recruiter, so a story about his aggressive pursuit of 5-star offensive lineman KC McDermott is not unbelievable.
McDermott, a top-five offensive tackle according to 247Sports, committed to the hometown Miami Hurricanes in April. The West Palm Beach, Fla., native grew up a Miami fan, and his older brother, Shane, is expected to compete for the starting center position this fall after being named All-ACC Honorable Mention in 2012. 
In a recent interview with Bleacher Report, McDermott told a story about the time he turned down Meyer and Ohio State in person. According to the Hurricanes' commit, Meyer "looked like he was a baby about to cry."
"The Urban Meyer thing was just funny to me. He came to my school a week after I told his assistant that I wasn't even interested in them," McDermott said. "I told him no to his face, and it's got to be one of the top five reactions of someone ever. His facial expression was just so funny. My coach was tearing up and had to go in his office and laugh."
After being asked to elaborate on Meyer's "funny" face, McDermott compared the two-time national championship winning coach to an infant.
"It literally looked like a kid the first time you tell him 'no, you can't do something.' It looked like he was a baby about to cry. It was so funny."
One thing is for sure. Miami's top-rated recruit is not short on confidence. It is important to note that this is McDermott's account of what happened, so take the details of the story with a grain of salt.
The Buckeyes and Hurricanes have no current future meetings scheduled, though they did play a home-and-home in 2010 and 2011. Here's to hoping the two teams meet when the younger McDermott is on the roster.
Cristobal's first game at Oregon ended the same way Chip Kelly's did

Conner Manning and the Panthers dominated the Hilltoppers in the Cure Bowl

You can only go to the well so often before it dries up
The Trojans beat LSU earlier in the year and now have their first 11-win season as a FBS t...

Saban has never been a fan of the early signing period and made it clear that hasn't chang...

Paul Tyson is a three-star quarterback prospect for the 2019 recruiting class