5 things about ACC: Watch Renner, noncon games hurt, to name a couple
Watch UNC QB Bryn Renner -- especially in the opener vs. Jadeveon Clowney. That's one ACC lesson Tony Barnhart got from ACC media days. Four more follow.
GREENSBORO, N.C. -- Here are five things we learned during ACC Media Days this week:
1. Watch UNC QB Bryn Renner
Bryn Renner is returning for his third season as the starting quarterback for the Tar Heels and his second in Larry Fedora's offense. The 6-foot-3 native of West Springfield, Va., completed 65 percent of his passes for 3,356 yards and 28 touchdowns last season. He also impressed everybody at the Manning Passing Academy this summer.
"I don't think there is any doubt that his stock is rising," Fedora said. "This will be his second year in our offense and we think he's going to really do some things no quarterback has done before for us."
"All of us were learning last season," said Renner, who needs 2,922 yards to surpass T.J. Yates as North Carolina Tar Heels 's all-time leading passer.
Renner knows he is not easing into the season as the Tar Heels open Aub. 29 with South Carolina Gamecocks and Jadeveon Clowney in Columbia.
"We are aware of what No. 7 can do," Renner said of Clowney. "We look forward to the challenge."
2. ACC needs better non-con results
I pointed out in a tweet earlier this week that the ACC has the toughest nonconference schedule of any league in the country. Among the opponents (ACC teams they play are in parentheses): Alabama Crimson Tide ( Virginia Cavaliers Tech), Georgia Bulldogs ( Clemson Tigers , Georgia Tech Yellow Jackets ), South Carolina (North Carolina, Clemson), Florida Gators ( Florida State Seminoles , Miami) and Oregon Ducks (Virginia).
Then somebody tweeted back that Tennessee Volunteers plays all five of those teams this season. Ouch!
Other nonconference notables on the ACC schedule include: USC ( Boston College Eagles ), West Virginia Mountaineers ( Maryland Terrapins ), Notre Dame Fighting Irish ( Pittsburgh Panthers ), and Penn State Nittany Lions ( Syracuse Orange ).
What the ACC needs to do now is start winning some of these games. Last season, the ACC played 15 games against the other four power conferences (SEC, Big Ten, Big 12, Pac-12). Member teams were 3-15 in those games. Clemson won two of them, beating Auburn Tigers and LSU Tigers . Georgia Tech won the other one, beating USC in the Sun Bowl.
"You gain recognition by winning big games," commissioner John Swofford said. "And that's what we need to do a better job of."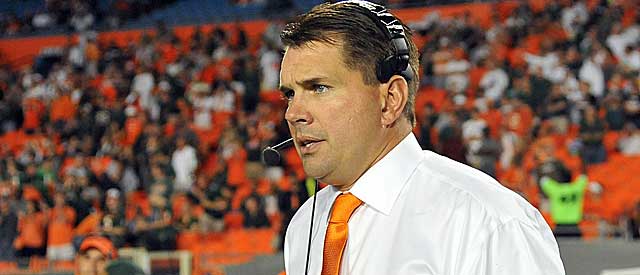 3. Miami will be better on defense
Coach Al Golden made a decision to go with young, talented players on defense last season. He knew that unit would take its lumps.
"We played 14 freshmen and a bunch of them were undersized," Golden said. "We knew it might not be pretty."
Things turned out much uglier than anyone could have imagined for Miami as the Hurricanes, once synonymous with great defense, finished dead last in the ACC and No. 116 nationally, giving up 486 yards per game.
"We couldn't get enough pressure on the quarterback and so people were able to pick us apart," defensive end Shayon Green said. "We will be better this season. There is no doubt in my mind about that."
With quarterback Stephen Morris and running back Duke Johnson returning for what will be a very good offense, just a little improvement in the Miami defense might be good enough for the Hurricanes to win the ACC Coastal.
4. Just call him 'Twinkle Toes'
Wake Forest Demon Deacons could have its best defense since 2006, when the Deacons shocked the world and won the ACC championship. One of the reasons why is linebacker Justin Jackson .
The 6-1, 230 pound senior from Rockingham, N.C., may be a bit undersized but he more than compensates with speed, balance and athleticism.
Some of that balance comes from the fact that he has studied various forms of dance, including ballet. He wanted to minor in dance but "most of the classes were in the afternoon and I couldn't take them because of football."
Jackson moved to outside linebacker last season to take advantage of his physical skills and led the team in tackles with 81.
"Justin is a special player," Wake Forest coach Jim Grobe said. "We like our defense and he's one reason why."
Earlier this year, Jackson made Bruce Feldman's list of the20 craziest athletes in college football.
5. Pull for Rashard Smith
Rashard Smith started at cornerback in only his second game as a true freshman in 2009. But he missed the entire 2010 season while recovering from a knee injury. He played both offense and defense in 2011 but saw limited play in 2012 with only 19 catches. He thought about transferring in order to get more playing time. His mom told him to stay put.
"She was right," Smith said. "The main thing I had to do is keep working and believe that it was going to pay off."
Smith says he has a new lease on his football life with the arrival of Dave Doeren as the Wolfpack's head coach. Doeren's up-tempo style of offense is perfectly suited to Smith, who had eight catches for 84 yards in the spring game.
"I like this kid," Doeren said of Smith. "He's hungry and he's got a chip on his shoulder."
First Doeren has to break in a new quarterback with the departure of Mike Glennon. Pete Thomas , who started 21 games for Colorado Buffaloes State before transferring to Raleigh, appears to have the edge over Manny Stocker .
5a. Quotes of the week
Best quote about football:
"Some teams have to worry about whether or not they will get to the national championship if they win all their games. We don't have that problem."
-- Clemson coach Dabo Swinney, whose team plays Georgia, South Carolina, and Florida State
The week's best non-football quote was actually a Tweet from Sunday during the British Open, where Tiger had some "colorful" language caught by the boom microphone:
"Tiger now two-over on the Third Commandment."
-- Cecil Hurt, Tuscaloosa (Ala.) News
GoDawgs247 previews big-time college football recruits headed to Athens

Dig below the surface and you'll find a lot of intriguing matchups on the slate this Satur...

SportsLine tapped into its Vegas sources and found out pro bettors are all over No. 8 Michigan...
An early-season Big 12 game already has major conference and national implications

Top-ranked Alabama hits the road to take on upstart Vanderbilt in Nashville on Saturday

The battle of the Bulldogs will take place Saturday night between the hedges