9th-inning uprising: Auburn strikes late, sweeps No. 5 Florida
Auburn's baseball team sweeps Florida for the first time since 1987.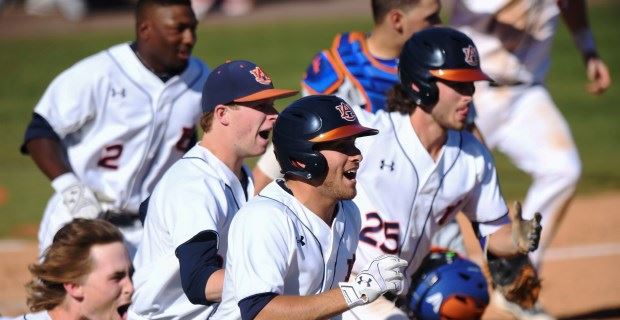 AUBURN, Ala. – For three hours on a Sunday afternoon at Plainsman Park, Auburn and Florida traded blows. And finally it came to the bottom of the ninth inning.
Auburn had led 1-0, trailed 4-1, tied it 4-4, trailed 5-4 and tied it 5-5. And now it was winning time, time to complete a sweep of the nation's No. 5 team in front of a boisterous crowd of 3,302.
Senior catcher Blake Logan, who had hit a triple and scored the run that tied it 5-5 in the seventh, smoked a single to center to start it off. Will Holland put down a bunt, but not just any bunt. He easily beat it out for a hit. Jonah Todd put down another bunt that wasn't just any bunt. Pitcher Frank Rubio fielded it and threw wildly to third. Pinch-runner J.J. Shaffer sped home to score the winning run.
Auburn had beaten Florida 6-5. Auburn had swept the first series of the Southeastern Conference season, winning 14-3 on Friday and 2-1 on Saturday. Auburn had swept Florida for the first time since 1987.
"Amazing," Logan said. "To go out in that style was awesome."
Logan finished had three of Auburn's 10 hits and scored a run. Shaffer scored another one in his stead.
Logan said there was confidence in the Auburn dugout throughout, and it grew stronger in the ninth.
"I knew leading off I had to get on any way I could," Logan said. "We knew Will was going to bunt. You could  just sense in the dugout that 'this is our chance.'
"There was no quit from the guys in the dugout. We got down and answered right back. It was just a real gutsy performance as a team."
For second-year Auburn coach Butch Thompson, who arrived in the fall of 2015 after Sunny Golloway was fired, it was a special day in a long career.
"It was right there when we knew the game was over, looking at those guys' faces," Thompson said. "For me, it's a 16-month journey of moving my family, going through this process and believing in it. Those are the moments I don't need a penny for, just seeing the look on their faces. I hope we have good things coming in the future, but nobody can take that moment away."
After Auburn took a 1-0 lead in the first, Florida scored four in the top of the third, chasing freshman starter Davis Daniel. With some help from Florida shortstop Christian Hicks, Auburn scored three in the bottom of the third to tie it.
With two outs, Hicks couldn't handle a towering popup off the bat of Dylan Ingram and two runs scored. Another one scored on a wild pitch.
Florida took the lead back in the top of the fifth and Auburn tied it in the seventh, setting the stage for the finish.
"Blake Logan was a senior, a leader today," Thompson said. "He called every pitch but one. He's blocking balls. The triple allowed us to get back tied. To lead off the bottom of the ninth, he just had a mature at-bat and got a sharp single. He played great."
Calvin Coker relieved Corey Herndon, who gave up a run on four hits, and pitched four scoreless innings. Andrew Mitchell retired the side in order the top of the ninth and got the win to move to 4-0. And the Tigers got it done, improving to 17-5. Florida fell to 13-8.
Rubio, the fifth Florida pitcher, took the loss and fell to 0-1.
Auburn plays at Georgia Tech on Tuesday and goes to Georgia, which was swept at LSU, for a three-game series starting Friday.
Florida State and Alabama will face off in a highly touted game in Atlanta in Week 1

Five NC State freshman were punished team rules and code of conduct violations

Browne was benched in favor of Darnold early into last season
There are new names to learn every season, and here are 14 to keep an eye on from the SEC

Taking a close, detailed and opinionated look at the SEC a week before the start of the 2017...

Rosier will start for the Hurricanes in their opener against Bethune-Cookman