A premature send-off for Tyrann Mathieu, the most exciting player in college football
The 2012 season just got that much less interesting without the most unique, versatile, fun-to-watch playmaker in college football.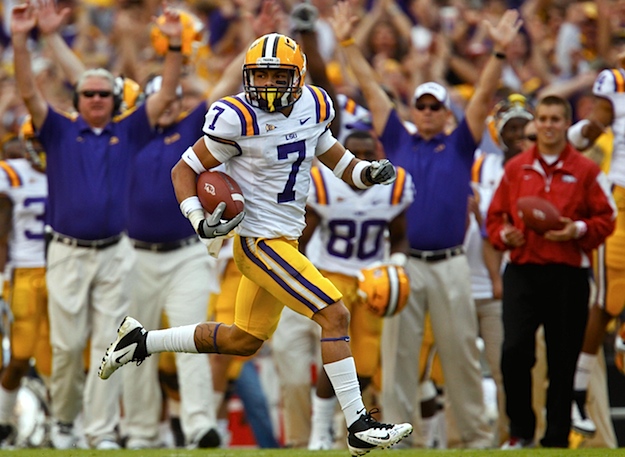 First of all, I should say I really don't know when we will see Tyrann Mathieu on a football field again, or even if we will, much less in what context. I don't have any inside information or insight into the "behavior issue" that resulted in his abrupt dismissal from LSU on Friday. I don't know what he's going to do next. Eligibility-wise, his status with the NCAA is unclear. I'm not going to attempt to quantify the inevitable hit to LSU's defense or the Tigers' odds of winning the BCS championship that slipped through their fingers last January. I'm not sure how his "character issues" are going to affect his prospects in the NFL Draft, or throughout his future career. Or throughout the rest of his life, generally.
Those are all concrete, practical questions, and eventually they will have solid, practical answers. Right now, who knows? What is certain is that the 2012 season just got that much less interesting without the most unique, versatile, fun-to-watch playmaker in college football. Who has an answer for filling the aesthetic void left by the Honey Badger?
The question has nothing to do with LSU's depth chart at cornerback, which is (predictably) as deep as it is green. It also has nothing to do with Mathieu's reckless reputation, which was hardly stellar prior to today and may have just been irreparably damaged. As much as his play set him apart, his style made him a target. He swaggered. He talked too much trash, too loudly. He landed in his coach's doghouse. Depending on your allegiances, he may have landed a cheap shot or two. He made no effort whatsoever to present a facade of humility. When Mathieu was up for the Heisman Trophy last December, no one bothered pretending that a sophomore cornerback barely a month removed from a one-game suspension for allegedly failing a drug test had the slightest chance of beating upstanding, model student-athletes like Robert Griffin III and Andrew Luck. And of course, he didn't.
The only thing Mathieu had going for him — the only reason he was along for the ride in New York, in spite of his position and his underclassman status and his swaggery disposition — is that he had consistently proven himself as the most exciting, game-changing player in the country, and everybody knew it.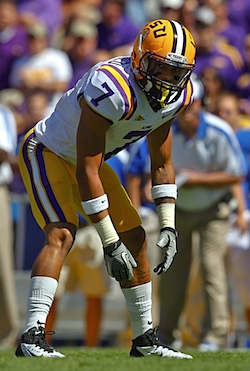 That's not really a case you can make on paper, though Mathieu's numbers happen to stand out even if you've never seen him play a down. He was the leading tackler last year for a defense that finished second in the nation in both yards and points allowed. He had 7.5 tackles for loss as a defensive back. He forced more turnovers — two interceptions, six fumbles — than anyone else on a team that finished second in the nation in turnover margin; in 2010, he came up with seven takeaways as a true freshman, coming off the bench. He finished fourth nationally in punt return yards. He led the nation with four non-offensive touchdowns, and came within one yard of a fifth.
Defensively and in the return game, Mathieu's stats are easily better than Charles Woodson's when Woodson took the sport's most hallowed hunk of bronze as a cornerback/return man in 1997. Based strictly on his actual scoring plays and the field-flipping effects of the turnovers he forced, Mathieu's presence was worth somewhere in the vicinity of a touchdown per game, without taking a single snap on offense.
But no LSU fan is going to look wistfully into the distance in 20 years while recounting to his grandchildren in awestruck tones the legend of Tyrann Mathieu's statistics. The exquisitely apt nickname, "Honey Badger," tells the truth so much more effectively than any box score. What set Mathieu's production apart was the sheer, creative tenacity of it: More than any other player in the country, he made his name by literally making plays, independently of the confines of a specific scheme or an assignment.
Consider that, unlike an RG3 or Andrew Luck, Mathieu's team does not have an entry in the playbook designed to put him on SportsCenter, or YouTube. True, from one down to the next, he was just another reliable cog carrying out his assignment in a talented, well-oiled defense, which is a critical part of any discussion of his success. But his ability to stand out from arguably the deepest, most athletic pack in college football was not a matter of simple execution. It was inspired solely by his instincts, ingenuity and knack for chaos. Mathieu's big plays weren't a result of a great offensive line working in concert, or a receiver racking up yards after catch. They didn't arise from superior Xs and Os or relentless drilling of coachable techniques. Those factors may have been present, but the moments that made him a star were a product of Mathieu creating on the fly, with unmatched frequency and flair. Great players on offense get the ball by design — it comes to them intentionally, as a matter of course — but a defensive player doesn't have that luxury. To emerge as a big-play threat of the same rank, Mathieu had to be a peerless ballhawk, and then find a way to take the ball.
To the extent that his coaches did make a conscious effort to get the ball in Mathieu's hands, on punt returns, it was only out of recognition for the creative possibilities that were likely to follow. On his 92-yard return against Arkansas last November, Mathieu blows by six potential Razorback tacklers before any of his teammates appear in the frame. One week later, in the SEC Championship Game, he made six more guys miss on a dramatic, 62-yard trek to the end zone against Georgia, and later proceeded to juke out the entire team on a jaw-dropping return that set up the offense for an easy touchdown "drive" from the Bulldog 11-yard line.
All of which was fairly clutch, by the way. The return against Arkansas came with LSU down 14-7 in the first half; it sparked a 34-3 Tiger run. The first return against Georgia came with LSU down 10-0 in the first half and going nowhere on offense; it sparked a 42-0 run. In the season opener, his opportunistic strip-n-score against Oregon — the Tigers' first touchdown of the season — came with LSU down 6-3; it sparked a 30-7 run. His tip-drill interception at West Virginia set up a 1-yard touchdown "drive" that extended LSU's lead to 20 points just a few seconds before halftime.
As a cog, Mathieu can be replaced. His All-American counterpart at cornerback, NFL-bound Morris Claiborne, leaves bigger shoes to fill as a shutdown, man-to-man cover guy, and there are plenty of available bodies to send on blitzes from the slot. The pass rush remains a nightmare. LSU's defense is not going to fall apart. But even Mathieu was going to have a hard time replicating last year's bonanza of big plays, which were so critical in ways that went beyond forcing opposing offenses to punt. Honey Badger put points on the board, and lifted the entire stadium in the process. Without him, LSU is sacrificing one of the sparks that made last year's run possible, and had so many people convinced that an encore this fall was probable.
So let's just say it: Mathieu was the best player on arguably the best team in the country. Now that the former is no longer true, the argument for the latter is much less compelling.
The Alabama QB has a new look after the Tide claimed another national title

Young was injured during Miami's Orange Bowl loss to Wisconsin

The movie will zero in on former Penn State coach Joe Paterno during the Jerry Sandusky sc...
Bidding for Salaam's trophy, which the auction house says was obtained legally, ends Satur...

Locksley has been the offensive coordinator at Illinois and Maryland during his coaching c...

Many NFL-eligible juniors ignore advice provided by the league and risk going undrafted each...