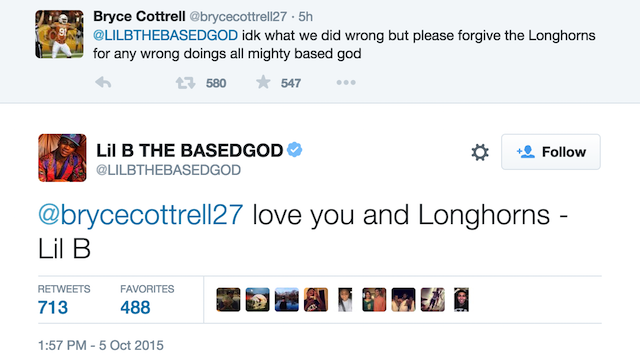 The last three weeks for the Texas Longhorns have been brutal.
It all started with the comeback against Cal that fell short by one point because of a missed extra point to tie the game. The next week, against Oklahoma State, Texas was unable to punt the ball away correctly late in the game, instead fumbling the snap and kicking it out of bounds. Last week, against TCU, the wheels fell off for the Longhorns in a 55-7 loss at the hands of the Horned Frogs.
This isn't just a normal case of things going poorly, it seems as if there's more at play. As if there is a higher power, perhaps, angry with the Longhorns. 
Texas defensive end Bryce Cottrell thinks he knows who is responsible for the Longhorns' struggles, recently. Cottrell pleaded with rapper Lil B -- aka The Based God -- on Twitter to forgive Texas for whatever it did to anger him. 
@LILBTHEBASEDGOD idk what we did wrong but please forgive the Longhorns for any wrong doings all mighty based god

— Bryce Cottrell (@brycecottrell27) October 5, 2015
Lil B obliged that request.
@brycecottrell27 love you and Longhorns - Lil B
— Lil B THE BASEDGOD (@LILBTHEBASEDGOD) October 5, 2015
Cottrell thanked the Based God for his kindness and forgiveness -- and later asked him if he wanted to play Madden, because why not shoot your shot at that point.
@LILBTHEBASEDGOD thank you 

— Bryce Cottrell (@brycecottrell27) October 5, 2015
Now for those not well-versed in the dealings of The Based God, well, I'll try my best to explain it. 
Lil B was a member of the rap group The Pack, which had marginal success including one breakout hit "Vans" back in 2009. Lil B went solo under the moniker "Lil B The Based God" and somehow gained a cult following -- Lil B has 1.1 million Twitter followers and follows over 1.2 million people, which I can only imagine makes his timeline look like the numbers scrolling in the matrix. 
Lil B is also a good basketball player. He's participated in a few D-League tryouts and often references basketball in his songs. Lil B has placed "The Based God's Curse" on Kevin Durant for saying that he doesn't like Lil B's music and then refused to play Lil B in a one-on-one basketball game.
I tried to listen to Lil B and my mind wouldn't let me do it....can't believe this guy is relevant

— Kevin Durant (@KDTrey5) January 29, 2011
The "curse," according to Lil B, means Durant will never win an NBA championship until he plays the rapper in basketball. To this point, it's worked (I guess). 
KEVIN DURANT WILL NEVER WIN THE TITLE AFTER HE SAID "LIL B" IS A WACK RAPPER, "THE BASEDGODS CURSE" #THEBASEDGODSCURSE ON DURANT - Lil B

— Lil B THE BASEDGOD (@LILBTHEBASEDGOD) May 26, 2011
Now, one has to wonder if that curse spread to all of Texas athletics. Durant played ball at Texas and since the curse was placed on Durant in 2011, the Longhorns football team has gone 34-25.  
Now, Lil B seems to have forgiven the Longhorns and offered them his blessing the week before the Oklahoma game. I'm not saying this means the Sooners are in trouble in the Red River Shootout this weekend, but I just feel obligated to point out that this happened two days before Florida upset Ole Miss on Saturday. 
@UF love you and Florida - Lil B

— Lil B THE BASEDGOD (@LILBTHEBASEDGOD) October 1, 2015
@GatorsFB @UF will do go gators sports - Lil B

— Lil B THE BASEDGOD (@LILBTHEBASEDGOD) October 1, 2015
Again, I'm just pointing out facts here.