AAC commish Mike Aresco on 'have not' tag: 'We have resources'
American Athletic Conference commissioner Mike Aresco addressed the notion of a power conference during his address in Newport at AAC Media Days.
• 1 min read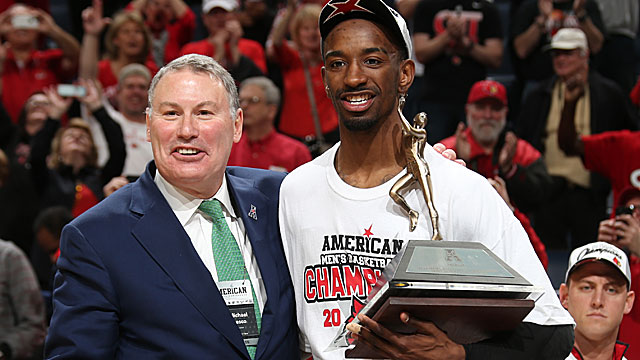 More college football: Dennis Dodd | Jon Solomon | Latest news
During the first two weeks of college football media days, conference commissioners offered statements regarding the need for the power five conferences -- ACC, Big Ten, Big 12, Pac-12 and SEC -- to have the power to pass new legislation without push back from smaller institutions. 
At the American Athletic Conference football kickoff in Newport, RI, commissioner Mike Aresco refused to accept the idea that the AAC is second-rate in the college football landscape.
"I will admit I do not care for Power 5 designation," Aresco said. "We do not accept the notion that we're not a power conference or this 'have-not' tag that some people use. We have resources. We have enormous potential.
"Make no mistake, we'll remain an integral part of the FBS college football fabric. We'll always have naysayers. We have fewer now than before. It's our job now to prove them wrong as we did last year, as UCF did in the Fiesta Bowl, as we did in the basketball championships with UConn."
Aresco referenced the word "power" 16 times in his opening remarks. While the current autonomy proposal will allow those five conferences to pass legislation without push back, Aresco's comments suggest that the American could (or should) stand on that same level.
"We see the landscape as a five plus one and we're knocking on the door," he said. "Our goal is to be in the conversation as the sixth power conference. I believe by virtue of our performance that we already are."
A quick look at the media's preseason poll shows a top-heavy league in 2014, with Cincinnati, UCF, Houston and even league newcomer East Carolina a tier above the rest of the league. In order to back up the media day comments, those four will need to represent the league well in non-conference play and one -- likely the league champion -- should be in a selection committee bowl on Dec. 31 or Jan. 1. 
Gyree Durante of Albright College was dismissed after he kneeled during the national anthe...

Penn State's star rusher loves to argue, just not about whether he's the nation's best pla...

The Fornelli 50 ranks teams based on nothing but their performance in 2017
Find out which of your favorite team's players are among the nation's best midway through...

Anybody can rank the best college football teams, only we rank the worst each week

The Badgers never get talked about, but that might change if they keep up their hot streak