AAC commissioner Aresco: League would offer full-cost stipends
The American Athletic Conference will follow the lead of the five power conferences if the full cost of attendance stipends become a reality, commissioner Mike Aresco says.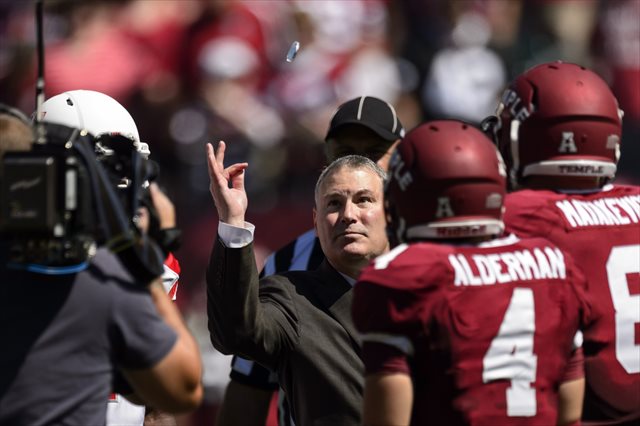 The rift in the NCAA's Division I over proposed full cost of attendance scholarships might not be generating as many headlines now as it did when it was controversially voted down, but the issue is far, far from settled. And American Athletic Conference commissioner Mike Aresco said this weekend that when it is, his league will be on the side of college athletics' power conferences.
Aresco spoke at the Memphis-UConn basketball game Saturday, and per the New Haven Register, promised that even though in the American "we don't have the resources" of an SEC or Big Ten, they have the resources to provide the same full-cost scholarships.
"As a conference, we've already committed to provide a full cost of attendance stipend, if that's passed," Aresco said. "It's unclear yet what that's going to be. ... But whether it's a fixed amount [or not], we've committed as a conference that we're going to do it.
"And we're probably going to do other things that they plan to do ... we have every intention of being a conference just like those other [power] five, which we've always been as a BCS conference."
The AAC isn't a BCS league any more, but clearly it's not exactly comfortable being lumped in with the Mountain West, Conference USA, MAC and Sun Belt -- the other schools in the "Group of Five." The good news: If the full cost of attendance stipends do finally become reality -- and the rest of the Group of Five can't afford them -- it will be a neat, easy dividing line between the American and their new peers.
The bad news is that if the FBS splits and the power five don't take the AAC with them, that line may not mean much. Aresco still has to work to do.
Gyree Durante of Albright College was dismissed after he kneeled during the national anthe...

Penn State's star rusher loves to argue, just not about whether he's the nation's best pla...

The Fornelli 50 ranks teams based on nothing but their performance in 2017
Find out which of your favorite team's players are among the nation's best midway through...

Anybody can rank the best college football teams, only we rank the worst each week

The Badgers never get talked about, but that might change if they keep up their hot streak