AAC preview: Louisville looking to build on last year's success
Jeremy Fowler says that despite all its success last season, Charlie Strong says Louisville still has room to improve in the American Athletic Conference preview.
• 10 min read
Charlie Strong basically rewrote the handbook for how a head coach tempers expectations while at the American Athletic Conference media day last week.
From Strong's hit list: Louisville is nowhere near where it should be, was a few plays from going 7-6 last season instead of 11-2 and isn't in same conversation as elite SEC teams.
"We still are a team that has to improve," Strong said.
Nobody's arguing that, but good luck to Strong trying to deflect attention from these Cardinals in 2013.
That won't happen with Louisville's No. 9 preseason ranking in the coaches' poll, Strong's $3.7 million salary (among the top 10 nationally), quarterback Teddy Bridgewater's imposing skill set and a schedule that would make Mike Gundy envious.
Louisville doesn't play anyone in the coaches' poll top 25, while four of 12 teams on the schedule received votes -- Ohio, UCF, Rutgers, Cincinnati.
The transfer of embattled running back Michael Dyer, the 2011 BCS national title game MVP with Auburn who is going on his third school in as many years due to offfield concerns, only deepens the UL intrigue.
The buzz is palpable in Louisville, and with good reason. Bridgewater's top-three receiver targets from a year ago return, as do 10 defensive starters from the (old) Big East's top-ranked passing defense. The biggest losses came up front, where Louisville must replace two all-conference linemen in center Mario Benavides and left tackle Alex Kupper.
Still, Strong remains a hard sell on his team's hype because he remembers letting Southern Miss play Louisville tight last year, or Syracuse hanging 45 on his defense or barely escaping against Rutgers. There are flaws to correct and lapses to avoid.
Point to Louisville's 33-23 Sugar Bowl win over Florida to punctuate the Cardinals' belonging on the national scene, but in Strong's eyes, the Cardinals were worthy only "on that night."
Try doing it for four months. That's what's necessary to remain in the BCS title conversation, if at all.
"Can we do that each and every week and go compete at that level?" Strong said. "When we get to that point, then I'll say we're one of those teams."
Chip Patterson: Capsules, predictions
Offensive player of the year: Teddy Bridgewater, QB, Louisville. I know this seems like a lazy pick, but if Bridgewater is able to continue his upward trajectory from a year ago there won't be a better offensive player in the league. Louisville returns the top three pass catchers from a year ago, so I feel comfortable assuming that the offense will pick up where they left off -- in this case, a Sugar Bowl victory over Florida.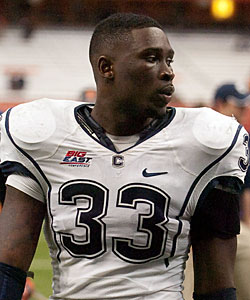 Defensive player of the year: Yawin Smallwood, LB, UConn and Hakeem Smith, DB, Louisville. Smallwood may be garnering more NFL attention, but Hakeem Smith has been one of key pieces in rebuilding the Louisville defense. Smith was a two-star prospect out of Georgia that has developed into a three-time All-Big East defensive back in Strong's three years as head coach. Smallwood broke on to the scene as a sophomore in 2012, recording 120 tackles while playing alongside third-round draft pick Sio Moore. Now the attention will shift to Smallwood, making him just as likely to earn this honor by season's end.
Coach of the Year: George O'Leary, UCF. Coach of the Year often ends up in the hands of a coach that accomplished the unexpected. If the Knights are competing for a conference title down the stretch and hold their own against South Carolina and Penn State, O'Leary will have orchestrated one of the best possible conference transitions imaginable for a team that was almost ineligible for the postseason due to NCAA sanctions.
Next coordinator to become a head coach: Shawn Watson, Louisville. Watson's name actually came up during the last coaching cycle, though I do not think he was seriously entertaining a move. The former Nebraska assistant has received praise for his work with Teddy Bridgewater, and another brilliant season from the quarterback will likely add to his hype as a potential head coach. Watson, 53, has two decades of coaching experience but has not had a head coaching job since leading Southern Illinois, his alma mater, to a 11-22 record from 1994-96.
Next head coach to become a coordinator: Justin Fuente, Memphis. Fuente is well-respected for his work on Gary Patterson's offensive staff at TCU from 2007-11, but he inherited a tough rebuilding project with Memphis. The Tigers ended Fuente's first season with a three-game winning streak, giving them a 4-4 record in conference play. Unfortunately none of those four teams Memphis defeated appear on the 2013 schedule, and it could be a rough transition year.
Most intriguing conference game: Louisville at Cincinnati, Dec. 5. The Thursday night contest kicks off conference championship weekend, and could likely be the game to decide the American's first conference champion. Both teams shared the 2012 Big East title, but it was the Cardinals who earned a bid to the Sugar Bowl with a victory at Rutgers on this very weekend.
Most intriguing non-conference game: Texas Tech at SMU, Aug. 30. With a Friday night kickoff on college football's opening weekend, there will be few distractions for the debut of Kliff Kingsbury's Red Raiders. Equally as intriguing will be the SMU offense, now that Hal Mumme, of early Air Raid fame, has been added to the staff as passing game coordinator. June Jones, Hal Mumme and Kliff Kingsbury on the same field? Can't miss that.
Bold conference prediction: Cincinnati will be undefeated in league play when they host Louisville on Dec. 5. This is absolutely a bold prediction, particularly with back-to-back road games at Rutgers and Houston in November, but it is also the best-case scenario for the league. Last year the Thursday night finale between Rutgers and Louisville lacked some its luster due to late season losses for both teams. If both teams are undefeated in league play, the game will get much more national hype.

1. Louisville: The goal is simple for the Cardinals: return to a BCS bowl game. The American Athletic Conference still has the Big East's automatic bid to the BCS for this last year before the College Football Playoff takes over as the postseason format. With 16 returning starters, including Big East Offensive Player of the Year Teddy Bridgewater, there is no consolation prize for a team coming off 11 wins and a Sugar Bowl victory.

2. Cincinnati: Tommy Tuberville has the opportunity to make the Bearcats the class of the American, and his first year should be a great start thanks to some key returnees from the Butch Jones era. Cincinnati returns all five starters along the offensive line and boasts and experienced front seven that is highlighted by senior linebacker Greg Blair. A third straight 10+ win season might be too much to expect, but it would not be a surprise.

3. UCF: Quarterback Blake Bortles returns along with the top four receivers from a year ago, which bodes well for an offense that led Conference USA -- an offense-friendly league in itself -- with 6.07 yards per play in 2012. While the Knights lose seven of their top ten tacklers on defense, the schedule will help make the conference transition manageable. UCF gets a week off before facing Louisville, avoids Cincinnati and gets both Rutgers and USF at home late in the season
4. SMU: SMU will be put through the grinder well before conference play, facing Texas Tech, Texas A&M and TCU early in the season. How they fair in conference play will depend on how the Mustangs bounce back. I'm guessing the early tests help break in an inexperienced defense and the union of June Jones and Hal Mumme bring out the best in quarterback Garrett Gilbert.

5. Connecticut: For the second year in a row, UConn fell one game short of the postseason. Four of the seven losses came by seven points or less, and now there is a sense of urgency in year three under Paul Pasqualoni. One place where immediate improvement can be made is in the turnover battle, where the Huskies ranked No. 114 nationally with a minus-14 turnover margin. After a year doing the quarterback shuffle for all of 2011, the staff finally found a full-time starter in Chandler Whitmer to pair with running back Lyle McCombs in the backfield. Linebacker Yawin Smallwood will lead a defense -- no longer under the direction of Don Brown -- that is missing several key players that now suit up on Sundays. Even with a tough non-conference schedule, I think UConn could be bowling again for the first time since the Fiesta Bowl appearance in 2010-11.

6. Rutgers: Kyle Flood's memorable first season at the helm did not finish in an ideal fashion, and now the challenge will be to bounce back with a lot of new faces. After a 7-0 start, the Scarlet Knights dropped four of their final six games, including the 13-10 overtime loss to Virginia Tech in the Russell Athletic Bowl, and failed to earn the Big East's BCS bid. The offensive line returns in good shape, but replacing a school-record seven draft picks and six of the top eight tacklers on defense is no easy task. This is the year for highly-touted recruits like running back Savon Huggins and defensive tackle Darius Hamilton to break out as primary contributors.

7. South Florida: Willie Taggart's reputation -- not mention recent work on the recruiting trail -- leads me to believe that Bulls will be competing for conference titles annually very soon. Although Taggart was a quarterback and offensive assistant coming up through the ranks, the 2013 USF team will be powered by their defense. Aaron Lynch and Ryne Giddins hold down one of the better defensive lines in the league and linebacker DeDe Lattimore has been one of the team's top tacklers each of his three years in Tampa.

8. Houston: There was high hope for the Houston offense, returning 10 starters from a year go, but the transfer of senior running back Charles Sims and ineligibility of senior wide receiver Dewayne Peace has put much more pressure on the younger skill players -- like wide receiver Deontay Greenberry -- to carry the load. The defense returns just five starters from a unit that gave up 30+ points in eight games on the way to finishing 5-7. Head coach Tony Levine mentioned the Cougars' jump from 5-7 to 13-1 just two seasons ago at media day, but I don't think a similar turnaround is in the cards for 2013.

9. Memphis: Justin Fuente's first year at Memphis has given fans a glimmer of hope after two dismal seasons under Larry Porter. A three game winning streak to finish the season gave Memphis a 4-4 record in conference play, exceeding the conference win total from the previous three years combined. But the jump to the American comes early in the transition process, and all four of those wins came against teams absent from the 2013 schedule.

10. Temple: Since 2009, Temple has benefited from a string of extraordinarily gifted running backs to serve as the cornerstone of their offense. When first-year coach Matt Rhule was offensive coordinator for the Owls under Al Golden, it was Bernard Pierce, now with the Baltimore Ravens, and Matt Brown acting as a one-two punch from the backfield. Last season, Montel Harris was added to the equation. The toughest part of this transition will be establishing a new identity with very little experience in the offensive backfield and just six returning starters on defense.
Many NFL-eligible juniors ignore advice provided by the league and risk going undrafted each...

Snyder died in Manhattan, Kansas, on Wednesday

Locksley joined Alabama's staff in 2016
Saban reportedly wants to hire Freeze, but there may be things keeping that from happening

Florida State-Miami will be on Oct. 6, and the Seminoles will play Clemson on Oct. 27

Weis Jr. was an offensive assistant for the Atlanta Falcons in 2017