AAC's Aresco on UMass: 'We don't have any plans to expand'
American commissioner Mike Aresco told the Daily Hampshire Gazette that UMass's availability doesn't change his league's intent to stay at 12 teams.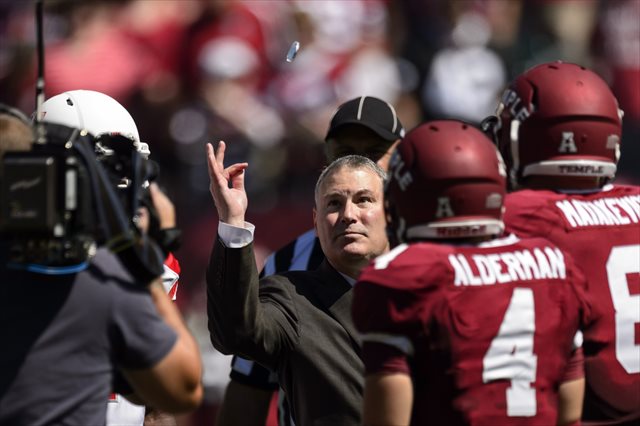 When the MAC announced that it and UMass's still-fledgling FBS football program would be going their separate ways after the 2015 season, the first question to surface after the surprise subsided was obvious: what are the Minutemen going to do now?
One possibility floated was a leap to the American, either as a full or football-only member, but AAC commissioner Mike Aresco told the Daily Hampshire Gazette Friday that expansion wasn't on the league's radar.
"We have a lot of respect for UMass. It's a flagship university, a high quality northeast presence. UMass has a lot of things going for it," Aresco said. "We don't have any plans to expand."
In typical commissioner-speak, Aresco wouldn't rule out expansion entirely, but said he was completely satisfied with the conference's planned 12-team football configuration for 2015. Tulane, East Carolina and and Tulsa will join the current eight-team league for the 2014 season, with Navy entering as a football-only member the following year.
"I don't know there's going to be much realignment the next few years," Aresco told the Gazette. "We think we'll be a cohesive stable group of 12."
It's hard to argue the Minutemen would offer an immediate boost the AAC's on-field product, having gone 2-22 under Charley Molnar their first two FBS seasons. Molnar was fired in December and replaced by former FCS UMass head coach Mark Whipple.
In other words: never say never, but unless a current American program follows Rutgers' or Louisville's lead and gets a hoist up into a power conference, UMass should probably plan on looking elsewhere.
The movie will zero in on former Penn State coach Joe Paterno during the Jerry Sandusky sc...

Bidding for Salaam's trophy, which the auction house says was obtained legally, ends Satur...

Locksley has been the offensive coordinator at Illinois and Maryland during his coaching c...
Many NFL-eligible juniors ignore advice provided by the league and risk going undrafted each...

Snyder died in Manhattan, Kansas, on Wednesday

Locksley joined Alabama's staff in 2016