Aaron Murray, Braxton Miller to skip spring break to work with QB guru
Who needs the beach?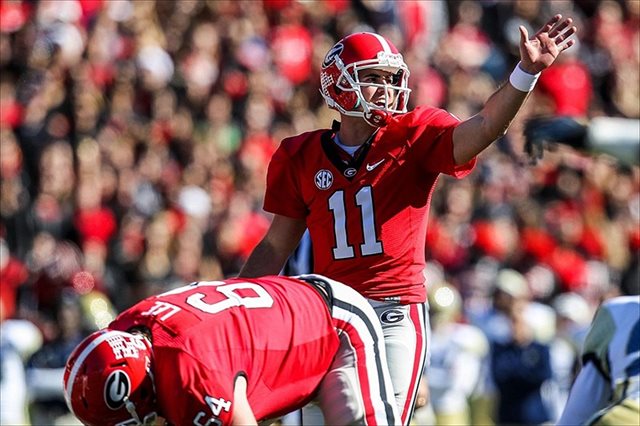 Two of the strongest competitors in the early 2013 Heisman projections are set to throw alongside each other next week -- even if that means they'll each be missing their respective spring breaks.
Georgia senior quarterback Aaron Murray told the Athens Banner-Herald on Wednesday that he'll be spending his week away from school in Norman, Okla., working with noted quarterback guru George Whitfield. Murray said he preferred honing his skills for his "last go-round" in Athens over "laying on the beach and just chilling the whole time."
That's quite the focused decision on Murray's part, but he apparently won't be the only college football superstar making the pilgrimage to work with Whitfield. According to Murray, Ohio State's Braxton Miller is also expected to be in Norman next week throwing with Whitfield.
"We're just going to train in the morning and the afternoon and Landry [Jones] will train between us," Murray told the Banner-Herald. "It should be fun. We'll get a couple of two-a-days in, work with him, get to work with Braxton. I think that will be pretty cool."
Whitfield is based in California. But after boosting the NFL draft preparations of Cam Newton, Andrew Luck and others in recent years, he's spending the week in Norman to help former Sooners quarterback Landry Jones ahead of Oklahoma's March 13 pro day. Working with enrolled college quarterbacks is nothing new for Whitfield, though. He has also tutored the likes of Tajh Boyd, E.J. Manuel and even Johnny Manziel.
At this point, players of Murray's and Miller's caliber don't need a lot of refinement. (Miller also already spent some during his previous winter holiday working with Whitfield.) But if either the Bulldogs' or Buckeyes' signal caller shows even a glimmer of improvement -- and have it pay off in a shot at a crystal football or a Heisman Trophy -- he will likely say trading the beach for the practice field will have been worth it.
Miami looks to cap an undefeated regular season at Pitt on Black Friday

Fitzgerald was injured while running during the first quarter of the Egg Bowl

D.K. Metcalf certainly had an interesting spin on his touchdown celebration
The Commonwealth Cup has resided in Blacksburg for over a decade

The biggest game in the AAC this season takes place Friday

Can Arkansas spring the upset on a Missouri team that has caught fire after a sluggish sta...