Aaron Murray on Clowney: 'I'm definitely not scared'
Georgia QB Aaron Murray took exception to Jadeveon Clowney's comments earlier this week, saying he respected him but did not fear him.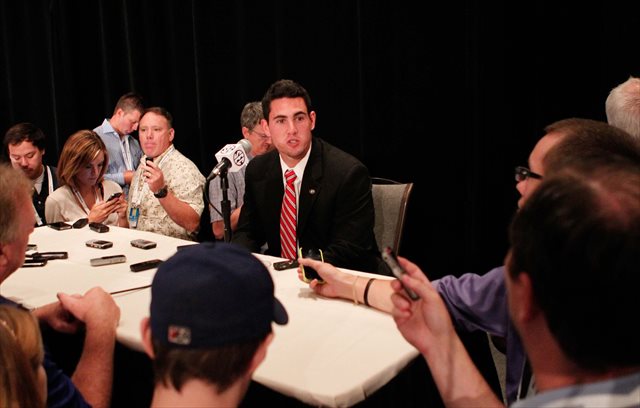 Jadeveon Clowney raised eyebrows earlier this week by saying Georgia's Aaron Murray was one of several quarterbacks who'd been "scared" facing South Carolina's Heisman-candidate defensive end. No one really blamed Murray, of course, since fear in the presence of Mr. Clowney is the natural reaction for any human being less imposing than RoboCop.
But Thursday at SEC media days, Murray responded -- unsurprisingly -- that Clowney had overstated things, and that the senior Georgia quarterback wasn't afraid of facing him again this season.
"You know, I think the word 'fear' was misused for respect," Murray said, per the Macon Telegraph. "[I] definitely have a lot of respect for him. He's one of if not the best player in the country ... A guy that you really do have to gameplan for and set a plan for him.
"I'm definitely not scared. But definitely respect greatly what he's able to do on the field." 
Murray added that, "I'm not scared of getting hit by anyone." And his teammate Arthur Lynch defended him, saying, "I think he's more afraid of his mother, personally."
The truth, of course, is that both players are simply discussing semantics -- where the line is drawn inside Murray's head between "fear" and "respect" is something not even Murray himself and a team of Sigmund Freuds could tease out in a month. Clowney says one thing, Murray insists another, tomato, tomahto, let's call the whole thing off ... or, rather, settle it in Sanford Stadium this coming Sept. 7.
Or, put another way, Clowney and Murray aren't discussing whether Murray will be afraid in this year's game as much as already playing the game itself. Clowney is looking to add just that extra little bit of personal pressure on Murray for the quarterback to atone for his miserable performance in Georgia's equally miserable 35-7 drubbing in Columbia last year; Murray is looking to deflect that pressure and approach the game with the same levelheadedness he's shown when he's at his best.
It's possible that the South Carolina-Georgia matchup will decide the SEC East, and it makes sense that both parties would already be doing their part to earn a victory there.
Of course, we might be making a little too much out of what could be a harmless back-and-forth between two of the SEC's more visible stars. But this is SEC media days we're talking about -- if we're going to talk about it as the unofficial start to the season, why not assume that for the players involved, that season really has already started?
Professional college football bettors are loving Jim Harbaugh and Michigan against Purdue

Temple knocked off USF last year to claim the division title

Guice is dealing with a 'minor injury' which has not been specified by coach Ed Orgeron
These are the best bets to make in Week 4 including Florida-Kentucky and Oklahoma State-TC...

Two players died as a result of playing college football on Saturday

Gary Danielson previews this week's SEC on CBS Game of the Week from Nashville