ACC needs more than Florida State to shed basketball-first label
To start the playoff era, the ACC could use a second or third dominant team to challenge the Seminoles.
• 3 min read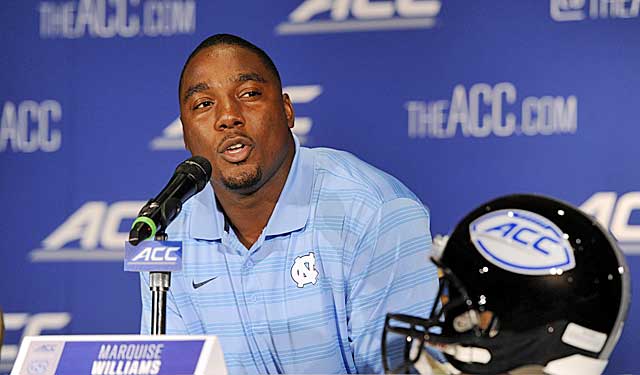 More college football: Dennis Dodd | Jeremy Fowler | Jon Solomon | Latest news
GREENSBORO, N.C. -- The ACC came to its annual kickoff event armed with fun facts about its football prowess.
Forty-two NFL draft picks in April, behind only the SEC nationally.
Eleven teams finishing with a winning record.
And, of course, Florida State "took [the national title] away from the SEC," as Seminoles quarterback Jameis Winston declared Sunday before taking questions.
For every pronouncement of the league's success, however, there's a reminder illustrating how far the ACC still has work to go. How one team's dominance alone won't provide the long-term benefits the league needs. How the perception battle against the basketball-first label persists.
When asked how close the rest of the league is to closing the gap on FSU, Duke linebacker Kelby Brown admitted, "It seemed they were miles ahead of everyone."
If not miles, then the Seminoles' 351-point margin of victory in nine ACC games last year, or 39 points per game.
With the College Football Playoff looming, the ACC clearly is better off with the Seminoles' mammoth performance in 2013 -- and their promise of another title push.
Equally as important, however, is finding a perennial contender in the deep-but-unspectacular Coastal Division, or Clemson's Dabo Swinney finally beating South Carolina, or Bobby Petrino's offense igniting new league member Louisville.
ACC teams don't want to fight for second place but need to show first is a reality.
Conference success hinges on national titles but there's more than that. Depth at the top can be just as crucial. The Pac-12 and Big 12 have depth but keep knocking each other out. The Big Ten has Michigan State and Ohio State but still needs a bit more up top.
Even in years when Big Ten basketball outperforms football, you rarely hear it called a basketball league -- because of the football tradition.
The ACC faces a unique challenge because it has three, maybe four basketball programs on any top-10 list, long-term or short.
The ACC has FSU, maybe Clemson, then Virginia Tech and Miami prowling on the fringe, hoping to recreate past glory. This CBSSports.com college football draft can give you an idea of where the league's depth is perceived. Five ACC teams made the top 32 but only one was among the top 15. A case could be made for North Carolina among the top 32.
It's a good group, one that contends nationally, but FSU needs challengers.
After all, UNC quarterback Marquise Williams doesn't need Randy Edsall to tell him about his basketball-first league.
"When you think or ACC, you think of basketball -- you don't think of football schools," Williams said.
FSU giving Auburn a "little spanking" in the title game pumps confidence into the rest of the league, Williams said. Why can't the league be defined by two sports, he wonders?
"We're going to try to shock the world to let everybody know [UNC] is not just a basketball school," Williams said.
At least four schools could be considered Coastal Division favorites, including two with serious pedigree (Virginia Tech and Miami), one with consistent talent (UNC), and one that seriously overachieves (Duke).
The ACC showcased promise with four wins over the SEC in the regular or postseason, and the league's next goal should be matching FSU/Clemson with a force in the Coastal.
Miami, which shockingly hasn't won 10 or more games since 2003, could have a top-10 national defense this year, linebacker Denzel Perryman said.
Not to undersell Clemson, which has had a ton of success under Swinney, but emerging as a playoff contender this year would be especially opportune. Miami,
Returning one of the country's best defensive lines could be enough.
"We feel like we can give (FSU) a good shot," Clemson defensive end Vic Beasley said.
Even if the 13 other teams don't match FSU's intensity, linebacker Kelby Brown has noticed a momentum shift in the south. He's from North Carolina and used to see SEC football fans everywhere.
"The respect for the ACC is a little different [now]," Brown said. "We're making strides."
Ross Bowsher claims KSU was well aware of his certification status during his employment

Find out which of your favorite team's players are among the nation's best entering the 2017...

Rosen, a junior, will be eligible for the upcoming NFL draft
Texas A&M has to be better defensively to stand a chance in the SEC West

A letter indicated that there is a growing awareness of the persistent problem in college...

The series will follow the Navy football program throughout the 2017 season