ACC's Swofford expects NCAA autonomy plan to pass
Speaking at the ACC Kickoff, John Swofford said the proposed plan to give the high-resource conferences more power is expected to pass on Aug. 7.
• 1 min read
More college football: Jon Solomon | Dennis Dodd | Latest CFB news
GREENSBORO, N.C. -- College athletics is bracing for Aug. 7, when the NCAA board of directors vote on the new governance structure that gives voting power and financial flexibillity to the SEC, ACC, Pac-12, Big Ten and Big 12.
ACC commissioner John Swofford feels confident the power leagues will get their wish.
Speaking at his annual ACC Kickoff, Swofford said he believes the steering committee has enough votes to pass the new plan, which would allow conferences to expand players' rights, provide full cost-of-attendance and redirect legislature from the NCAA's archaic stances on agent-player dealings, recruiting and other big-picture issues.
Basically, these five want the right to do what they want, possibly creating a wider gulf between the proverbial haves and have-nots.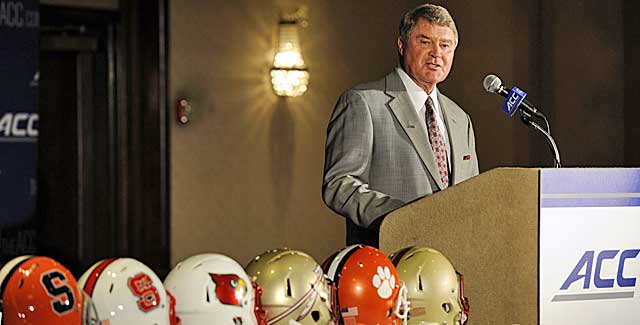 "The good ship Status Quo has sailed," Swofford said.
Swofford seems less concerned about the board of directors' vote than SEC commissioner Mike Slive, who has threatened more than a potential breakoff from the NCAA if the plan does not pass. 
Once approved, however, the leagues will create a detailed plan on major issues, starting with player scholarship costs. The official rollout could come at the NCAA convention in January.
These conferences must agree on the plan, which could take time. Do they know what they really want? And does every conference ultimately want the same things?
"I don't think you'll find anybody that thinks [the proposal] is absolutely perfect, but in this exercise you probably don't expect perfection, considering what we're trying to accomplish and the diversity of the programs and groups that are involved in this," Swofford said. "So if this passes, the feeling among the five conferences is that this gives us the opportunity to do some things significant that need to be done but keeps us under the big tent [of the NCAA]."
The steering committee proposal is led by Wake Forest president Nathan Hatch, so Swofford has a good source on the proposal's chances.
Florida State and Alabama will face off in a highly touted game in Atlanta in Week 1

Five NC State freshman were punished team rules and code of conduct violations

Browne was benched in favor of Darnold early into last season
There are new names to learn every season, and here are 14 to keep an eye on from the SEC

Taking a close, detailed and opinionated look at the SEC a week before the start of the 2017...

Rosier will start for the Hurricanes in their opener against Bethune-Cookman