ACL injury ends season for Georgia WR Marlon Brown
Senior Bulldog wideout Marlon Brown's season and Georgia career ended Saturday with an ACL injury suffered against Ole Miss.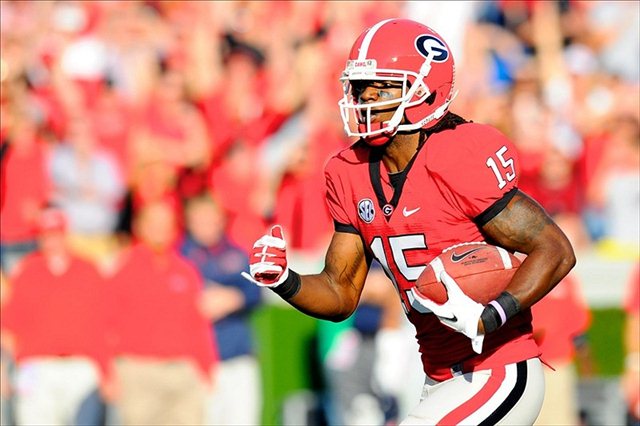 Marlon Brown's loss is another tough blow for Georgia's receiving corps. (US Presswire)
Even with Georgia now one win away from a return trip to the SEC Championship Game -- with only 2-7 Auburn standing in the way -- the news isn't all good for the Bulldogs.
Coach Mark Richt announced Sunday the knee injury suffered by senior wide receiver Marlon Brown during the Bulldogs' 37-10 win over Ole Miss will require ACL surgery, ending his season as well as his Georgia career. Brown was tied for the team lead in receptions with 27, ranking second in both receiving yards (469) and touchdown catches (4).
"That's just an injury that people recover from well. We know he'll be able to continue on to his pro career," Richt said, per the Macon Telegraph. "I think he was well on his way to having that happen for him. We're very sad and sorry that it happened for Marlon, and for Georgia too.
"He'll recover. He'll do fine. It's just a hard thing to swallow right now."
Brown sent the following message out on his Twitter account:
God never puts you thru something he doesn't think you can handle. I'm still very blessed and love you guys. Thanks for the prayers #godawgs

— Marlon Brown (@MB_uno5) November 4, 2012
The good news for the Bulldogs is that with leading receiver Tavarres King and dynamic playmaker Malcolm Mitchell still available, Aaron Murray still has a pair of top-tier targets available at wideout. (After starting slowly due to injury and cornerback duties, Mitchell has caught 17 balls for 232 yards and two long touchdowns the past three games.)
The bad news is that thanks to Michael Bennett's torn ACL following Week 5, behind King and Mitchell, what was once the deepest unit on the Bulldog roster now looks surprisingly thin. Junior Rantavious Wooten is the only other Bulldog to have hit double-digit receptions for the season, with 12, and the team's next-leading wideout is sophomore Chris Conley with only 7.
Between King and Mitchell, the capable Wooten, and a deep roster of tight ends, even the loss of both Bennett and Brown won't send the Bulldogs receiving corps into crisis mode. But with the SEC championship now squarely in Georgia's sights, Richt needs all hands on deck --and Brown represents the loss of a very talented pair of hands.
The junior will take the snaps for the defending national champions in 2017

MetLife Stadium is about 10 miles away from where the World Trade Center buildings once st...

The Terps will wear these against Indiana on Oct. 28.
The coach of the Eagles isn't here for no science talk

These are the teams that are getting too much -- or too little -- love before the season

The Crimson Tide start atop the AP Top 25 poll for the second straight season