AD: Hawaii in danger of dropping football; victim of autonomy?
Hawaii AD Ben Jay said the school may have to drop football because of a $2.1 million athletic department deficit. The department has run a deficit in 11 of the last 13 years.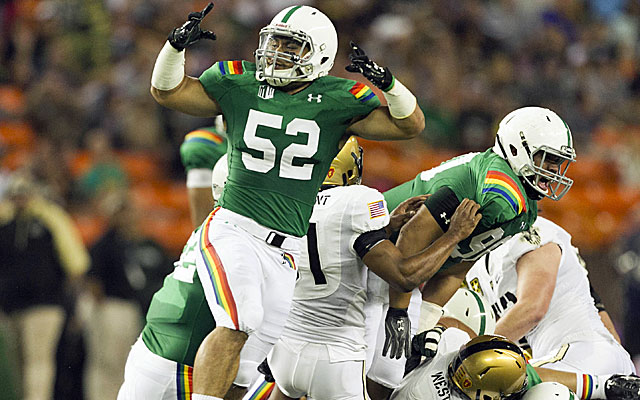 Conference previews: ACC | Big Ten | Big 12 | SEC | Group of Five/Independents
Welcome to the first unintended consequence of autonomy.
Hawaii can't afford to keep playing football, so it may drop football.
Those essentially were the words of Hawaii AD Ben Jay on Monday speaking to the school's board of regents. Jay's athletic department is facing a $2.1 million budget deficit. On the horizon are added expenses for cost of attendance in autonomy.
Judging from Jay, it is not an expense Hawaii can afford at the moment.
"There's a very real possibility of football going away," he said.
How's that for student-athlete welfare? One less football program to benefit from the spoils of autonomy.
Hawaii's plight points out an autonomy Catch-22 mentioned last month by Big 12 commissioner Bob Bowlsby. While the cost-of-attendance stipend is meant to benefit the athlete, the money to fund it has to come from somewhere. At even the highest-resource programs that means fundraising or cutting back on minor sports. Perhaps both.
Schools don't have to offer cost of attendance. What Jay is saying is -- regardless -- Hawaii doesn't have to offer football. Jay is suggesting the only solution may be cutting out the athletic department's biggest money maker (football) to save rest the rest of the sports. That's desperation.
"We're going to have to generate more revenue," Jay told a reporter. "There's no doubt about that."
The once-proud football program has endured a steady spiral below .500 and into red ink in recent years. As far back as the summer of 2007, quarterback Colt Brennan criticized the football facilities saying they were "galaxies away" from his former school, Colorado.
That was the summer before the Warriors made a stunning run to the Sugar Bowl and Brennan became a Heisman finalist. Since coach June Jones left after that season, Hawaii is 33-45 -- 4-20 the last two seasons under Norm Chow. 
Since 2005, Hawaii's athletic operating expenses have increased 75 percent according to the last figures available in 2012. That compares favorably with the FBS median of a 71 percent increase since '05.
The ultimate irony: Jay came from Ohio State, which operates with the No. 2 or No. 3 athletic budget nationally (depending on your metric). 
This could go one of two ways: Jay's comments sway boosters into kicking in the needed money or he just absolutely killed recruiting. Perhaps both with Monday's comments.
One wise guy on Twitter remarked: "Have you seen Hawaii play? The recruiting is already dead." 
The alliance includes including scheduling, training, development, recruitment, retention and...

Power Five home-and-homes have been a priority for UCF AD Danny White

Greg Byrne and Danny White had some words about what it means to be national champions
The team at TheMichiganInsider.com have an exclusive look at Michigan's spring practice

The 'Conference of Champions' won't be in the Round of 32 for the time since 1986

Everything you need to know about Colorado's spring game