After APR casualties will there be enough teams bowl eligible in '14?
The Academic Progress Rate has caught the first two FBS teams in history -- Idaho and UNLV. Those programs will be banned from bowls in 2014. Will there be enough bowl-eligible teams this season?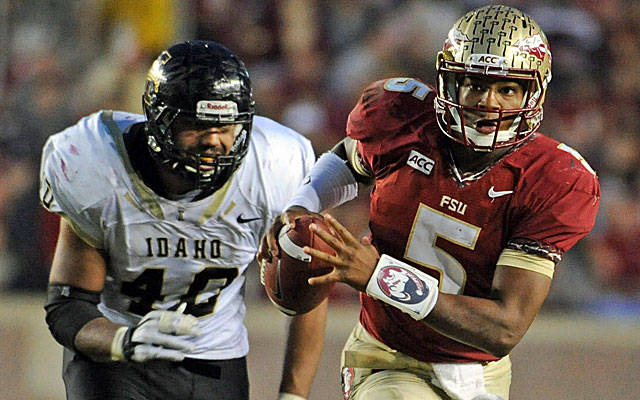 More: Idaho receives postseason ban | Latest college football news
It has started with Idaho and UNLV missing the 2014 postseason because of Academic Progress Rate violations. Could the bowl system itself now be in danger of not having enough eligible teams?
Beyond those two schools, multiple Football Bowl Subdivision programs will soon be hit with APR violations, sources told CBSSports.com.
Idaho on Saturday became the second FBS school in the decade-long history of the APR to be hit with a postseason ban. UNLV was the first earlier this month. Both schools are banned from postseason play in 2014. The Rebels will not be eligible for the Mountain West championship game.
The sources -- intimately involved in the penalty phase of the APR -- expect the list of FBS schools to grow beyond two. One source said "at least three more" programs could be nicked. 
Football Bowl Association executive Wright Waters says he was told by an NCAA official -- an additional source -- "there will be others," banned from the postseason. However, the entire list won't by known until mid-May, he was told.
If that's the case, Waters is worried.
"Absolutely," the former Sun Belt commissioner said.
APR penalties have largely touched Football Championship Subdivision schools (formerly Division I-AA) until this month.
With a record 39 bowls in 2014, the system is already operating on a razor-thin edge. There were 72 bowl-eligible teams for 70 spots (35 bowls) from 2010-2012 according to figures supplied by the FBA. The total grew to 79 for 70 spots in 2013.
That's an average of 73.75 bowl-eligible teams the last four years. The system will need a minimum of 76 teams in 2014. (The two national semifinal winners will "pass through" to the national championships game.) 
"We're probably going to end up with a situation where we don't have enough teams," Big Ten commissioner Jim Delany told CBSSports.com. 
If it all blows up in December, one bowl official said, affected bowls can't say, "I didn't know."
Ironically, if there aren't enough bowl-eligible teams for all the slots -- at least a 6-6 record -- bowls will be allowed to dip down to 5-7 eligibility. But those teams will be ranked by highest APR score.
"That would be an embarrassment," Delany said of a sub-.500 bowl team. "It could happen."
Schools must attain a minimum APR score of 930 out of 1,000. That number roughly equates to a 50 percent graduation rate. It is calculated over a four-year rolling average. The standard was raised in 2011 from 925.
Since the deregulation of bowls from NCAA oversight a few years ago, market forces have ruled. Left unchecked by NCAA mandates, bowls proliferated. The number of bowls has grown from 22 in the first year of the BCS (1998) to 40 (2015).
If that number tumbles it will be because bowls can't make it financially. Meanwhile, take away UNLV, Idaho and Penn State (third year of Sandusky sanctions) from the list of 2014 eligible teams. That is counterbalanced by the addition of Georgia State and Texas-San Antonio to full FBS membership.
The NCAA basically retains oversight over only two areas -- title sponsorship and certification.
While Idaho and UNLV certainly aren't bowl regulars, the loss of a projected six or more teams from the 125 in FBS would almost certainly impact the bowl system.
Both UNLV and Idaho publicly announced their violations after repeated appeals to the NCAA. When the appeals process ran out, those schools -- per NCAA rules -- had to tell players within 48 hours.
Seniors in such programs are allowed to transfer without penalty.
Idaho notified its players Saturday morning following the Vandals' spring game Friday night. AD Rob Spear told CBSSports.com he doesn't expect any seniors to transfer.
"We've fixed the problem," Spear said of the school's academic enhancements.
The latest Idaho APR score was 903. Scores had declined under former coach Robb Akey.
Spear noted that this academic year, the football team will post a 960 APR. While that score may not lift Idaho's number above 930 in the four-year rolling average, Spear believes that will be a mitigating circumstance in keeping the Vandals from a ban in 2015.
As part of its penalty, Idaho will lose four hours of practice each week. Gone are coach Paul Petrino's "Get Better Sundays," during which younger players and walk-ons got significant playing time in scrimmages.
In part because of those scrimmages, quarterback Matt Linehan took 1,230 snaps last year. 
The movie will zero in on former Penn State coach Joe Paterno during the Jerry Sandusky sc...

Bidding for Salaam's trophy, which the auction house says was obtained legally, ends Satur...

Locksley has been the offensive coordinator at Illinois and Maryland during his coaching c...
Many NFL-eligible juniors ignore advice provided by the league and risk going undrafted each...

Snyder died in Manhattan, Kansas, on Wednesday

Locksley joined Alabama's staff in 2016