After bowl win over LSU, Clemson D confident it can hang with Georgia
Barnhart: Clemson's maligned D vs. Georgia's high-powered attack? Sure looks like trouble, but the Tigers -- after a bowl win over LSU -- feel confident the Dawgs won't run wild.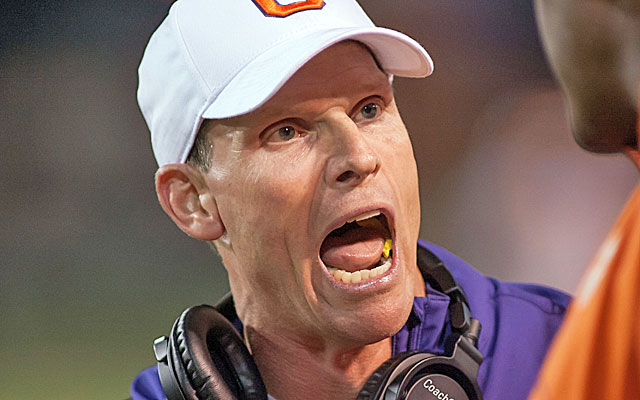 CLEMSON, S.C. -- Dabo Swinney had seen enough.
After watching his defense miss approximately eight million tackles and give up 667 yards of total offense in a 49-37 loss to Florida Gators State on Sept. 22, the Clemson Tigers head coach had what we in the South call a "Come to Jesus" meeting with his new defensive coordinator, Brent Venables.
"Something had to change. And it had to change in a hurry," said Swinney.
What changed was that Swinney and Venables decided that four games into the 2013 season it was time to go old school. Once the season starts, most teams don't have full-contact, body-to-the-ground scrimmages for fear of injury. But Swinney and Venables decided that every Tuesday for the rest of the season the No. 1 defense would go full speed against the No. 1 offense with nobody holding back.
"You always have the chance of injury, but there was no way we were going to get better and learn to tackle if we didn't have full contact practices," said Swinney. "And we got after it."
The results didn't come overnight for the Clemson defense. In the next game Clemson gave up 420 yards and 31 points to a bad Boston College team but won by two touchdowns (45-31) thanks to the Clemson offense. Georgia Tech rambled for 483 yards (339 rushing) in the following game but the Tigers still won 47-31 as the offense posted 601 yards.
"But you could see us getting better," said linebacker Spencer Shuey . "In the first five or six games we kept making the same mistakes over and over. Then the guys started locking in and being more committed."
Shuey is the perfect example of the evolution of the Clemson defense in 2012. In the first six games he averaged only 16.2 snaps per game. In the final seven games he was in for an average of 59 snaps. He had 69 tackles in Clemson's last seven games of the 2012 season.
The turning point for Shuey came in the sixth game with Georgia Tech Yellow Jackets . With Clemson clinging to a 38-31 lead, Shuey tackled Georgia Tech's Orwin Smith in the end zone for a safety. It was a huge momentum boost.
"What happened was that after the Georgia Tech game I proved to the coaches that they could rely on me," said Shuey.
Clemson's defense then blocked a Georgia Tech field goal setting up an 80-yard drive that put the game away.
"There is no question that after the Georgia Tech game I saw a different level of comfort with what we were doing," said Venables, in his second season at Clemson after a 13-year stint at Oklahoma Sooners . "Guys started getting a lot more aggressive. We started figuring out what our weaknesses were and what our strengths were."
Now there were still some more blips before the end of the season. A Nov. 17 game with N.C. State was nothing less than a train wreck. Clemson was up 13-0 when N.C. State's Mike Glennon lit up the Tiger defense for 24 straight points. Trailing 24-13, its biggest home deficit of the season, the Clemson offense then scored 42 straight points and the Tigers eventually won 62-48. Clemson gave up 597 yards of total offense.
A week later South Carolina Gamecocks ran 86 plays, allowing Clemson's offense only 59. Clemson's defense could not get off the field and the offense couldn't block Jadeveon Clowney in a 27-17 loss.
Still, when the regular season was over, Clemson had posted back-to-back 10-win seasons for the first time since 1990.
With Tajh Boyd and wide receiver Sammy Watkins returning along with four of five starters on the offensive line, there is little doubt that Clemson will be able to match last season's scoring pace of 41 points per game. So if the defense can be a little more consistent, the Tigers should be able to win their second ACC championship in three seasons.
Clemson never became a dominant defense in 2012, but there are reasons to expect improvement in 2013:
• Despite giving up huge numbers in several games, Clemson's defense finished third in the ACC in fewest points allowed (24.85 ppg). The Tigers allowed more than 27 points only once in their final six games.
• Clemson had seven sacks in the first six games last season. It had 27 sacks in the final seven games.
• Clemson finished first in the ACC in red zone defense.
•Clemson returns 14 of its top 15 tacklers from a season again.
But here in the heat of August, the thing that gives Clemson's defense the most confidence going into 2013 is the continuing afterglow of a 25-24 win over LSU Tigers in the Chick-fil-A Bowl.
Now LSU's offense is never going to be confused with Oregon Ducks 's. LSU was eighth in the SEC in scoring last season (29.77 ppg). But the reality is that Clemson forced the LSU offense to three and out eight times over the course of the game. LSU had only nine first downs and only 219 yards of total offense in the game.
Clemson's defense got the biggest stop of the game when it needed it most. LSU had the ball and a 24-22 lead. All it needed was one first down to run out the clock. Clemson got the stop (thanks, in part, to three straight incomplete passes by LSU) and gave the ball back to its offense with 1:39 left.
Boyd drove his team 60 yards on 10 plays and Chandler Catanzaro kicked a 37-yard field goal at the final horn to give Clemson a 25-24 victory.
"The way we played against LSU was a huge confidence builder for our team," said safety Travis Blanks . "Every week you could see our defense get a little bit better. It was a huge momentum booster when you consider what we have to face to open this season."
On Aug. 31 Clemson will host Georgia Bulldogs , No. 5 in the preseason coaches poll, which returns everybody from an offense that set school records for points and yardage in a season. Georgia's quarterback, Aaron Murray , has posted three straight 3,000-yard seasons and will become the SEC's all-time leading passer if he stays healthy in 2013.
"In the LSU game we proved we can play with a team like Georgia," said Shuey. "We know we have the ability. We are going into this season with confidence and momentum."
Is it enough momentum to handle a schedule that begins with No. 5 Georgia, ends with No. 7 South Carolina, and has No. 12 Florida State Seminoles in the middle? The defense took some steps forward last season, but is it ready for a prime time matchup with a team (Georgia) that was five yards away beating Alabama Crimson Tide and playing for the national championship?
"Our guys recognize the challenge of playing Georgia. They have one of the best offenses in college football," said Venables. "They can run it and pass as well as anybody. They have a great quarterback. It's going to be a huge challenge for us. But you know what? It's a big opener for them, too. So here we go. Let's play."
Ross Bowsher claims KSU was well aware of his certification status during his employment

Find out which of your favorite team's players are among the nation's best entering the 2017...

Rosen, a junior, will be eligible for the upcoming NFL draft
Texas A&M has to be better defensively to stand a chance in the SEC West

A letter indicated that there is a growing awareness of the persistent problem in college...

The series will follow the Navy football program throughout the 2017 season