AJ McCarron: I don't try to one-up anybody; I just want rings
Alabama quarterback AJ McCarron talked about his focus and the Crimson Tide's focus as the program tries to win an unprecedented three consecutive national title as well as what he's learned from being around the Mannings and his relationship with Texas A&M star Johnny Manziel.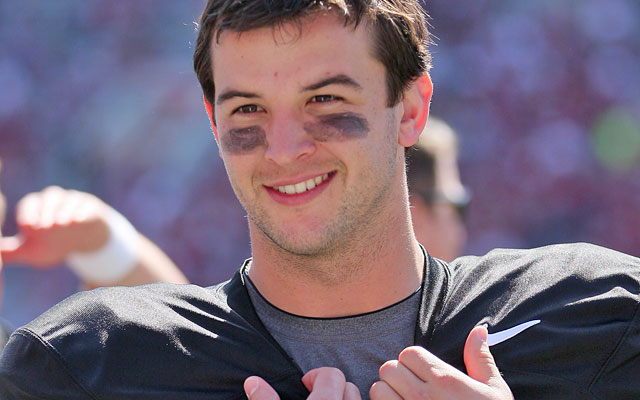 THIBODAUX, La. -- A few days before the start of SEC media days, Alabama quarterback AJ McCarron traveled to Louisiana to take part in the Manning Passing Academy. McCarron, who is trying to lead the Crimson Tide to become the first major college football program to win three consecutive national titles, sat down with reporters for a Q&A session in which he discussed his offseason, what he has learned from being around the Mannings and his relationship with Heisman Trophy winner Johnny Manziel of Texas A&M.

Q: How has the offseason been for you since winning a second consecutive BCS title for Alabama?

McCarron: It's been great. The summer's been hot, but other than that, everything's been great. Everybody's working hard, injury free, so it's a good thing.

Q: What are you hoping to learn from being out with the Mannings and everyone else here working the camp?

McCarron: This is actually my third year coming here. I think it's more of an off-the-field type help than on the field for us in terms of how to handle yourself, how to carry yourself with everyone watching you and everything. The way the world is nowadays social media is everything. It's really how to handle yourself off the field, and I've learned a lot about that here.

Q: What is your biggest memory about your last trip to Louisiana with the comeback win over LSU?

McCarron: It's one of the best wins I've ever been a part of. One of the best team wins. Just fighting back. It really was a 60-minute game and an unbelievable win, especially since it was in Tiger Stadium.

Q: What do you make of playing Texas A&M so early in the season?

McCarron: It's going to be fun. We get to play my boy [nods across at Manziel seated 10 feet away]. I think it's gonna be a good game. Really exciting, and I'm ready to play.

Q: What do you make of the chance to win three BCS titles in a row?

McCarron: It's a blessing. But I think it shows how great our coaches are and how great our team's been with the work ethic year-in and year-out. Nobody's really complacent about anything or pleased in any sort of way. Everybody's coming in and worked hard. Hopefully we can keep that track going. We've been working our butts off up there. Hopefully it'll pay off in the right way.

Q: How much more efficient can you be? Some people said last year that you were about as efficient as you can play the position.

McCarron: I don't listen to people. I don't know who those people are, but I don't listen to them. I listen to my coaches, and I know what I'm capable. I'm just going to go out and work on the things I need to work on and try to get better in whatever way I can. I don't try to do anything flashy. I just try to win ballgames. If I have to hand the ball off to win ballgames or just take care of the ball or whatever, that's fine with me.
I've learned to scale back. I came in a "gunslinger." I can make plays, but I had to learn to bring it back to fit our offense and I'll do whatever it takes to win. I don't care.

Q: Who are some young players who have really caught your eye in workouts?

McCarron: O.J. [Howard, a 6-foot-6 freshman tight end] has been doing a great job for us. (6-4 freshman WR) Raheem Falkins has really been coming along great. He's done an excellent job. He's got really strong hands and, for a young kid, he catches the ball really well in traffic. That's huge for us. I think he has a really good shot of playing for us especially when we spread it out this year.

Q: What's your relationship like with Johnny?

McCarron: We're friends. He knows if he ever needs anything -- advice -- I'm here for him and vice versa. People try to make the football thing a competition. When we're inside the white lines, yeah, we're both playing to win the game. But football's just a game. It's not life, so us being friends is a lot better than us being enemies because we're not gonna get anything out of us being enemies.

Q: Is it more of a competition, where if you're off and you watch him playing, you try to one-up him?

McCarron: Nah, I just try to win. I don't try to one-up anybody. I just want rings. That's all I want.
Freeman will not play in the New Mexico Bowl on Saturday

SportsLine simulated every bowl game 10,000 times for pick'em leagues and confidence pools

Grier will return to West Virginia for the 2018 season instead of entering the NFL Draft
The Chick-fil-A Peach Bowl just got spicy

Anderson had been under investigation for an incident at a bar in Cleveland County, Oklaho...

Between Arizona State and Tennessee, no one would have guessed how this coaching cycle turned...