Alabama back in spotlight with excellent display against LSU
Welcome back, Alabama. Dennis Dodd says the Tide, out of the spotlight the past few weeks, remind the nation why they are the 2-time champions with a big win over LSU.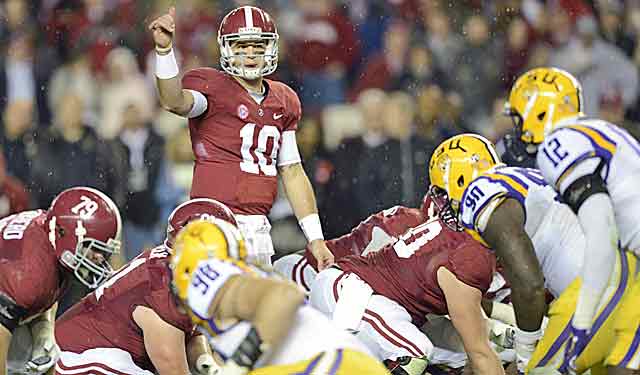 TUSCALOOSA, Ala. -- Welcome back, Alabama, because it's been a while since anything you did really mattered in the big picture. Weeks, actually.
Smacking Colorado State? Smothering Georgia State? Those are borderline assault charges. And don't come at me with Kentucky (48-7), Arkansas (52-0) and Tennessee (45-10) because they didn't come back at you with much of anything.
Admit it, you/we have been waiting for LSU to test the Tide all season. It wasn't your grass-eating grandfather's Tigers with two losses, but they were good enough.
Good enough to reawaken Alabama, which reawakened the season. The Tide are still No. 1 with a bullet -- through the hearts of those who think this championship run has bled out.
"Don't tell Nick," said one fan riding the elevator down from the upper reaches of Bryant-Denny Stadium, "we left early."
Yeah, it was like that again. Another day, another blowout. For the seventh consecutive game Alabama won by at least three touchdowns, this time over LSU 38-17.
The last month-and-a-half the nation's attention span was focused on the rise of Baylor, Auburn, Stanford and others. Bama? Get back to us when you play somebody.
In beating the No. 10 Tigers, the Tide proved they aren't going anywhere except a third straight BCS title game.
And hopefully for the houndstooth faithful, neither is Nick Saban. That's why his half a victory lap after on-field interviews was significant. The week had been filled with talk of him -- talk from his agent, really -- that he would consider the Texas job.
Alabama vs. LSU recent history
Date
Result
11-9-2013
Alabama 38, LSU 17
11-3-2012
Alabama 21, LSU 17
1-9-2012
Alabama 21, LSU 0*
11-5-2011
LSU 9, Alabama 6
11-6-2010
LSU 24, Alabama 21
* - BCS Championship
Two problems: It isn't open (yet), and Saban wasn't waving goodbye Saturday night. The night ended with his index finger in the air as he ran off the field. 
Goodness, even Phil Knight had switched sides. Two days after seeing his Ducks' championship hopes die, the Nike CEO was on the sidelines Saturday decked out in Alabama gear.
For now, Saban looks totally at ease with himself. Earlier in the day, he broke down the game on national television -- the Baylor game from Thursday night.
"I must have gotten it from someone else," Saban said, sporting a splotch of blood on his khakis, "because I'm not bleeding."
Not Saturday. Not much these last three seasons.
"I really love coach," said quarterback AJ McCarron, who against the Tigers quietly became Alabama's career passing leader.
Quietly, because those adoring fans were longing for a real, live opponent. Hey, at least LSU put up a fight. The game was tied 17-17 in the third quarter when Saban went for a fake punt. Not only that, there was a Flea Flicker in there called for McCarron. The pass fell incomplete, but you're missing the message.
Alabama needed someone its own size to pick on. T.J. Yeldon busted up that tie by taking over two long Bama scoring drives to provide the comfortable margin. Yeldon ended both drives with touchdowns, accounting for 90 of the 150 total yards.
The fake punt broke it open. After a timeout near midfield, linebacker C.J. Mosley took a direct snap and handed off the defensive back Jarrick Williams for a gain of six. That lengthened a 14-play, 79-yard drive.
"I would trust C.J. Mosley to watch my kids, I would trust him to watch my house," Saban said.
So complete was the second-half thrashing that Mosley talked openly about LSU reach a "breaking point." Here's another way to say it: Alabama outrushed LSU in the final 30 minutes 129 to minus-16.
"I could tell in some of the [LSU] players' eyes it was about it for them," he said, "with us making play after play after play."
"It probably was our best half of football," Saban said.
This season? Ever? We'll settle for the best since that altogether entertaining win over Texas A&M the third week of the season.
That game kicked off an offensive revolution in the SEC which has become the nation's highest-scoring conference. Alabama, though, quickly readjusted. In the seven games since A&M it has allowed only 43 points.
The game looked nothing like the so-called "Game of the Century" two years ago here that featured five field goals and a lot of snores. The 55 combined points were the most in the series since 2007.
The result keeps the Tide alive for an unprecedented third consecutive title. It also keeps McCarron's name alive in Heisman talk. Three more touchdown passes mean he has now tossed 49 the last two seasons.
"I've won two national championships in a row," McCarron said. "If that hasn't distracted me, individual awards aren't going to distract me."
McCarron came into the game with as many national championships as career losses (two). The dude is so chill that he didn't know he had broken John Parker Wilson's career passing mark.
"I just checked my phone and had a bunch of texts," McCarron said. "I asked [an Alabama staffer] what record did I break?"
His offensive line finally gave up a sack after going 18 consecutive quarters (and 42 days) without allowing one. Alabama's defensive makeover since the A&M game has been amazing. The defense came into the game tied for the fewest first downs allowed (114).
It seems so long ago since Bama's defense gave up the most yards in school history in Week 3 to the Aggies. That's all changed. LSU would have been leading at halftime if not for a J.C. Copeland fumble at the Alabama goal line on the Tigers' first possession.
In its notes, LSU made a big deal out of its six running backs having five lost fumbles in 721 career attempts. Copeland made it six as he was stripped by linebacker Tana Patrick rounding left end for a touchdown.
"A terrible start," Les Miles called it.
The end was worse.
In between that A&M game and LSU, Alabama played five teams with a combined record of 14-34.  Saturday night was more like it. Top 10 team, at home. Season on the line. Another sacrifice at the altar of Alabama excellence.
Cristobal's first game at Oregon ended the same way Chip Kelly's did

Conner Manning and the Panthers dominated the Hilltoppers in the Cure Bowl

You can only go to the well so often before it dries up
The Trojans beat LSU earlier in the year and now have their first 11-win season as a FBS t...

Saban has never been a fan of the early signing period and made it clear that hasn't chang...

Paul Tyson is a three-star quarterback prospect for the 2019 recruiting class