Alabama chancellor considered dropping UAB football in 2008
Alabama was considering ending football at UAB, among other options, well before it formally came to an end in 2014.
The University of Alabama at Birmingham, which recently dropped football, considered cutting the sport back in 2008 and moving to the Missouri Valley Conference, Atlantic 10 or forming a new league, according to an internal document obtained by CBSSports.com.
The 20-page document is a revised working draft titled "Study Options Requested by Chancellor Portera" and dated Nov. 11, 2008. At the time, Malcolm Portera was chancellor of the University of Alabama System, which oversees UAB; he retired in 2012.
University of Alabama System spokeswoman Kellee Reinhart said the purpose of Portera's study was to review UAB's financial progress given previous decisions regarding UAB athletics.
In April 2002, Alabama's Board of Trustees said UAB's athletics program might be shut down if its deficit was not brought under control. The board said UAB's athletics department needed to break even and operate on a self-sustaining basis by April 15, 2004, or risk the loss of funding. After then-UAB president Carol Garrison offered an update in 2003 to the board's athletic committee, the committed passed a resolution supporting Division I athletics at UAB.
"The (2008) study was designed to review all options," Reinhart said by email. "It provided an analysis without conclusions or action steps."
Reinhart said the 20-page document obtained by CBSSports.com was the extent of the 2008 study.
The study suggested UAB would have lost money in the Missouri Valley and barely broke even in the Atlantic 10 by eliminating football. Another option of trying to be more competitive in football listed a net loss of $11.3 million.
UAB will likely be searching for a new conference soon since Conference USA membership requires playing football. C-USA is expected to make a decision in June, potentially leaving UAB as a lameduck member in the league for one last year in 2015-16. UAB has not publicly shown a financial model without C-USA revenue and what it could mean for the athletics department moving forward.
UAB eliminated football, bowling and rifle last December, saying that at least another $49 million would need to be invested over the next five years to keep football competitive. Part of the reason cited by UAB for dropping football was costs associated with new benefits to athletes that were not permitted by the NCAA in 2008.
"Officials at UAB who had been a part of the 2008 and 2014 studies did consider the 2008 study," UAB spokesman Jim Bakken said via email. "That study was not provided to consultants from Carr Sports [the consulting firm that initially studied UAB's future in 2014], so it did not influence the results of the analyses they conducted with UAB athletics. Since 2008, annual institutional support for Athletics has grown substantially but external support has not."
At the time of the 2008 study, UAB was coming off a 2-10 season in Neil Callaway's first year as head coach. The program had drawn the second-fewest fans in C-USA and had lost nine football scholarships due to low Academic Progress Rate scores. The study noted increased academic initiatives to help athletes, such as academic support staff increasing from five to nine and a $250,000-increase in the staff's operating budget.
UAB financial study from 2008
Three options were considered in 2008: Drop football and move to another comparable conference; drop football and form a new, comparable conference; or keep football and determine requirements for a competitive program. Ultimately, football was kept, though UAB supporters would argue there wasn't enough investment into the program for it to truly be competitive. UAB athletics has regularly not had annual debt service for athletics facilities -- a rarity in Division I sports.
The 2008 study estimated UAB would have a net gain of $195,309 without football by moving to the Atlantic 10, given a loss of $1 million in conference revenue. In that scenario, UAB would have paid another $700,000 to add men's track and field to maintain Division I status, and an extra $400,000 in additional team travel costs due to an average distance of 781 miles between Birmingham and A-10 members.
The option for moving into the Missouri Valley without football estimated UAB would lose $54,691, given a $1.5 million loss in conference revenue. Men's track would have been added at a cost of $700,000, and additional travel expenses would have been $150,000 given the average distance of 642 miles between Birmingham and Missouri Valley members.
In both scenarios, the 2008 study listed these one-time costs due to cutting football: $3.45 million to cancel nonconference football games, $840,000 for the football coach's severance, and $2.3 million for a "scholarship run-out" for football underclassmen.
UAB's study even floated the idea of forming a new conference, an option that the document estimated would result in a $404,691 net loss without football.
"Ideal conference would consist of 8 teams, in major markets, that are geographically clustered and comparable academic stature," the study said. "Establishment of new conference would face many challenges including significant membership fees to resource conference office, time to establish league marketability that could lead to revenue for members and four-year rule to gain automatic bid slot to NCAA men's basketball tournament."
A final option from the study was to keep UAB football by determining requirements for a competitive program at an estimated net loss of $11.3 million. This option included the loss of $300,000 by converting one "buy" football game into a home-and-home series with a regional opponent; adding $550,000 in new women's sports for Title IX purposes; spending $1.4 million on a football office building and practice fields with costs offset through donations; and increasing the football budget by $350,000 for 15 new scholarships and recruiting.
The study compared UAB's finances with other C-USA members as of 2007-08. UAB's athletic budget at the time ($21.5 million) represented 2.32 percent of the institution's $924.9 million budget. That was by far the lowest in C-USA (the average was 6.43 percent) and below the national average of 5 percent, according to the document.
In 2007-08, UAB had 58.11 percent of its athletic budget coming from university support and student fees. Within C-USA, only SMU (66.43 percent) had a higher percentage of subsidies supporting athletics.
By 2012-13, NCAA records show UAB athletics' reliance on subsidies had increased to 64 percent. Twenty-six athletic departments at public universities in similarly-resourced conferences reported a larger deficit in 2012-13 than UAB's $17.5 million loss when factoring in subsidies.
At the end of the 2008 study were "key questions" meant to guide the decision on whether to keep football. The questions asked what additional revenue could be anticipated from fielding a more competitive team; what conference would help UAB's basketball program; whether an on-campus football stadium was needed to be competitive and draw fans at a top-tier level in C-USA; and what the benefits were to UAB playing Division I sports and having a competitive football team.
UAB supporters have long argued there has never been sufficient investment in football for it to succeed. For instance, The Birmingham News once reported that Alabama trustees killed a 2006 deal for UAB to hire Jimbo Fisher, now one of the country's elite coaches at Florida State. The argument goes that Fisher, who has confirmed he was prepared to be UAB's coach, could have built momentum for the Blazers until he presumably left for a better job.
Portera, the former Alabama chancellor, publicly supported UAB's attempt to build a $75 million on-campus stadium in 2011. The Alabama board determined UAB had not generated enough fan or financial support to justify a stadium.
UAB football stayed alive after 2008 for five more losing seasons until a breakthrough in 2014. The Blazers became bowl-eligible with a 6-6 record and increased attendance under popular first-year coach Bill Clark.
This time, though, there would be no reprieve for UAB football.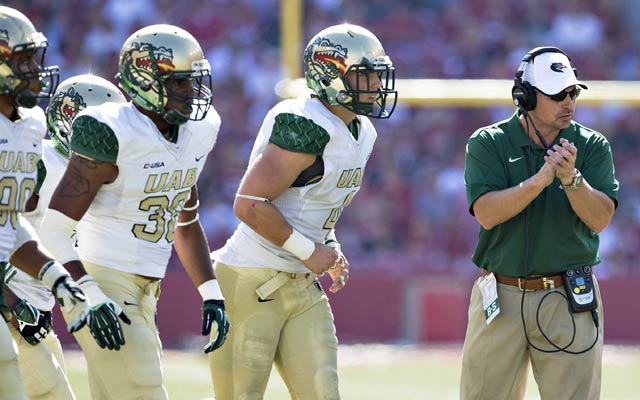 CBS Sports HQ Daily Newsletter
Get the best highlights and stories - yeah, just the good stuff handpicked by our team to start your day.
Please check the opt-in box to acknowledge that you would like to subscribe.
Thanks for signing up!
Keep an eye on your inbox for the latest sports news.
Sorry!
There was an error processing your subscription.
The lawsuit claimed Colorado officials failed to properly address domestic violence claims...

The cupboard isn't bare in Tuscaloosa

Media members are now on the record for their picks for the 2018 season
Bubba Cunningham believes his coach's remarks were 'poorly communicated'

Ball is still life for Malzahn, but he now has some space to be himself as he leads the Ti...

Swinney is happy to have his current quarterback situation