Alabama desperate for 12th game in 2015, will 'take anybody'
Crimson Tide AD Bill Battle said he'd 'take anybody' to play Alabama in a 2015 football game but has had no luck.
• 1 min read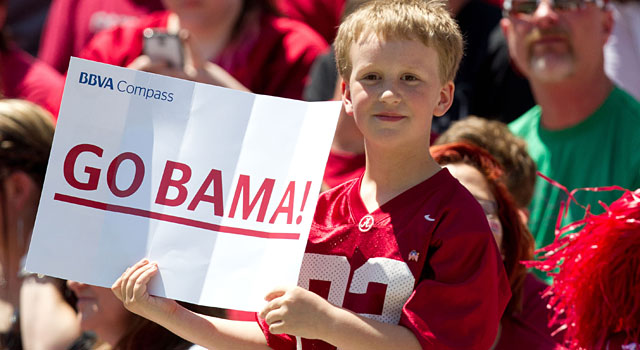 DESTIN, Fla. -- Bill Battle has tried everything.
He's called dozens of teams.
He's deployed help from ESPN and SEC. He's inquired about teams switching dates to come to Tuscaloosa.
After all that, he still has one vacancy on Alabama's 2015 schedule.
"Right now we'd take anybody," Battle said.
This is the reality of the SEC staying with an eight-game schedule -- the merits of which I've argued strengthen the league's positioning until the College Football Playoff calls its bluff. But some years teams will have trouble getting good games. In this case, Alabama was hurt by the SEC's recent months-long scheduling moratorium as it figured out its future conference format.
Can somebody help Battle out and play Alabama? Sounds like the Tide would even take a home-and-home at this point, but Battle said he's not sure that's feasible because "everybody's scheduled for '15."
Alabama has Wisconsin and Louisiana-Monroe on the non-conference schedule, and though Battle doesn't remember the third game offhand, Alabama is expected to play an FCS opponent in mid-November, according to a source.
That means Battle probably can't schedule another FCS for strength-of-schedule purposes, though he sounds desperate enough to do just that.
Or what about BYU, whose independence creates scheduling issues in the College Football Playoff era?
"We've called everybody we know," Battle responded.
Battle wants to get this done quickly because the longer Alabama waits, "the more expensive it gets," he said.
McElwain will coach receivers and help coordinate the offense for the Wolverines

Nathaniel Watson Jr. was involved in a car accident that injured a passenger in early Febr...

The honorable Tom Fornelli presides over the ASU vs. UM case
Arkansas State is seeking $650,000 for a canceled home game last September due to Hurricane...

Friday Five is tackling the big questions this week

Two unnamed players are being investigated for an incident at an off-campus apartment