Alabama finds a new level, wins in the last minute
Tide trail in the second half for the first time since 2010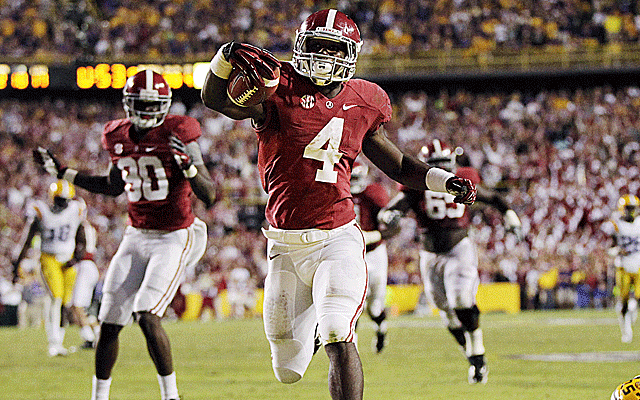 Alabama sends a shock wave through Death Valley.
(AP Images)
BATON ROUGE, La. –  Here's what we didn't know about Alabama …
--Whether it had a two-minute drill of any real worth -- except in drills.
"We practice that every Thursday," quarterback AJ McCarron said into a knot of microphones after one of the biggest wins in school history.
--Whether it knew the meaning of defeat, as in late in the game with the season hanging in the balance. Before Saturday night, the Tide hadn't trailed anywhere at anytime in the second half since the Auburn game two years ago.
--Whether it had the resolve, grit, and, well, stones to stage a comeback – a term so foreign to Alabama it hadn't had to consider it lately. The Tide came into Saturday's re-rematch with LSU having won its last 12 by an average of 29 points. It had trailed for 15 seconds all season. 
--Whether McCarron – after leading that comeback – would ever get down from the Tiger Stadium stands after falling into the arms of his parents, then driven to tears.
"Sometimes there can be a lot of pressure playing here at this university especially with all the tradition of winning," McCarron said. "Like Coach Saban said, 'It might be known as 'The Drive' in the history of Alabama.' "
If there is ever a 20-DVD box set of the greatest Alabama games, Saturday's 21-17 result makes the cut. If only because the monotony was broken. The No. 1 Tide had been so good for so long that was nice to see them tested.
If McCarron needed a Heisman moment, this was it too. During a pair of two-minute drives – one at the end of each half – he was a combined seven for eight for 109 yards. Otherwise, he was seven for 19 as the LSU defense asserted itself and a hibernating Zach Mettenberger woke up.
But if you doubt anything else about the Tide at this point, don't. For those who questioned their schedule, they got tested in perhaps the sport's most difficult pit. The largest Tiger Stadium crowd had waited for their No. 5 Tigers to get revenge since the debacle at the Superdome 10 months ago.
"This one hurt," LSU defensive tackle Bennie Logan said. "We put our heart and soul into it."
Alabama, then, had a little more heart and soul. The Tide blew a 14-3 halftime lead, trailing 17-14 before getting one final shot with 1:34 left. The McCarron who had been 1 or 7 in the second half (for no yards) to that point, then completed passes on four of five plays covering the 72 yards to win it.
Thursday practice in Tuscaloosa became Saturday night in Death Valley when LSU came with the blitz. From the Tiger's 28, freshman tailback T.J. Yeldon floated left, caught a screen pass and sprinted into the end zone for the winner with 51 seconds left.
"The last drive," Nick Saban said, "is something I'll never forget."
"It was weird," center Barrett Jones said. "We were calm the whole time. We never panicked. It was a frustrating second half. We didn't execute anything until the last 30 seconds of the game."
When they did, Jones was able to take it in on the Tiger Stadium scoreboard – his final blocks finished -- watching Yeldon's catch and run develop and play flowed away from him.
Of all the powerful things accomplished over this recent Alabama run, we had not learned what would happen when it faced adversity. Real adversity. Even that 9-6 overtime loss to LSU last year in Tuscaloosa, came on the last play of the game. The BCS later proved it didn't matter who won that game because the eventual rematch.
The Tide hadn't lost in regulation since a Cam Newton-led one-point loss in that 2010 Iron Bowl. Then they looked mortal, coughing up a 14-3 halftime lead – their secondary and McCarron looking bad doing it. A 272-pound LSU fullback named J.C. Copeland slipped tackles for a 42-yard gain. LSU receivers who had been dropping balls all season – all game – suddenly began catching them.
The result proved the Tide are worthy of winning a third title in four years. In wire service history (since 1936), only two other teams have accomplished that feat – Army in the 1940s and Nebraska in the 1990s. It's OK to start thinking about the D-word – dynasty.
We're still a month away from the Tide even winning the SEC, but this was their toughest test of the season, a test of manhood.
Saban went to the motivational extreme of showing his team footage of the SEAL team attack on Osama bin Laden. It might be hard equating football with a manhunt for a notorious terrorist but Saban went there anyway.
"Just to be clear," Jones said, "We're not trying to compare football to killing terrorists."
Hey, whatever works. A presumed defensive trench war became an SEC version of a shootout.  Mettenberger, inconsistent all season, completed nine of his first 10 second-half passes as LSU rallied back from that 11-point halftime deficit. It looked like Mettenberger's 14-yard scoring pass to Jarvis Landry with 12:58 left was going to be the winner.
Two things had to happen for LSU to make it a game. The Tide, one of the nation's leaders in turnover margin, had to lay the ball on the ground. They fumbled twice on Saturday. Mettenberger also had to show a pulse. The Georgia transfer played the best game of his career throwing for 298 yards and the leading the Tigers on consecutive touchdown drives over the third and fourth quarters.
"I knew we were fully capable of that all year," Mettenberger said. "There are finally things that are clicking for us. As well as I played, I would've traded three interceptions for the win tonight."
Les Miles will be taking some shrapnel from fans in coming days. The Mad Hatter was just … mad, missing on three key gambles. A fake field goal was stopped in the first half and an onside kick didn't go 10 yards in the second half. Then with 8:41 left with his team on Alabama's 24, Miles decided to go for it on fourth and 1 instead of kicking a field goal that would have pushed the lead to six.
Would it have made a difference? Only the cool, calm dynasty-in-the-making knows for sure. Saban's Comeback Kids erupted when it was over having explored a portion of the playbook that had seldom been touched. They knew something about themselves they hadn't before this night.
"We haven't had to use two-minute a whole lot," Saban said. "The good news is that we have a good football team. The good news is that we will fight again."
Oliver's star has already been born, but 2018 is when it will truly be recognized

Craig Kuligowski is reportedly leaving Miami to take the same job with Alabama

BT Potter is about to be very popular in the Clemson locker room
McElwain will coach receivers and help coordinate the offense for the Wolverines

Nathaniel Watson Jr. was involved in a car accident that injured a passenger in early Febr...

The honorable Tom Fornelli presides over the ASU vs. UM case