Alabama, Florida State start on top in first official BCS rankings
Florida State snuck by Oregon to start No. 2 in the first official BCS behind top ranked Alabama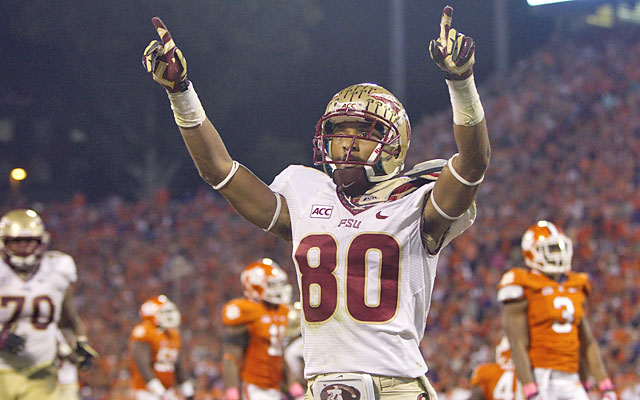 Florida State just edged past Oregon to start at No. 2 in the first official BCS ratings released on Sunday.  The Seminoles' lead is just 0.0028 and probably won't hold up long term if both teams keep winning.  That's because the Ducks still have a commanding lead in the two polls.  Harris voters especially like Oregon.  As the season wears on, the computer numbers will start to converge if both keep winning and the Ducks will eventually end up ahead on the strength of the poll numbers.  That's assuming those don't change significantly.
Alabama, of course, has a commanding lead on top of the ratings.  The Tide and Oregon control their own destiny for the BCS title game right now.
Also, you can make a case that Missouri does as well.  To finish 13-0, the Tigers will likely have to go through Alabama.  It's hard to imagine an undefeated SEC champ not playing for the title.
Ohio State, which started the season at No. 2 is now fourth and needs help.  They could win 25 in a row (over two seasons) and still not get a shot at the title.  Of course, the title isn't based on what you do last year.
In even worse shape is the Big 12 contingent.  The two remaining undefeated teams, Baylor and Texas Tech, are eighth and tenth respectively.  If either finishes 12-0, they will pass whatever one-loss teams are ahead of them, but they aren't likely to go by any of the major undefeated teams in their path.
Fresno State and Northern Illinois, the two non-AQ teams vying for a spot in the final BCS, start 17th and 18th.  If both win out, only the higher rated of the two can automatically get into the BCS.  The other would be out of luck.
Cristobal's first game at Oregon ended the same way Chip Kelly's did

Conner Manning and the Panthers dominated the Hilltoppers in the Cure Bowl

You can only go to the well so often before it dries up
The Trojans beat LSU earlier in the year and now have their first 11-win season as a FBS t...

Saban has never been a fan of the early signing period and made it clear that hasn't chang...

Paul Tyson is a three-star quarterback prospect for the 2019 recruiting class