Alabama identity crisis? Hardly, more like dynasty than dysfunction
Resurrect Alabama? Really? The Tide were title contenders until one freak play at Auburn. So what is there to fix in Tuscaloosa?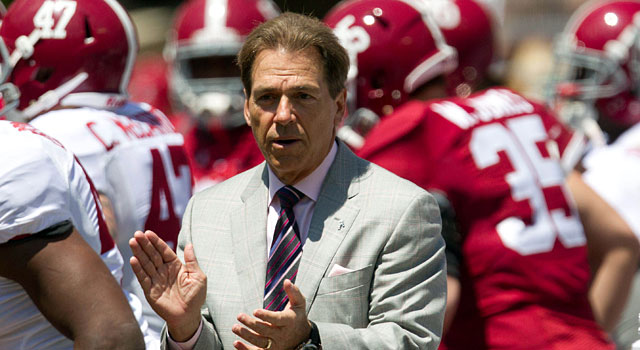 More college football: Conference Predictions | Jon Solomon | Jeremy Fowler
What you have to believe is this Alabama dynasty has been nicked.
Or, should we say ... Nicked.
"The time is now to resurrect the identity of the Alabama football program," Nick Saban said earlier this month.
To which a large part of the viewing public, no doubt, replied, "WTF?"
What's (There) To Fix?
Listening to the rhetoric, you have to believe is that 2014 is a rebuild instead of a reload. You have to believe Alabama -- winner of 28 of its past 31 -- is teetering on the brink instead of soaring to new heights.
Because that's the way it sounds.
"Once you win two titles back-to-back, you sort of forget," receiver Christion Jones said. "It's hard to find a hunger to chase after."
Hunger? Every program should have such problems. To recap: Bama still has won two out of the past three national championships and three of the past five. That's a dynasty by any measure.
A further reminder: Most preseason predictions have Alabama participating in the first playoff -- at least. It took a play for the ages at Auburn to end that 15-game winning streak and a shot at three straight titles. All of it happened at the gun in a rivalry game.
A depressing Sugar Bowl loss to Oklahoma followed. Lost in the post-mortem: That's probably the closest any program has come to winning three titles in row. It's still never been done.
Does that suggest some sort of crack in the foundation? Going into '14, we know the Bama quarterback is going to be untested but the receivers and running backs are among the best ever at the school. We know the defense under Saban isn't going to slide.
This season has the look of 2011. That year Saban spent the offseason criticizing a team that won 10 games in 2010 following the 2009 national championship.
We all know what happened in 2011 (and 2012).
"When we get all high and mighty, he breaks us down," Jones said of Saban. "He shows us how quickly something can be taken from us."
Bama hadn't lost two in a row since 2008. Before the Auburn game, Saban had lost only five games in which he'd been favored by 10 points on the road or 8 1/2 on a neutral field (Sugar Bowl) since 2001. Now he's got a two-game losing streak in that category.
It's clear the Tide have been given their talking points. They are speaking openly about offseason accusations about leadership made by former quarterback AJ McCarron. Players may be speaking freely because Saban himself has called out his former quarterback.
"I don't think [McCarron] should say that because the young guys are part of our team," Jones said. "You can't separate a certain group from the team.
"Last year, the leadership was good, but towards the end it kind of got divided."
And like Saban said, it's the job of the veterans to pull everyone along.
"We have such a winning atmosphere, we don't know what it's like to lose. We don't know what it's like to look in the mirror and see where you were," junior receiver Amari Cooper said. "I only lose one game my freshman year. I think [last season] definitely humbled us."
It's been sort of a meandering offseason. Alabama fans can't go anywhere without being reminded Auburn won the SEC. There have been a rash of arrests. There's a new quarterback to break in for the first time in four years. Saban has spoken of a sense of entitlement -- and naïveté.
"A lot of them think when they get to college, they've arrived," he said. "It takes a while for that process to take hold. ... I've had three [recruits] -- like 16 years old -- say, 'If I don't make it [in the NFL] you're going to put me back on scholarship right?' "
It's more anticipation than rehash. It's also time to give this dynasty another chance. We'll have to wait a few months for the answer, but does winning four titles in six years even qualify as a resurrection?
Freeman will not play in the New Mexico Bowl on Saturday

SportsLine simulated every bowl game 10,000 times for pick'em leagues and confidence pools

Grier will return to West Virginia for the 2018 season instead of entering the NFL Draft
The Chick-fil-A Peach Bowl just got spicy

Anderson had been under investigation for an incident at a bar in Cleveland County, Oklaho...

Between Arizona State and Tennessee, no one would have guessed how this coaching cycle turned...