Alabama LB Trey DePriest won't play in season opener
Nick Saban announced linebacker Trey DePriest won't play in Alabama's opener against West Virginia due to an NCAA infraction.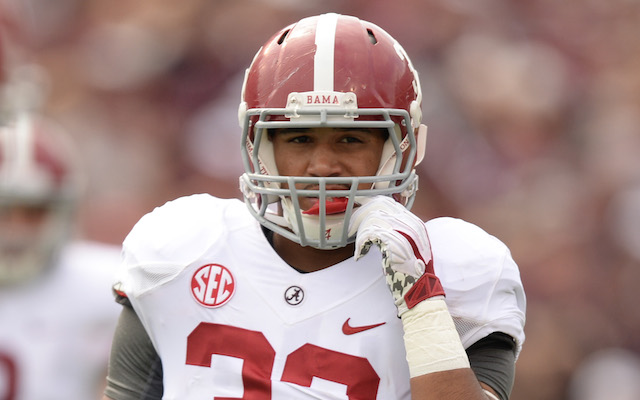 The Alabama defense will open the season without one of its key members, as Nick Saban announced Wednesday that linebacker Trey DePriest will not play against West Virginia due to an undisclosed NCAA infraction.
Saban also made sure to point out that this was a "one game deal," so the opener should be the only game DePriest misses. He also pointed out that it shouldn't be too big a deal for the Tide defense seeing as how West Virginia's offensive sets will have Alabama in nickel and dime defenses most of the night anyway.
Another reason DePriest's absence won't be a huge deal? Because this is Alabama we're talking about.
Don't get me wrong, DePriest is a good player. He was voted to the preseason All-SEC team for a reason, it's just that Alabama has the ability to replace former five-star recruits with another five-star recruit. That's just how the Tide rolls.
Plus DePriest was limited in fall camp due to an injury, which allowed Alabama's reserve linebackers to get plenty of reps, which will help them get ready for Saturday's opener against West Virginia.
The freshman is already on Heisman lists after throwing the walk-off score in the national...

These seven teams should make the most noise down the homestretch towards signing day

Air Force was forced to cancel 11 athletic events because of the 69-hour government shutdo...
Olson has a lot of the tools offensive coordinators want in a quarterback

The Tigers have a wealth of talent at their biggest position

Pineiro received the award for stopping an attack the morning of Oct. 15, 2017