Alabama lists Coker, Sims as QB co-starters on depth chart
Alabama's starting quarterback battle didn't come any closer to a resolution Monday as the team's first depth chart listed Blake Sims and Jacob Coker as co-starters.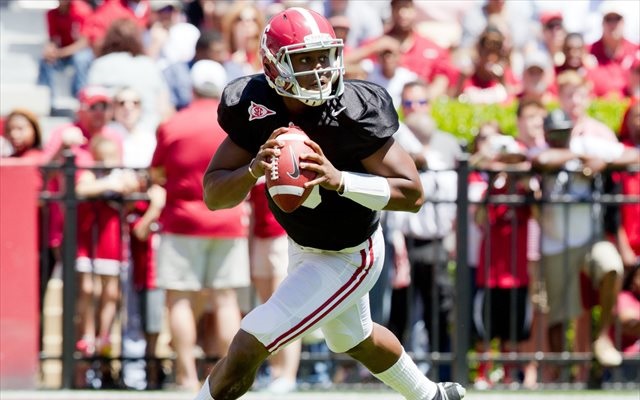 More college football: Jon Solomon | Dennis Dodd | Jeremy Fowler | Latest news
If you've been paying attention to the two-horse quarterback race between senior Blake Sims and Florida State transfer Jacob Coker in Tuscaloosa, you know it's seemed likely for the past several days that Nick Saban isn't about to make any hard, fast decisions about his starting QB until after the team's season opener vs. West Virginia on Saturday ... and maybe not even then.
That point was re-emphasized again Monday when, per the Associated Press's John Zenor, the team's first depth chart of the 2014 season featured both Sims and Coker as co-starters at quarterback.
In meeting with the media, Saban said that both quarterbacks continued to do "a very, very good job." Though he said no decision regarding both Sims and Coker playing has yet been made, he also had this to add:
Saban on QBs: No guarantee that "whatever pitcher starts the game is necessarily going to pitch nine innings."

— John Zenor (@jzenor) August 25, 2014
The good news for Saban: Even if there really isn't any separation between Sims and Coker on the practice field, he has the luxury of delaying any decision until probably his team's Sept. 20 game against Florida. Assuming the Tide have enough to see off the Mountaineers -- losers to Kansas a year ago, lest we forget -- in Atlanta, the next two weeks bring Florida Atlantic and Southern Miss to Bryant-Denny Stadium, games the Tide could use as continuing quarterback auditions if Saban so chose.
Of course, there's plenty of positives to making a choice now if the staff is comfortable with it, and it's worth asking if -- despite the "very good job" comment -- Saban and Co. would have hoped Coker would have earned a leg up on the job by now. (Surely they didn't bring him in to serve as Sims' backup, right?)
Alabama can win games -- win a lot of games -- with some uncertainty at quarterback. But it's worth watching carefully all the same to see exactly how long Saban feels he can go before that uncertainty starts to become its own issue.
Kelly led Oregon to a national championship appearance and is an innovator in the game

This week's AP Top 25 college football rankings remained largely unchanged

Mora went 46-30 since joining UCLA in 2012, taking the Bruins to four bowl games
There should not be too many changes to this week's college football rankings

Elsewhere, the top 12 remains the same in this week's college football rankings

Lane Kiffin turned around FAU remarkably fast and has the Owls in the C-USA title game