Alabama, Louisville take risks on recruits arrested for abusing women
In the wake of high-profile cases of domestic violence by football players, Alabama and Louisville added players who were kicked off other teams for allegedly assaulting women.
Devonte' Fields, the Big 12's defensive player of the year in 2012, was arrested last July for allegedly punching his ex-girlfriend. TCU parted ways with Fields.
Jonathan Taylor, the nation's No. 7 defensive tackle coming out of high school, was arrested last July for allegedly striking his girlfriend with a closed fist and choking her. Georgia dismissed Taylor, who had previously been arrested on theft charges.
As their domestic violence cases remain pending, Fields and Taylor find themselves back at prominent college football programs six months later. Taylor enrolled at Alabama on Jan. 7, and Fields signed with Louisville on Wednesday.
In light of the NFL's recent domestic violence crisis with Ray Rice, there was a thought within college sports circles that universities would be less likely to retain or sign athletes accused of abusing women. That happened in some quarters. Tennessee dismissed running back Treyvon Paulk in September after police said he hit his girlfriend. Oklahoma State dismissed wide receiver Tyreek Hill in December after he was arrested and accused of punching and choking his pregnant girlfriend.
But to some advocates who are trying to shine a light on domestic violence, the signings of Fields and Taylor raise concerns about the message being sent to women and the legal risks some universities continue to accept.
"This is the kind of thing that really sheds a light to how much lip service is out there about domestic violence, and I have a lot of respect for Nick Saban and his program at Alabama and likewise for Louisville," said Don McPherson, a College Football Hall of Fame quarterback at Syracuse who has been a prominent speaker on domestic violence for three decades.
"The reality is if you put these players' crime up against any other crime, if these guys were charged with assaulting a teammate, would they be allowed on another team? I think it speaks to how often domestic violence against women is somewhat dismissed. ... Ray Rice didn't face a charge. These guys are facing charges. What we're failing to do is truly hold men accountable for their behavior."
Katherine Redmond Brown, founder of the National Coalition Against Violent Athletes, and McPherson said universities have more legal exposure than NFL teams because of federal laws that colleges must follow. Alabama and Louisville could face a Title IX lawsuit if another incident happens with either Fields or Taylor given their background. In 2011, the Department of Justice wrote an open letter to higher education leaders making them aware they can be sued under Title IX if they do not take steps to protect women on campus and respond to complaints in adequate fashion.
"These schools are taking a very big risk with public money," Redmond Brown said. "I think parents should be concerned. I believe a lot of these college coaches believe it's an isolated case and still believe what the NFL believed for years with domestic violence: she might have provoked him. There are so many excuses that go along with domestic violence, but what you're dealing with is someone who has control issues."
On Wednesday, Louisville coach Bobby Petrino and Saban spoke of second and third chances. They talked about doing due diligence and that their high-risk recruits understand what's expected of them.
Petrino said he expects Fields to play immediately and fits nicely into Louisville's defensive scheme. Petrino said he spent the entire season vetting Fields, including speaking with TCU and Trinity coaches, and believes Fields earned his scholarship with Louisville. TCU coach Gary Patterson said he "loves" Fields, according to Petrino.
"I think we have a really good understanding of what went wrong, what happened," Petrino said. "Talking to the attorneys and really knowing that we felt comfortable that, No. 1, there's absolutely no gun there, and it's a misdemeanor charge. I've been instructed that's all I can say about it. We feel good about how the outcome is going to come. Sitting down with the young man, he understands the expectations we have and the standards we have."
Saban said he understands the "sensitivity" about taking Taylor, who has unspecified behavioral stipulations imposed by Alabama. Taylor's high school and junior college coaches spoke highly of him, Saban said.
"The guy was charged. There's no question about that," Saban said. "He was accused. I can't discuss the circumstances of all that. I've said this before: When people are young and they make a mistake -- and that is not a mistake that we condone in any way, shape or form, that it's any disrespect to any person, let alone a female -- that there isn't some occasion to not condemn them for life, but to give them another chance. And it's up to them to prove that they deserve that chance."
Taylor scheduled for arraignment next week
McPherson talks to college football teams across the country. As major programs go, McPherson said, Saban attempts to model player behavior as much as any coach.
On the one hand, McPherson agrees with Saban's second-chance theory to an extent and said society has let down some of these players by not teaching them to be good citizens. But there's another part McPherson can't shake. He believes it's a privilege to play on a team, not a guaranteed right, and in other walks of life, people with these accusations wouldn't get a chance like this again given the charges.
"I've been on that side where you say I'd rather have him with me than out on the street," McPherson said. "It's very much the paternal way of, 'I can fix him.' The question is whether or not Nick Saban wants to fix him because he's a great player or because he truly cares about him as a human being. I can tell you Nick Saban does a lot more than most to help these guys off the field. But there's a tremendous risk because you're bringing a known commodity to the university."
In Taylor's case, he still faces two felony counts of aggravated assault, according to the case's prosecutor in Athens, Ga. Police said evidence and witness accounts indicated the 6-foot-4, 340-pound Taylor "choked" and "struck with a closed fist" his 5-foot-11, 170-pound girlfriend at a dormitory. Police said the woman had "visible scratches and red marks to her neck and bruises on her arm and leg."
Taylor was indicted by an Athens-Clarke County grand jury in November. Kim Stephens, Taylor's Athens-based attorney, said there are technical issues with the indictment over how Taylor was charged and hopes the charges are dismissed or reduced to misdemeanors.
"The DA's office is going to present the issue to a grand jury again, and when they do that, the first indictment will be dismissed," Stephens said.
Athens-Clarke County district attorney Ken Mauldin declined to say if a grand jury will hear Taylor's case again. Taylor is scheduled for arraignment on Feb. 10 to enter a plea, Mauldin said.
"At this point, there's nothing to say guilty or not guilty about," Stephens said. "Certainly [Taylor] disputes the allegations made in the case and he cooperated with law enforcement from the beginning and told them what really happened. So they have his version of the facts as well as the accuser's version of the facts." Stephens declined to discuss Taylor's account.
Taylor spent this past season at Copiah-Lincoln Community College in Wesson, Miss. When Taylor enrolled at Alabama in January, Alabama spokeswoman Deborah Lane said Taylor was admitted under the same procedures the university uses for any student dealing with legal issues.
"The admissions process includes representatives from academic, legal, student affairs, student conduct, (University of Alabama Police Department) and counseling," Lane said. "Athletics is not involved in the admissions process. Taylor's continued enrollment depends on his ability to fulfill all requirements the university has specifically mandated for him during his time as a UA student."
Alabama athletic director Bill Battle said in a statement he had "extensive discussions" with people close to Taylor and to the player himself. "Our coaches and I feel he is worthy of a second chance at completing his college football career at this level, and that he fully understands the position in which he has placed himself," Battle said.
Fields has pre-trial hearing in March
Louisville is taking on the risk of Fields, who was arrested last July on a misdemeanor charge for allegedly hitting his ex-girlfriend, TCU student Haley Brown. She told police in Fort Worth, Texas, she didn't want to press charges.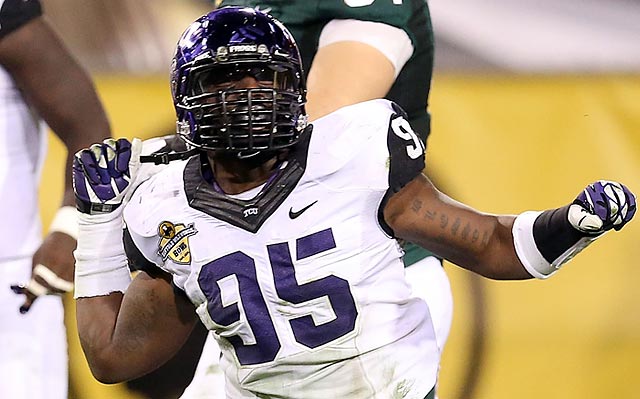 According to the police report, Fields had been standing outside the bedroom window listening to Brown speak with a mutual male friend when Fields punched out the window and began yelling at her. "I should blast you!" Fields said, according to the report.
Police said Fields was let into his Brown's house by a roommate and "charged through the house to the rear bedroom," and after lunging at Brown "threw a punch toward her face. The victim dodged the blow and fell to the floor."
The report said Fields threw another punch which "struck [Brown] in the left jaw and right cheek area of her face." Brown sustained bruising, swelling and bleeding and called 911 from a bathroom, according to police, who observed her with a swollen right cheek and a small cut under her eye.
Fields is scheduled for a pre-trial hearing on March 12, according to Tarrant County court records. Fields' attorney, Kathy Ehmann-Clardy, declined to comment about the case.
Fields, who had 18.5 tackles for loss at TCU in 2012, played last season at Trinity Valley Community College in Athens, Texas. When asked about the allegations he hit his ex-girlfriend, Fields told SI.com in September, "I'll leave it as it is. It's a mistake. It's a lesson learned. That's all it is."
Louisville athletic director Tom Jurich said in a statement, "Our coaching staff and I feel extremely confident after thoroughly vetting the situation that Devonte' Fields is worth earning a second chance at the University of Louisville. Devonte' fully understands how his actions have put him in this position, and he is grateful for this opportunity. We love the passion that he and his mom have for the University of Louisville and our staff, and he is extremely excited about being a Cardinal."
In the eyes of McPherson, who has followed domestic violence for years, society is still struggling to understand how to talk about the often-silent issue of men hitting women. In the NFL case with Rice, the outcry came once video surfaced publicly, even though what it showed was precisely what got spelled out in a police report.
"If you ask the NFL what they've learned, they've learned women aren't lying about it. This is really happening," McPherson said. "There's a learning curve right now on how to talk about this and really and truly understand it. I think these [college] programs live in their vacuum and they're not fully aware of the gravity of where a lot of this is going."
Redmond Brown, the advocate from the National Coalition Against Violent Athletes, questions the message coaches are sending by showing tolerance toward players charged with abusing women.
"If these coaches wanted to, they could be a catalyst for a huge amount of change when it comes to this subject, and they're not," Redmond Brown said. "They have that kind of power to go to women and say, 'No, we want you to report these things.' They don't do that. They lose out on some of their prized players if they do that."
CBS Sports HQ Daily Newsletter
Get the best highlights and stories - yeah, just the good stuff handpicked by our team to start your day.
Please check the opt-in box to acknowledge that you would like to subscribe.
Thanks for signing up!
Keep an eye on your inbox for the latest sports news.
Sorry!
There was an error processing your subscription.
Big Ten players and coaches will step in front of microphones Monday and Tuesday

UCF's title hopes, Ed Oliver's final season and finding this year's dark horse highlight

The lawsuit claimed Colorado officials failed to properly address domestic violence claims...
The cupboard isn't bare in Tuscaloosa

Media members are now on the record for their picks for the 2018 season

Bubba Cunningham believes his coach's remarks were 'poorly communicated'