Alabama players: AJ McCarron was right, we were entitled
Former Alabama players Kevin Norwood and Cyrus Kouandjio said A.J. McCarron's comments about success killing the Tide's title run are accurate.
• 2 min read
INDIANAPOLIS -- Success, indeed, was the killer.
AJ McCarron mourned the death of a dynasty last month by blasting Alabama's five-star entitlement to The Jim Rome Show. McCarron said young guys struggling with success contributed to the two-game losing streak to end the season, which seemed a bit odd on the surface since upperclassmen comprised much of the starting lineup.
"They thought we'd just show up and we'd win," McCarron said of the young players.
But while here at the NFL combine, I wanted to find out if Alabama veterans shared McCarron's sentiments.
Turns out, according to three former players, AJ was right.
Bama was straight-up entitled.
Maybe if Chris Davis doesn't go for 109 in Jordan-Hare, entitlement would have been camouflaged by a undefeated regular season and a fourth title chance in five years.
The young players, however, disrupted the team dynamic, wide receiver Kevin Norwood said, dividing established players from the program's future cornerstones.
That's why "I'm agreeing with A.J.," Norwood said.
"You spend more time trying to get their minds right and letting them know it's not a bad thing getting redshirted," Norwood said. "Me and AJ got redshirted. It's not a bad thing. … It was tough just getting [the underclassmen] to go to class and keeping them out of coach [Nick Saban's] bad side."
Norwood said he went to his classes, not as a boast, but to point out the much-debated Saban "process" requires balance to succeed.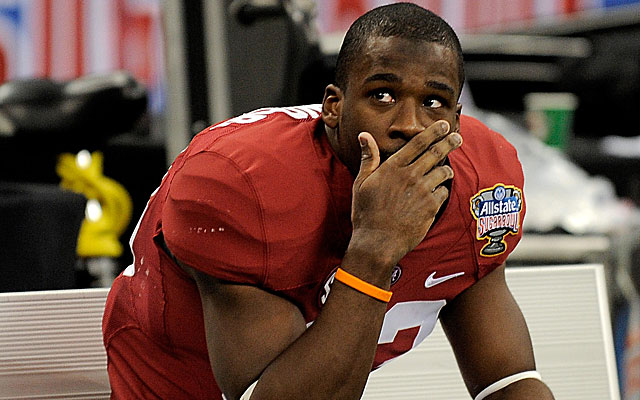 Alabama's recruiting has corraled the proverbial five-star talent with relative ease the last three years, which sort of plays into Norwood's point, though it's not like Alabama hadn't recruited well in the past.
Left tackle Cyrus Kouandjio, however, says the small problems added up in 2013.
"We did have some problems off the field," Kouandjio said. "We have a blueprint for success at Alabama, and everybody abides by it. There were a lot of things contributing. People not buying in is the root cause of it."
Take the Auburn game, where Alabama had several costly, untimely penalties. Alabama players use this as an example -- an unfocused team pumps out more penalties than it should.
But Kouandjio isn't agreeing with AJ and Norwood about the young guys. Or at least he doesn't feel like blasting them.
"I'm not going to blame the young guys. These are our young guys," Kouandjio said. "Then again it's hard to come into a winning program and be humble."
Blaming youth seems a convenient case for the late-season fall. The starters -- the veterans -- were sloppy in the Sugar Bowl against Oklahoma.
To hear Norwood tell it, however, bad attitudes can permeate a locker room, affecting a what many considered a championship-caliber roster.
"You could just see it on the practice field," said defensive end Jeoffrey Pagan of the brewing problems.
Cristobal's first game at Oregon ended the same way Chip Kelly's did

Conner Manning and the Panthers dominated the Hilltoppers in the Cure Bowl

You can only go to the well so often before it dries up
The Trojans beat LSU earlier in the year and now have their first 11-win season as a FBS t...

Saban has never been a fan of the early signing period and made it clear that hasn't chang...

Paul Tyson is a three-star quarterback prospect for the 2019 recruiting class