Alabama RB Dee Hart charged with marijuana possession
Former blue-chip recruit Dee Hart was arrested Sunday and charged with two misdemeanors, the Tuscaloosa News reported.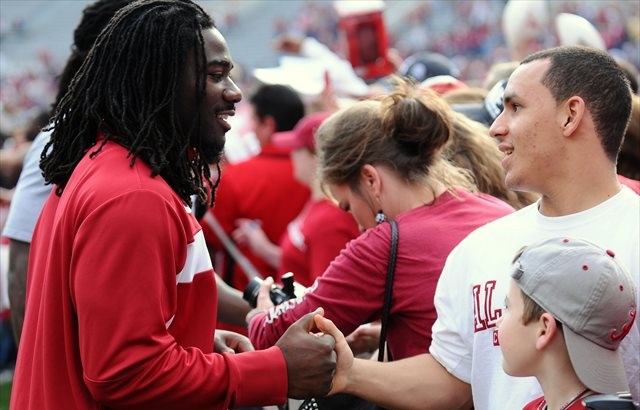 If Alabama running back Dee Hart wasn't already on his way off of the Crimson Tide roster, his Sunday arrest likely meant it was only a matter of time.
A rising junior, Hart was arrested Sunday and charged with two misdemeanors including second-degree possession of marijuana, the Tuscaloosa News reported Monday. Per the report, Hart was booked at 9:20 p.m. Sunday by the Tuscaloosa County Sheriff's Office on the marijuana charge and giving officers false information.
He was released approximately an hour later on a $1,300 bond, the News reported.
Per al.com, Alabama responded Monday by issuing a statement that Hart had not been a part of the Tide program since the team's loss to Oklahoma in the Sugar Bowl. 
Assuming Hart's qualifies, the arrest would be the second of a Tide player in 2014, with early enrollee defensive back Tony Brown charged with resisting arrest in January, though the details of the incident are disputed.
Hart ranked sixth on the Crimson Tide in rushing in 2013, collecting 78 yards on 22 carries. A 247Sports composite four-star, top-50 recruit in the class of 2011 out of Orlando, Hart missed his true freshman season with an ACL tear, then carried 21 times for 88 yards as a redshirt freshman in 2012.
With the Tide's top five rushers all set to return in 2014, including two-time 1,000-yard rusher T.J. Yeldon, Hart faced an uphill climb toward regular carries -- and even if he had remained with the program, his Sunday arrest would have made things even more difficult.
The SEC regained its throne as the top conference in the country this season

Rhoads led Iowa State to three bowl games in seven years as head coach

The Georgia middle linebacker is one of the most valuable players in college football
Explaining my 2017 Heisman Trophy ballot and Jackson's tremendous season

Mayfield is the sixth Oklahoma player to win the Heisman since its inception

The Heisman Trophy will be presented to the best college football player this season