Alabama wins BCS title, as told by Twitter
Alabama continued building its dynasty with a 42-14 win over Notre Dame in Monday's BCS title game. Twitter took notice as the Tide jumped out to a 35-0 lead and coasted to a third national championship in four years.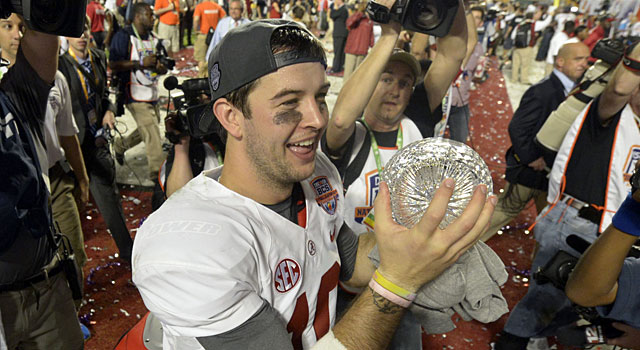 Alabama rolled to a 42-14 win over Notre Dame in Monday's BCS title game, and honestly the game wasn't even as close as the final score made it seem. Here's a look back at how Nick Saban and company won their third national championship in four seasons Monday night, as it unfolded on Twitter.
The home of the Dolphins and Hurricanes was actually full, which has been a rarity lately.
Now I'm worried about the structural integrity of the stadium. Has it been tested to hold >5000 people before?

— Ramzy Nasrallah (@ramzy) January 8, 2013
Nice gesture by the Orange Bowl, to put a capacity crowd of over 80,000 to good use.
Orange Bowl donating $1 to Sandy Hook fund for each fan at #BCS title game: cbsprt.co/SandyHookBowl. Total amount due to sold-out game: $80,120

— CBSSports.com (@CBSSports) January 8, 2013
It didn't take long to figure out the Irish might be outclassed, as Alabama scored touchdowns on its first three drives.
NTRE AME.No D, No O

— Michael Rudolph (@MRudolphComedy) January 8, 2013
Tackling was an issue as the Crimson Tide offense moved up and down the field at will.
I'd say the Irish are like a pee wee team out there, but I don't want to offend pee wee teams. #AtLeastTheyTackle

— Kimberley (@sambrooklyn) January 8, 2013
One of the main culprits for Notre Dame's defense was surprisingly the Heisman runner-up.
Next time someone tries telling me how LB Manti Te'o is an "elite" NFL prospect, my response will be: "Put on the Alabama tape"

— Dane Brugler (@dpbrugler) January 8, 2013
The Irish lost a chance to swing momentum early when a questionable kick catch interference penalty, whistled by the Pac-12 officiating crew, negated an apparent muffed punt and Alabama turnover.
Pac-12 is trending on Twitter. This isn't a good thing if you're the Pac-12.

— Jon Solomon (@jonsol) January 8, 2013
However, the star of the first-half television broadcast was not a player, coach, OR official.
Think @_katherinewebb became AJ's girlfriend for twitter followers? If so it worked...From 600 to 40 thousand in a half of football

— Jason Horowitz (@HorowitzJason) January 8, 2013
(Make that over 100,000 now.) Anyway, speaking of television...
Was going through the channels. Tough telling whether I'm watching Titanic on HBO or Notre Dame on ESPN.

— Rusty Miller (@rustymillerap) January 8, 2013
At least one viewer was ready to give up on the Irish and request that a different team take its talents to South Beach.
I blame the BCS for this! Call Oregon and get them on a plane to Miami please!

— LeBron James (@KingJames) January 8, 2013
Halftime mercifully arrived with the Crimson Tide leading by four touchdowns.
It's 28-0 Alabama at the half and Notre Dame has the Tide right where it wants them. In the locker room.

— Tom Fornelli (@TomFornelli) January 8, 2013
Brian Kelly thinks this would have been his team's best chance for a comeback.
Bama is going to pull their starters at halftime to rest them for the combine!!

— Damien S. Butler (@G3_CEO) January 8, 2013
The second half didn't get much better for the Irish, and the jokes just got more cruel.
It's okay Notre Dame this happened to the Jets every week

— Kate Upton (@KateUpton) January 8, 2013
At least the shutout was avoided (that's better than LSU did a season ago!).
ND score ends a streak of 108:07 and 69 unanswered points by Bama in BCS title games

— Jerry Palm (@jppalmCBS) January 8, 2013
With another crystal trophy, Nick Saban continues to make his mark on college football.
So in his last 8 seasons as a college coach Nick Saban's teams will have won 4 national titles. Amazing.

— Bruce Feldman (@BFeldmanCBS) January 8, 2013
Saban's also made his mark on his players, as evidenced by his quarterback and center screaming at each other despite a 28-point lead late in the fourth quarter.
Barrett Jones and AJ McCarron blowing their stacks in the midst of a 42-14 blowout in the title game may be Nick Saban's proudest moment.

— Matt Hinton (@MattRHinton) January 8, 2013
In case there was any doubt about the cause of the verbal altercation, Barrett Jones cleared it up.
Barrett Jones discussing heated exchange with A.J. McCarron in ESPN postgame interview: "We had a snap count difference, and...I was right!"

— CBSSports.com (@CBSSports) January 8, 2013
How can we put Alabama's recent dynasty in perspective? Try this.
AJ McCarron now has more national championships than losses as a starter. Let that sink in.

— Adam Kramer (@KegsnEggs) January 8, 2013
And how else did you expect the night to end?
Sweet Home Alabama just started over the loudspeakers. Thousands of Bama fans are still here, going nuts.

— Gregg Doyel (@GreggDoyelCBS) January 8, 2013
For more coverage on Alabama's big win, check out the BCS Title Game Homepage


For more college football news, rumors and analysis, follow @EyeOnCFB on Twitter, subscribe to our RSS Feed, college football newsletter, and get the Eye On College Football Podcast from iTunes. You can follow Tim Cary on Twitter here: @TimCary.
Locksley has been the offensive coordinator at Illinois and Maryland during his coaching c...

Bidding for Salaam's trophy, which the auction house says was obtained legally, ends Satur...

Many NFL-eligible juniors ignore advice provided by the league and risk going undrafted each...
Snyder died in Manhattan, Kansas, on Wednesday

Locksley joined Alabama's staff in 2016

Saban reportedly wants to hire Freeze, but there may be things keeping that from happening