Alabama's cost of attendance stipend will rank among highest in nation
Nick Saban was concerned about differences in cost of attendance stipends. No need -- Alabama's will be one of the highest in the nation this season.
Alabama football coach Nick Saban has called cost of attendance a "nightmare" because of varying numbers by schools and concerns the figures could be fudged. He even suggested the NFL's salary cap could be a model to cap stipends for college players, missing the point that the Ed O'Bannon ruling won't allow such collusion and the NFL salary cap gets negotiated by a players union that doesn't exist in college sports.
Don't feel too bad for Saban, though. As it turns out, Alabama's cost of attendance stipends will rank among the leaders nationally at $5,386 for out-of-state players and $4,172 for in-state players, according to information the university provided to CBSSports.com.
This represents a 34-percent increase in Alabama's cost of attendance figure for out-of-state students from two years ago and a 14-percent increase for in-state students. In its 2013-14 NCAA financial report, Alabama listed the gap between its average scholarship and the full cost of attendance at $4,018 for out-of-state students and $3,664 for in-state students. Alabama did not provide its 2014-15 figures.
Some media reports have listed Alabama's new cost of attendance stipend for players at $2,892. In reality, the number will be much higher. Alabama's out-of-state stipend figure for 2015-16 ranks third among SEC schools based on a CBSSports.com survey; the only SEC schools with higher figures are Tennessee ($5,666) and Auburn ($5,586).
For years, athletic scholarships have not covered what university financial aid offices list as the full cost of attending college. That changes this August when athletic scholarships can include not only the traditional tuition, room, board, books and fees, but also incidental costs of attending college.
Financial aid offices set cost of attendance numbers based on federal guidelines. The SEC recently passed a rule requiring schools to explain to the league office its cost of attendance methodology and report any different amounts provided to individual athletes.
Alabama spokeswoman Deborah Lane said via email that the university is applying the same methods to determine cost of attendance that it always uses. The higher numbers were impacted by an increase in tuition (3.5 percent for in-state and 4 percent for out-of-state students), higher residence hall costs (5 percent), and increases in the average consumer expenditure numbers and cost of travel, Lane said.
Alabama lists transportation costs at $3,020 for each out-of-state student and $1,806 per in-state student.
For in-state students, Lane said Alabama assumes most of them live within five miles of campus, travel 50 miles per week over a 34-week academic year at a rate of 57 cents per mile, and make two round trips home per semester. For out-of-state students, Alabama used a weighted average of mileage based on an eight-hour travel radius and an average of two round trips home per semester. Alabama's miscellaneous expense cost is $2,366 for in-state and out-of-state students. Lane said the university based the number on the U.S. Census Bureau's average consumer expenditures.
Bottom line: As coaches scrutinize cost of attendance numbers and examine how they might impact recruiting, Saban will be just fine at Alabama with his figure.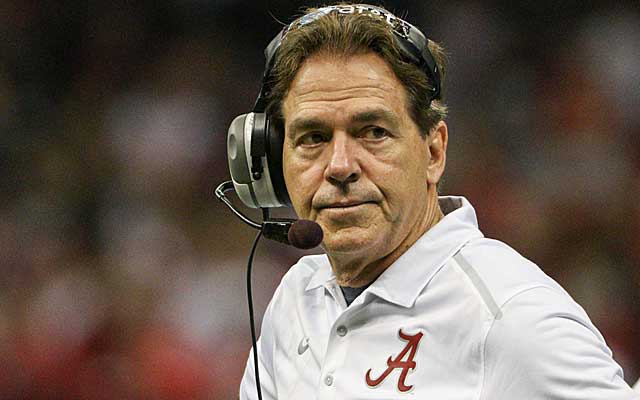 CBS Sports HQ Daily Newsletter
Get the best highlights and stories - yeah, just the good stuff handpicked by our team to start your day.
Please check the opt-in box to acknowledge that you would like to subscribe.
Thanks for signing up!
Keep an eye on your inbox for the latest sports news.
Sorry!
There was an error processing your subscription.
Robinson threw three touchdowns in 2017 as a backup to Kenny Hill

Taking a close, detailed and opinionated look at the AAC as the college football season ap...

When you ask their peers, these are the coaches that either get too much -- or not enough --...
Outside linebacker Chris Allen will miss the season after sustaining a knee injury

Quintez Cephus is instead focusing on a legal case for "unspecified" charges from an April...

This is the second ACL injury for White in as many years