Alabama's NFL Draft success lacks one key position: Quarterback
Alabama is one of college football's storied, and most dominant, programs. But AJ McCarron is behind the historical 8-ball when it comes to success at the next level.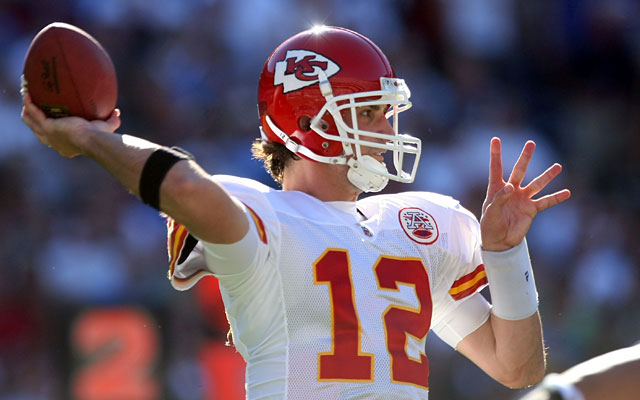 More Draft coverage: Mock Drafts | Prospect Rankings | Big Board | News
Alabama has built an NFL draft-pick machine. The Crimson Tide have produced so many NFL players lately that draft picks have become as much a symbol of the program as its national championships.
That is, except for one position -- quarterback. Alabama has struck out lately at the most valuable NFL position.
The university that produced Bart Starr, Joe Namath and Ken Stabler has gone 38 years without a first-round pick at quarterback. Arkansas, Mississippi State and South Carolina are the only other SEC teams without a first-round quarterback since 1977.
Richard Todd in 1976 was the Crimson Tide's last quarterback to be picked in the opening round. AJ McCarron is widely projected to be drafted in the second or third round this week.
Of course, if McCarron goes after the first round, that won't prevent him from having a successful NFL career. But if he succeeds, he would be the exception rather than the norm among Alabama quarterbacks. Alabama quarterbacks who have been drafted since 1977 have started only 21 NFL games:
• Greg McElroy (2011 draft): one start.
• Brodie Croyle (2006): 10 starts.
• Jay Barker (1995): zero starts.
• Mike Shula (1987): zero starts.
• Jeff Rutledge (1979): 10 starts.
Alabama's 21 combined NFL starts by drafted quarterbacks ranks as the 11th-lowest among the 65 power-conference schools. Schools with fewer starts: Arkansas, Minnesota, Mississippi State, South Carolina and Wake Forest (none each); Georgia Tech (one); Northwestern and Kansas (two each); Rutgers (14); and Arizona (16).
"I just think the game evolved so much, and I'm not sure from an offensive standpoint that Alabama evolved with it as quickly as others did," said Barker, a fifth-round pick in 1995 who won a national title with Alabama in 1992. "You were kind of taught this was the way you do things. We'll win games with defense and manage things and not make mistakes."
Barker grew up in the veer offense. His main duty under Gene Stallings for most of his career was to turn around and hand the ball off. He didn't truly start learning the mental aspects, footwork and fundamentals of being quarterback until his senior year when Homer Smith became Alabama's offensive coordinator after coaching at UCLA.
Barker believes the preparation in high school and college for quarterbacks who go to Alabama has improved in recent years. His kids go to a quarterback camp in Birmingham that's run by McCarron's trainer from Mobile.
"They've done those camps on the West Coast for a long time," Barker said. "It's just migrating into the Southeast now, and I think you'll see a better development of quarterbacks who are pro-ready and understand dropback."
This year is one of the deepest SEC quarterback drafts. Johnny Manziel, Zach Mettenberger, Aaron Murray and McCarron all have chances of developing into NFL quarterbacks.
Since 1977, current SEC schools have seen 49 quarterbacks drafted who made a combined 1,142 NFL starts. The Pac-12's current schools in that period: 78 quarterbacks drafted and 2,864 NFL starts.
It's not just the SEC in which traditional fertile football recruiting states failed to produce many NFL-caliber quarterbacks for local colleges. Texas and Texas A&M have each had only four quarterbacks drafted since 1977. To put that in context, Duke has had five.
Over the past 37 years, USC has the most drafted quarterbacks (14), followed by Washington (11), Stanford (nine), Florida State (nine) and Miami (nine). The most combined NFL starts in that period by drafted QBs: Miami (607), Michigan (557), USC (469), Purdue (441) and Washington (406).
Quarterback trends can evolve in college football. For instance, Miami -- home of Jim Kelly, Bernie Kosar, Vinny Testaverde and company -- hasn't had a quarterback selected since Ken Dorsey in 2003. (Stephen Morris has an outside chance of being drafted in this weekend's event).
In a rarity this week, Alabama will likely hear a quarterback's name called during an early round. Is this the new norm, or a rare exception for college football's NFL factory?
Jets 1965 1st-rd pick Joe Namath studies humongous $427,000 3-yr contract w/Coach Weeb Ewbank. #ProFootballHOF pic.twitter.com/7UKdLwY0aE

— Greg Aiello (@gregaiello) May 7, 2014
Byron Murphy reportedly sustained a foot fracture in practice

GoDawgs247 previews big-time college football recruits headed to Athens

Dig below the surface and you'll find a lot of intriguing matchups on the slate this Satur...
SportsLine tapped into its Vegas sources and found out pro bettors are all over No. 8 Michigan...

An early-season Big 12 game already has major conference and national implications

Top-ranked Alabama hits the road to take on upstart Vanderbilt in Nashville on Saturday