Alabama's Nick Saban will make $6.9 million per year
New contract shows a $1.4 million per year bump plus raises for his assistants, who will be paid $5.2 million in 2014.
Solomon: SEC schools receive average payout of $20.9 million
Alabama's Nick Saban, the highest-paid football coach at a public university, will receive $6.9 million per year as part of a compensation package approved Tuesday by the University of Alabama board of trustees.
Saban had his compensation bumped up from $5.5 million and received a two-year extension that runs his contract through Jan. 31, 2022. Under the new agreement, Saban will receive $6.5 million in base pay plus talent fee and a $400,000 bonus for each contract year he completes.
Alabama had previously announced an extension for Saban in December, but the terms had not been released. At the time, Saban was mentioned in public reports as a candidate for the Texas job.
Under the new contract, if Alabama fires Saban, it would owe him no more than $23,266,668. Previously, Saban would have received the lesser amount of two options calculated related to his base salary and talent fees.
Nick Saban at Alabama
Year
Compensation
2013
$5,545,852
2012
$5,476,738
2011
$4,833,333
2010
$5,997,349
2009
$3,900,000
Source: USA Today
For every year Saban stays at Alabama, the university will pay $100,000 toward Saban's $1 million scholarship pledge to the school. Also, Saban's life insurance increased from $5 million to $6 million.
Alabama's athletic revenue has increased by 43 percent since 2009, when it won the first of three football national championships under Saban. Revenue is up 112 percent since 2006, Alabama's last year before Saban became coach. Alabama has since expanded its football stadium and reaped the benefits of new SEC television deals.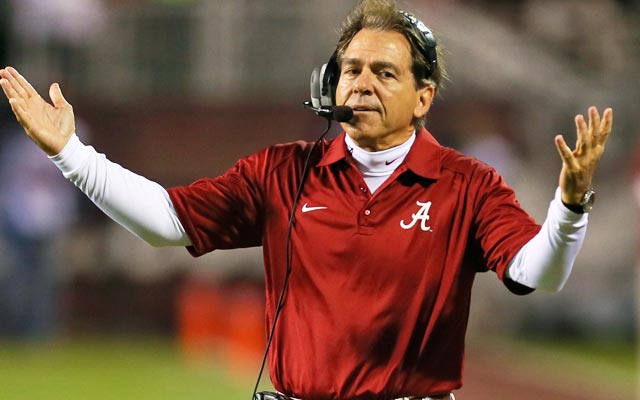 Alabama will pay its nine on-field assistant coaches a total of $5.2 million in 2014. When combined with Saban's salary, that pushes the staff total to $12.1 million.
New offensive coordinator Lane Kiffin will make $680,000 in his first two years and $714,000 in the final year of the three-year contract. Defensive coordinator Kirby Smart will make $1.35 million per year over the next three years, as previously scheduled.
If Alabama fires Smart, he receives 1/12th of his base salary through the end of the contract. Smart does not owe the university money if he leaves to become a head coach somewhere else. He would owe Alabama $72,000 if he leaves for another university job other than head coach.
New Alabama linebackers coach Kevin Steele, who once was the Crimson Tide's defensive coordinator, will actually make more than Kiffin. Steele will make $700,000, but Kiffin has one more year on his contract and gets bumped to $714,000 in the third year.
Alabama's release of its contracts also reflects how the university will handle bonuses with the new College Football Playoff system. Under Saban, the Crimson Tide won three of the last five national championships in the old Bowl Championship Series era.
Under the new format, this will be the bonus structure for each Alabama coach based on his salary (total bonuses can't exceed $250,000):
 4 percent bonus for SEC championship appearance
 8 percent bonus for a bowl; 12 percent for Outback, Capital One, Gator, Texas, Music City, Liberty or Belk bowls
 14 percent bonus for Sugar, Orange, Fiesta, Rose or Chick-fil-A bowls
 16 percent for winning a playoff semifinal game
 18 percent for winning the national championship 
The movie will zero in on former Penn State coach Joe Paterno during the Jerry Sandusky sc...

Bidding for Salaam's trophy, which the auction house says was obtained legally, ends Satur...

Locksley has been the offensive coordinator at Illinois and Maryland during his coaching c...
Many NFL-eligible juniors ignore advice provided by the league and risk going undrafted each...

Snyder died in Manhattan, Kansas, on Wednesday

Locksley joined Alabama's staff in 2016