In answer to your burning signing day question: Yes, it can get better for Alabama.
Nick Saban clinched another recruiting championship and the man doesn't even know how bright the future is.
SportsSource Analytics -- the group contracted to assist the College Football Playoff selection committee -- is moving into recruiting analytics.
Their final numbers aren't crunched yet but you can be sure Bama will be interested in becoming a client of the subscription service.
SSA is best at breaking down coaching trends and statistics. Schools from all over the Power 5 are clients, just not Alabama. For now.
Here goes with a recruiting nugget that even Saban might not be aware of: From 2005-13, 41 percent of Alabama's starters were taken in the NFL Draft.
Not just all-conference or All-American. That's just what being a starter will get you at Alabama. Kind of cuts through the average recruit's short list of questions:
How soon can I get to the NFL?
That's 39 of 96 starters (defined as at least eight games in a season) drafted in that nine-year period spanning Mike Shula and Saban. SSA hasn't scoped the entire country but here's some perspective: In the same time frame 26 percent of Auburn's starters were drafted.
Alabama capped another top-ranked class Wednesday with a nation-leading six five-star prospects. If they haven't been apprised of their future, they should: Almost 13 percent of all Crimson Tide players drafted (41 or 319) have played under Saban.
According to SSA, LSU has the highest average recruiting rank since 2002. (Source: Scout.com) Obviously, Saban had a hand in that number too. Following the Tigers are USC, Ohio State, Texas and Florida.
Those five schools have had a total of 13 head coaches since 2002.
"That's kind of one our theories," said SSA partner Scott Prather said. "There are certain coaches who can drastically change recruiting. But for the most part schools recruit in buckets. At some of these schools it doesn't matter who the coaches are."
Saban is No. 3 among coaches both in average top 100 recruits and five-star recruits since 2002. SSA ranks the coaches by their time at a particular school. That means Larry Coker (Miami, 2001-06) gets a mention at No. 5 and Charlie Weis (Notre Dame, 2005-09) is No. 8 in top 100s.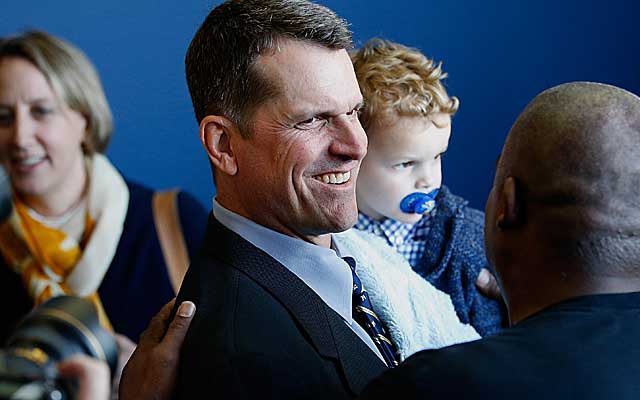 Why Jim Harbaugh will succeed at Michigan
Among other reasons, while at Stanford he recruited from a national pool of about 250 players. Those are the only players he (and for that matter David Shaw) can get in school. Academic restrictions make it so.
There's nothing wrong with that. In fact, Stanford has probably cornered the market on academic/athletic balance since Harbaugh arrived in 2007.
But at Michigan, the country is his oyster. Harbaugh's first class is the lowest-ranked at Michigan in at least 16 years. (Sixth in the Big Ten, 38th overall. Source: 247Sports) Half of those 16 previous seasons, Michigan finished in the top 10.
But we're talking about a different dynamic in Harbaugh. He won two conference championships in three years with a Division I-AA non-scholarship program at San Diego. His first class at Stanford was ranked 44th in 2007. Four years later, those players were the foundation for an Orange Bowl team that beat Virginia Tech.
The upside of having to wait for Harbaugh to finish his NFL obligations is also the downside. He got on the job slightly more than a month ago.
We won't know the impact until years from now. In fact, the worst seven-year run of football at Michigan in 50 years has passed with these recruiting classes (beginning with Rich Rod's first season):
2008: 11th nationally
2009: 12th
2010: 18th
2011: 26th
2012: 6th
2013: 6th
2014: 20th
Based on history, though, Wednesday's new Wolverines are about to make history.
Why Gus Malzahn's name has come up so often for NFL jobs
Without the use of a draft, free agency or OTAs (organized team activities), Malzahn has remade Auburn as quickly as possible in the college setting.
He got the No. 1 free-agent defensive coordinator (Will Muschamp). He got the nation's No. 1 recruit, defensive end Byron Cowart, as part of a top-10 class.
Malzahn has upgraded a roster on short notice and with the daily pressure of Alabama and its No. 1 signing class down the road.
Finally, a fond farewell to Signing Day '15
• Let's hope UCLA's Soso Jamabo isn't just so-so. So far, he's been entertaining as hell.
• Don't get on the wrong side of BYU's Motekiai Langi.
• Head Coach Toilet had a good day.
• Charlie Strong landed a top class and it doesn't matter unless Texas gets a serviceable quarterback.
• Don't know if the word is "poetic" but Maurice Clarett was released from probation on signing day.
• Anyone else wondering how the Dorial Green-Beckham era will be remembered at Oklahoma?