Alabama's Saban, Stanford's Shaw respond to union movement
Alabama coach Nick Saban believes players should have a voice in establishing rules and regulations for college football.
• 1 min read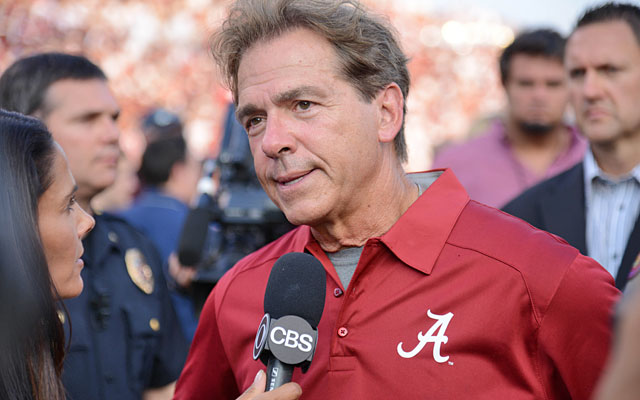 Dodd: Player welfare can't be ignored | Fowler: Next step for the players | More CFB
The possibility of a union for college football players has drawn some visceral reactions from those in and around the sport. Alabama coach Nick Saban, however, says that college athletes should have a seat at the table to make their voice heard. 
"I've always been an advocate of players' rights," Saban said Monday night via the Associated Press. "I've always been an advocate of players being compensated the best that we can to help them. Whatever the NCAA rule is and whatever they decide to do, I've always been an advocate of the player and the quality of life that a player has. Having a voice in what happens, I think, is something that the players probably ought to have."
It's important to note that Saban did not expressly indicate whether he supports Northwestern's union movement, but he --  along with South Carolina coach Steve Spurrier, Notre Dame coach Brian Kelly and many others -- has supported player stipends and other ways to enhance the scholarship for college football players. 
But many coaches have expressed concern for where this union movement may lead. Stanford coach David Shaw said Monday night that he was "confused as anybody as to the importance of [the union]." Shaw added that he has had some "preliminary conversations" with the Cardinal players regarding the Northwestern union ruling. 
"I'm curious what's really driving it," Shaw said of the union movement. "I've seen everything, and everything that's been asked for, my understanding is it's been provided. I think Northwestern does a phenomenal job providing for their kids, and it's weird to try to unionize but still compliment Northwestern and compliment their coaching staff on being taken care of. Those things don't seem to go hand in hand."
At this time, Shaw says, no one at Stanford has been approached by the union or discussed forming one with Cardinal players. Last week, CAPA president Romgi Huma told CBSSports.com that the group planned to keep its focus limited to establishing the potentially-historic union at Northwestern for now. 
The 21-year-old quarterback was expected to start for the Cougars in 2018

The Fighting Irish will be without some playmakers in 2018

It may have been impossible for Sumlin to meet the expectations set for him in College Sta...
Some players are more easily replaced than others

The 2017 season is in the books, and several big-name stars are jumping early to the NFL

Love was second in the nation in rushing with 2,118 yards in 2017