All the hype pays off as Jameis Winston runs away with Heisman
FSU QB Jameis Winston ran away with the Heisman this season, but now it gets even harder.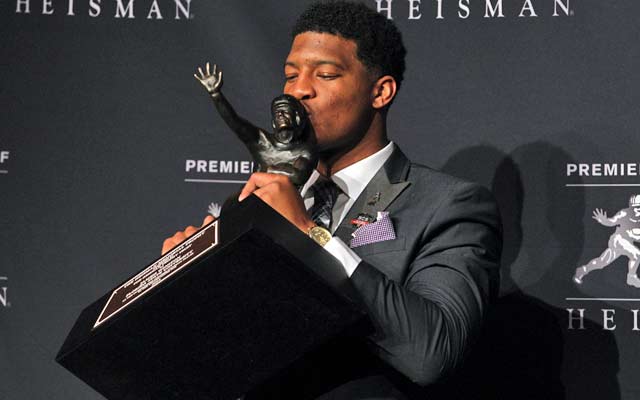 Jameis Winston's 2013 season started on a prime-time Monday night stage, where he connected on his first 11 passes on the road at Pitt. Before he was done with his near flawless 25-of-27 performance for 356 yards and four TDs the legend of "Famous Jameis" was already buzzing on Twitter as the college football world found out the 6-4, 230-pound redshirt freshman just might live up to the massive hype hovering around Tallahassee this offseason.  
Turns out, Winston was just getting warmed up. The Noles, who opened the season No. 11, have routed everyone on their way to the BCS National Title Game, and on Saturday night in Manhattan Winston became the third FSU QB to win the Heisman Trophy and just the second (redshirt) freshmen to win the stiff-arm statue.
Heisman voting
Player, School
1st
2nd
3rd
Tot.
Jameis Winston, FSU
668
84
33
2,205
AJ McCarron, Alabama
79
162
143
704
Jordan Lynch, NIU
40
149
140
558
Andre Williams, BC
29
127
129
470
Johnny Manziel, A&M
30
103
125
421
Tre Mason, Auburn
31
121
69
404
Bryce Petty, Baylor
4
40
35
127
Derek Carr, Fresno St.
6
23
43
107
Braxton Miller, Ohio St.
4
21
37
91
Ka'Deem Carey, Arizona
2
14
36
70
Winston ran away with the voting, winning by the seventh biggest margin in the award's 79-year history. He received 668 first-place votes, although he didn't appear at all on 115 Heisman ballots. Alabama QB AJ McCarron, who had 79 first-place votes, took second followed by NIU QB Jordan Lynch, Boston College RB Andre Williams, Texas A&M QB Johnny Manziel, Auburn RB Tre Mason, Baylor QB Bryce Petty; Fresno State QB Derek Carr; Ohio State QB Braxton Miller and Arizona RB Ka'Deem Carey.
"I'm so overwhelmed right now," Winston said moments after winning the award. "It feels great to be a part of the family. I can not explain the feeling that I have inside. It's just awesome."
Winston's stats were gaudy: 3,820 passing yards; 38 TDs, only 10 INTs, an eye-popping average of 10.95 yards per attempt. He also led the nation in passing rating of 190.06.  Even though Winston won by a huge margin, he conceded he still had a lot of doubts in the moments before the winner was announced.
"Man, that last commercial break was rough," Winston said. "You always have that feeling of doubt. I was anticipating but when I heard my name, I was like, 'awwww it happened.'"
In truth, none of the other competitors could avoid having an off-week or two this fall, whether it was last year's winner Johnny Manziel, who had his worst game at LSU in mid-November or similar late-season struggles that hobbled Oregon's Marcus Mariota or Baylor's Bryce Petty. Boston College running back Andre Williams had shaky showings against USC and Clemson. NIU's Jordan Lynch was underwhelming in a blowout loss to Bowling Green. Alabama QB AJ McCarron was, again, terrific, but just not great enough. The SEC coaches didn't even vote McCarron as the top QB in their own league, instead opting for Manziel.
"This year has been a special year not only for me but for Florida State University," Winston said.
As sharp as Winston was on the field, he has dealt with turmoil off the field centered around an investigation of a sexual battery complaint against him from December 2012. Earlier this month, State attorney Willie Meggs concluded that "no charges will be filed" after an investigation of the case, explaining in a press conference that the "timing [of the case] has not been driven by Heisman demands or a football schedule."
On Friday and Saturday at Heisman media availability, the Alabama native adeptly handled questions, including a few that touched on the investigation or the magnitude of it.
"I knew I did nothing wrong," he said. "That's why I knew I could respect the process and I'd eventually be vindicated. It was more about me being silent for my family because I didn't want to put my family in that situation.
"I knew that I did nothing wrong and everything would be OK."
The young QB actually managed the weekend's media sessions much better than the adults in the FSU PR department did. When faced with any seemingly tough question, Winston was poised, polite and kept eye contact. He never looked flustered or put-off or agitated. You couldn't say the same for the Seminole SID standing behind a few feet behind him. (At a Friday afternoon session, a Noles SID person pulled Winston away from reporters after a rather innocuous question and the FSU contingent cut short the scheduled availaibility before being brought back to the media area about 20 minutes later.)
Winston called the past month his "humbling moment." He says he's learned he can't go out any more, and as his coach Jimbo Fisher has told him, "For you to be a man, the kid in you must die."
Now, things figure to become even more challenging for Winston. Manziel has been helpful providing wisdom, Winston said.
"We had a really good talk Thursday night at dinner," Manziel said. "I had to go through some controversy and some things, and to see him at such a young age just put his head down and focus on his teammates and where they're headed. I give him a lot of credit for that with all the scrutiny and everything he's been under."
Manziel shined again on the field for the Aggies, but had more than his share of off-field headaches in the offseason after winning the Heisman and becoming a huge college star.
"I wasn't prepared for it," Manziel admitted. "I don't know if you really can be."
Manziel's best advice: "Continue to be yourself, just be you and try not to let this thing change you."
Said Winston, "I can't let a single award affect me and my team."
The Nittany Lions want the Crimson Tide after dismantling the Wolverines

The Nittany Lions and Fighting Irish are storied programs but newbies as CFP contenders

Plus, people need to start paying attention to Matt Campbell and Iowa State
Barkley scored three touchdowns and made some big plays in Penn State's massive win

Projecting the many changes in the new AP Top 25 poll college football rankings after Week...

Keeping tabs on the biggest scores and highlights from Week 8 of the 2017 NCAA football se...