Alvarez, Haden expected to be on playoff selection committee
Dennis Dodd says USC AD Pat Haden and Wisconsin AD Barry Alvarez are expected to be on the playoff selection committee, joining West Virginia's Oliver Luck.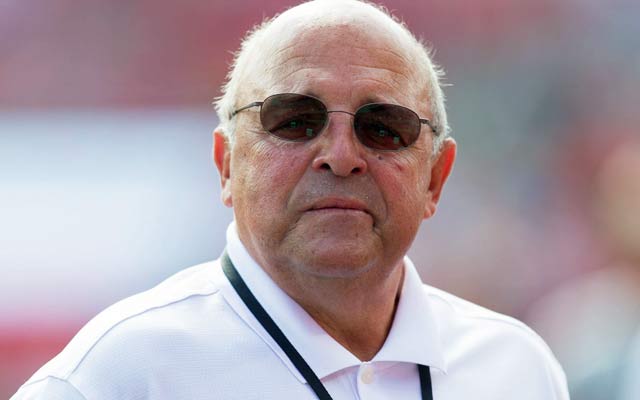 USC AD Pat Haden and Wisconsin counterpart Barry Alvarez are expected to be named members of the College Football Playoff selection committee, CBSSports.com has learned.
A source said Haden will be the Pac-12 representative and Alvarez will be the rep from the Big Ten. CBSSports.com's Jeremy Fowler reported Wednesday that West Virginia AD Oliver Luck is expected to be the Big 12 representative.
"Pat is the perfect representative for [the Pac-12]," the source said. "He's an icon of the Pac-12 – a scholar, a former athlete."
Alvarez told Madison.com in August that "strong signals" were sent to College Football Playoff/BCS executive director Bill Hancock that he'd be interested.
Hancock said last week he hoped to have the full roster of the committee announced by the end of the regular season. The committee will include 12-18 members. The composition of the committee remains sitting athletic directors, former coaches, former players, former administrators [including presidents] and one former journalist. No sitting commissioners will be included.
CBSSports.com reported on Sept. 18 the composition of the committee was nearing completion. Big 12 commissioner Bob Bowlsby told reporters last week that "four or five" of the conference's nominees had made it to the committee. At the time -- the BCS meetings in Chicago – Hancock said there was still some vetting to be done.
When reached for comment Thursday, Hancock reiterated "we're not finished yet." Haden did not respond to a request for comment.
Any reservations about the credibility of such a committee have to be silenced for now. Luck, Haden and Alvarez are among the more accomplished, respected and powerful ADs in the business. Haden is in his fourth year as the Trojans' AD having come from the private sector as an attorney. The former Rhodes Scholar quarterbacked the Trojans  and was a long-time TV college football analyst.
As Badgers' coach from 1990-2005, Alvarez turned Wisconsin into a Big Ten power. He handpicked Bret Bielema as his successor in 2006. Bielema left for Arkansas following the 2012 season after leading the Badgers to three consecutive Rose Bowls. 
As an imperfect person, Mayfield is the perfect candidate for a now-imperfect award

Add these to the list of things Mayfield has apologized for this year

The Bulldogs leaned on a strong running game to dispatch of the Wildcats on Saturday
NCAA football scoreboard, highlights and updates from the biggest Week 12 games

Miami got punched in the face but reacted like any undefeated team would

Another week, another win for Wisconsin