A&M chancellor: Kyle Field videoboard will be CFB's largest
If Texas's board is Godzillatron, maybe this is Mechagodzillatron?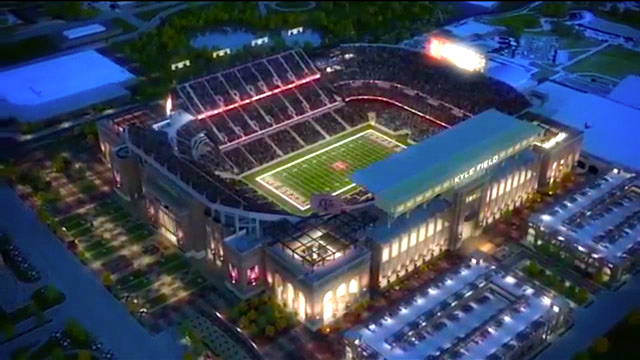 Well, they do say that everything is bigger in Texas.
Texas A&M chancellor John Sharp met with the media Tuesday to discuss his school's progress on its blockbuster renovation of Kyle Field, and via the San Antonio Express-News's Brent Zwerneman, dropped this little nugget:
Sharp said new Kyle Field video board on south end will be "largest in college athletics" (47x163 ft) & almost twice size of previous board.

— Brent Zwerneman (@BrentZwerneman) February 19, 2014
And yes, "largest in college athletics" does mean "larger than Texas's legendary 'Godzillatron' board." The Express-News's Mike Finger did the math:
That's 7,661 sq. feet. UT's Godzillatron is 7,437. Coincidence? RT @BrentZwerneman: A&M's new video board will be 47 by 163 feet.

— Mike Finger (@mikefinger) February 18, 2014
Coincidence? Oh, yes, of course, I'm sure no one in College Station even had any idea precisely how big Godzillatron was before they drew up the plans! No clue at all!
(No. It is quite unlikely this is coincidence.)
Memphis outscored Houston 42-21 in a wild second half win on the road

Scott leads the Spartans with 408 rushing yards

One of the finest restaurants in Columbia has a unique partnership with University of South...
While Mother Nature has wreaked havoc, some teams have been just plain bad so far this sea...

Bryce Love's video game season and early-season turnarounds lead our group

Trust the Process as Tom Fornelli leads you toward his best bets for Week 8 of the season