American announces 2015 divisional alignment
The American Athletic Conference has announced its divisional alignment for the 2015 season and beyond.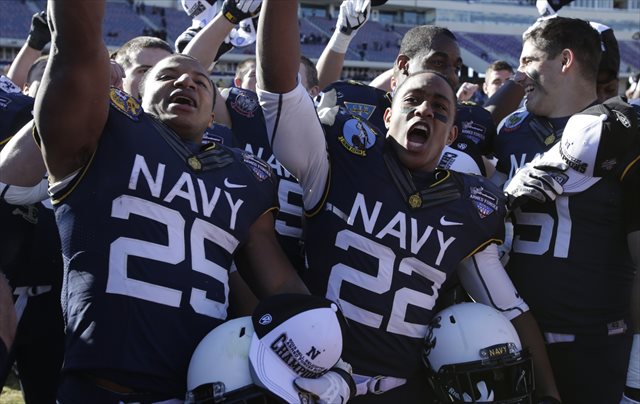 More college football: Jon Solomon | Dennis Dodd | Jeremy Fowler | Latest news
The American Athletic Conference was supposed to already be at 12 teams by now, back before the ACC came raiding and TCU and Boise State said thanks-but-no-thanks and the name the "Big East" meant something in college football as well as basketball. Remember the "Big East East" and "Big East West"? (Of course you do. #NeverForget.)
But better late than never: thanks to Navy 's addition in 2015, the league will finally play a season with the 12 teams required to split into divisions and hold its first conference championship game. After some deliberation, the AAC and commissioner Mike Aresco announced the league's 2015 divisional alignment Friday: Houston , Memphis , Navy, SMU , Tulane and Tulsa will play in the West, and UCF , Cincinnati , UConn , East Carolina , USF and Temple in the East.
Via the American website, a handy visual guide:
There will be no SEC-style permanent cross-division rivalries, with each team playing all five teams in its own division annually and the three other scheduling slots rotating among the six teams in the opposite division. Every team in the conference will play every other team in the conference home-and-away within a four-year span.
"The East-West format we have adopted gives each division a distinct identity, provides long-term competitive balance and protects traditional rivalries while allowing each school to travel across the conference's geographical footprint on a regular basis," Aresco said. 
The most notable development in the announcement is that Navy has been placed in the West -- despite lying geographically further east than any school in the conference other than Temple and UConn. But because of recruiting interests in Texas and surrounding states, that's the way Navy likes it.
"We preferred to be in the West and actually were very insistent that be the case," Naval Academy athletic director Chet Gladchuk said, per the Capital Gazette. "We are very grateful to the commissioner and member schools for accommodating our wishes ... We had no interest in being geographically parochial. We are a national program and playing in the West Division fits that identity."
Guice was ruled out for Saturday but convinced Ed Orgeron to let him play in a limited rol...

Greg Huegel suffered a knee injury during Wednesday's practice

The Wildcats and Utes open conference play on Friday night
Eichorst's firing on Thursday sets Riley's seat ablaze, even if a decision won't be made i...

Eichorst had been at Nebraska since 2012

Three straight titles makes it seem like 'Alabama and everybody else' in the SEC