Amid another bruising romp, Alabama embraces the long ball
Any honest account of Alabama's romp over Notre Dame begins where all of Alabama's championship triumphs have begun: Up front, in the trenches. But any telling that omits the emergence of Bama's big-play passing game is incomplete.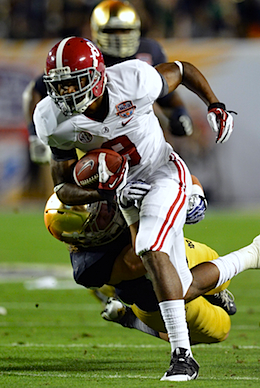 Amari Cooper's big night made him the most prolific freshman WR in Bama history. (US Presswire)
Any honest account of Alabama's merciless, 42-14 rout over Notre Dame in Monday night's BCS Championship Game begins where all of Alabama's championship triumphs have begun: Up front, in the trenches, with an overpowering offensive line that steamrolled the Fighting Irish for 265 yards rushing on nearly six per carry. If it's really honest, it probably ends there, too. On both sides of the ball, the Crimson Tide physically mauled an opponent that was built for just such slugfest. But in between the odes to vintage Bama brawn, any telling that omits the emergence of Alabama's big-play passing game -- and of freshman receiver Amari Cooper, in particular -- is incomplete.
Right from the beginning, the Tide took to the air, striking first on a 29-yard connection from AJ McCarron to Kevin Norwood on the second snap of the game. Three plays later, tailback Eddie Lacy was in the end zone to cap a five-play, 82-yard march, and the fuse was lit on one of the most bombs-away nights in school history.
Against a savvy, disciplined secondary that had allowed fewer big plays through the air than any other defense in the nation in the regular season, Bama receivers found huge swathes of open field, with McCarron's top three targets alone (Cooper, Norwood and Christion Jones) combining for 211 yards on just 11 receptions, or 19.2 per catch. Five of those grabs covered at least 25 yards. In their first 12 games, the Irish had allowed a grand total of 11.
It was that kind of night for Notre Dame's proud-but-overmatched back four, which ended an unexpected dream of a season with its worst game by every measure, by far. McCarron finished with four touchdown passes against a defense that had only allowed seven all year. His 34-yard strike to Cooper in the third quarter was the longest touchdown that Notre Dame had allowed. Only one opposing quarterback, Oklahoma's Landry Jones, passed for more yards against the Irish than McCarron's 264, and only because he put the ball in the air 52 times en route to just 13 points back on Oct. 27.
Since Navy averaged 9.6 yards per reception in the season opener, no other Notre Dame opponent had cracked eight; as a team, Alabama receivers averaged 13.2 despite a steady diet of short passes out of the backfield. With Notre Dame's front seven struggling to stop the run, suddenly one of the most reliable pass defenses anywhere looked more like the thin, overexposed group that everyone expected before the season than even Irish skeptics could have imagined.
No one benefitted from the downfield mismatches more than Cooper, whose banner night (six catches, 105 yards, two touchdowns) pushed him past Julio Jones as the most prolific freshman receiver in Alabama history in all three categories. It also solidified his status as one of the most lethal deep threats in college football: Cooper finished with 58 receptions for 999 yards and 11 touchdowns -- just one off the SEC lead -- and went over 100 yards in four of his last five games. His 45-yard game-winning touchdown against Georgia in the SEC Championship Game put him on the national map, along with a handful of freshman All-America teams. His big-play turn on the sport's biggest stage just made him a star.
The truly terrifying part: Between Cooper, Norwood, Jones and Kenny Bell, all of McCarron's top four receivers will be back in 2013, along with a handful of young targets (most notably DeAndrew White, victim of a midseason knee injury) who showed flashes of the same potential. In fact, aside from tight end Michael Williams, literally everyone who touched the ball for Alabama on a regular basis this season is scheduled to return in pursuit of a three-peat. McCarron, who will end his junior season as the most efficient passer in the nation, is as steady a hand in the pocket as Alabama has enjoyed in decades. But for a program that has forever defined itself between the tackles, the arsenal at his disposal is on the verge of breaking new barriers.
Olson has a lot of the tools offensive coordinators want in a quarterback

The Tigers have a wealth of talent at their biggest position

Pineiro received the award for stopping an attack the morning of Oct. 15, 2017
The first opening weekend lines for college football in 2018 have been posted

A year-end wrap-up of college football statistics you need to know from 2017

Stanford produces apps and Super Bowl participants