Among 2013 comebacks, Mizzou's trek to SEC title game tops all
This season has been about comebacks, but Missouri rising to national-title player may be even more improbable than SEC title game foe Auburn's rally.
COLUMBIA, Mo. -- If this is the Year of the Comeback, Evan Boehm is the grand marshal of the feel-good, resurrection parade snaking its way through college football this season.
Comeback? Man, Missouri's sophomore center has been there and back. Two years ago at this moment, Boehm was smitten. The five-star prospect had just de-committed from Missouri to take an official visit to Auburn. That visit included the 2011 Iron Bowl.
"I got to see the eagle fly, the Tiger Walk," Boehm said this week. "To the average fan, they need to check out the Iron Bowl. That's one of the coolest experiences for any college football fan."
Was the coolest until Mizzou joined the SEC and its massive traditions, a sliver of which had been revealed to him that day at Auburn.
The SEC eventually came to Boehm, instead of the other way around -- thanks to the conference realignment merry-go-round.
Mizzou is two hours from Boehm's Lee's Summit, Mo., home. His chosen school is suddenly one step away from an SEC championship. At least.
If there is anyone who can lend definition to what has happened lately here and around the country, it's Boehm.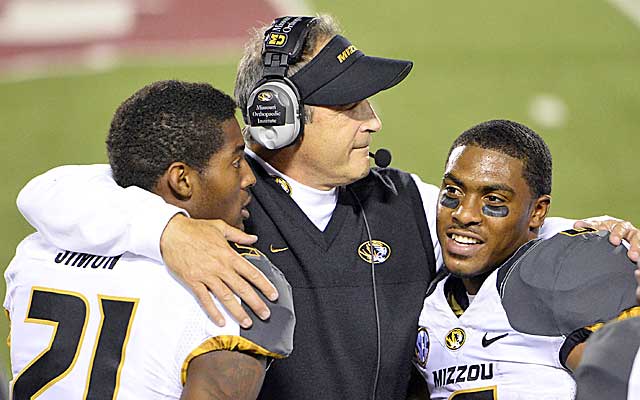 What would the odds have been, he was asked, if Missouri and Auburn -- schools which combined for two conference wins last season -- would be the toast of Atlanta this week.
"I don't think anybody would have believed it," Boehm said. "I know we believed in it."
So did every one of the sport's heart-warming participants in their own Year of the Comeback, Turnaround or whatever you want to call it:
• Minnesota won eight games for the first time in a decade, five while Jerry Kill stepped away to deal with the effects of seizures. For that accomplishment, his entire staff is up for the FWAA Courage Award.
• Ed Orgeron got USC going, if not the full-time gig. The one-time Ole Miss flameout helped the Trojans regain their dignity with a career-best year (for him, 6-2).
• Central Florida came back from a bowl ban (won back on appeal) stemming from heinous NCAA violations. The Knights are one win away from their first-ever BCS bowl.
• Waco used to be the place the Big 12 wiped its feet. In 2013, Baylor posted its best season ever, with more feel-good stories than the Oprah Winfrey Network rerun of your choice.
• Boston College's Andre Williams, an unknown at the start of 2012, threatened Barry Sanders' single-season rushing record.
• Speaking of unknowns: A walk-on at Kansas State, Ryan Mueller, led the Big 12 in sacks ... Michigan State is on the cusp of playing in its first Rose Bowl in 26 years ... And for at least a while, the Pac-12 positioned itself as perhaps the nation's best conference.
All that while Auburn and Missouri positioned themselves as the most unlikely championship-game pairing since Roy Kramer had the initial idea. They were a combined 2-14 in the SEC last season. And this season, Missouri was picked sixth in the East, Auburn fifth in the West.
For Gus Malzahn's next trick, he's going to turn water into wine. Six come-from-behind wins have included three games won in the last 30 seconds. Meanwhile, Mizzou has forced The South to recognize there is football life above the 35th parallel.
Who could have imagined this in 2012 when Mizzou's Tigers were going 5-7 and Auburn's Tigers were limping to a 3-9 finish?
"That [December 2012] was a real difficult month for me," said Mizzou coach Gary Pinkel. "I love Christmas music. I'll tell you one thing, we weren't going to a bowl. I didn't listen to any Christmas music. I didn't want to feel good."
And so Missouri's coach didn't, until possibly last week when it achieved what seems to be the impossible. In its second SEC season, the Tigers got to a game it took Arkansas four years to reach. It took South Carolina 18.
That's the vision from 1992, the last time the SEC expanded.
This season, Mizzou proved it was more than just a warm body in the latest round of realignment. The northernmost outpost of the league that is huddled below the Mason-Dixon Line had to account for the Show-Mes.
Now the Tigers are showing 'em.
"It might be too hard to analyze," Pinkel said of his Team Turnaround. "The Packers right now are struggling. It happens to everybody. You don't want it to happen to you."
The reason for the downturn was simple. Injuries. Quarterback James Franklin was nicked last season. Pinkel said five of his top 10 offensive linemen were out in 2012.
With a bowl on the line in that season's finale at Texas A&M, the Tigers gave up 59 points to Johnny Manziel, who was on his way to the Heisman. With the SEC East on the line Saturday, Mizzou physically beat down Manziel and the Aggies to win 28-21.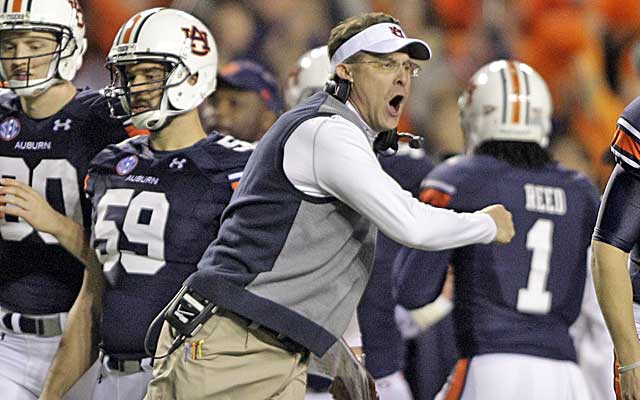 How's that for a turnaround?
This season, Mizzou's only loss is in double overtime (to No. 8 South Carolina), once again without Franklin. While the senior nursed a shoulder injury, redshirt freshman Maty Mauk became the best reliever in this state since Bruce Sutter.
And Auburn is the one stumping for the BCS berth over Ohio State? "Probably [because] all those teams have won national championships before. We haven't," Pinkel said. "I'm not very good at beating the drum."
Yeah, there's that. Mizzou's last national championship was in 1965. Indoor track.
But it's OK now for Missouri to participate in a bit of a long-standing SEC tradition. That would be shooting off one's mouth. Auburn AD Jay Jacobs said it would be a "disservice" and "un-American" if his team didn't get a championship shot. Sure, he mentioned Missouri in there somewhere too, perhaps as a courtesy.
But it's not like these Mizzou Tigers to preen.
Why can't they make a bid for a national championship spot if they beat Auburn?
Certainly not ranking. BCS No. 5 Mizzou would have beaten the team (No. 4 Auburn) that beat the No. 1 team (Alabama).
How many other programs would have two top-10 wins?
Certainly not No. 2 Ohio State. That's who Mizzou would have to jump. And it's totally on if the Buckeyes lose to Michigan State in the Big Ten title game.
The Auburn-Missouri winner then would most likely go to Pasadena. For the eighth straight year the SEC would be playing for a national championship. For the first time ever, it could be Mizzou.
But the what-ifs don't interest the mid-Mo Tigers.
"I am less interested in savoring the moment than I am seizing the opportunity that I have," offensive lineman Max Copeland said.
"We don't want to be looked as the little guys anymore," defensive end Shane Ray said.
The 61-year old Pinkel is well-versed in perspective -- or lack of it.
"Me on the hot seat?" he chided. "Are you kidding me?"
Well, that was feeling in these parts before the season. But feelings don't always deal in reality. History has proven now that last season was anomaly. Before 2012, Pinkel's team had been to seven consecutive bowls.
"I wanted to be respected," he said. "People expect us to win here. If you have a losing season, you lose respect."
Until 18 months ago, Pinkel has kept a dog-earred set of news clippings reminding him how Washington fans had turned on his mentor Don James in 1988. That year the Huskies didn't go bowling at 6-5. Three years later they shared a national championship.
"To think they'd say all those things about him and all he accomplished. ..." Pinkel's voice trailed off, perhaps reflecting on 13 years he spent at Washington under James.
There is something to be said for staying the course. In his 13th season at Missouri, Pinkel weathered a rocky beginning (9-14 his first two seasons). On Saturday, he tied Don Faurot's school record for wins (101). Mizzou is now in its third conference championship game in seven years.
That's as many as Alabama over the same span.
Mizzou AD Mike Alden admitted there was a 30-month SEC orientation for his program to figure out "what hotels you were staying at, how long the plane flights were, how you were recruiting."
Mizzou is ahead of schedule. Along with Gus Malzahn, Missouri's Mr. Hot Seat this week became a Maxwell Award finalist for national coach of the year.
Auburn has more tradition. It's also more bi-polar. In that same 13-year span, Auburn has gone undefeated twice and won a national championship but blew through two coaches before Malzahn.
Sustained success has eluded it as much as drama has been attracted to it. Whether it was the administration going behind Tom Tuberville's back to interview Bobby Petrino on a tarmac or Gene Chizik becoming the first coach to go winless in a conference two years after winning a national championship, consistency has been hard to pin down.
Who knows, then, if Malzahn will stay?
None of that matters to Boehm. The Missouri native who was once enthralled by Auburn and the Iron Bowl, was asked if it's OK for his Tigers to demand a share of the spotlight this week.
"Not yet," he said. "We're still trying to earn our respect. A lot of people are still counting us out."
The Ducks and Broncos tee it up at 3:30 p.m. ET

SportsLine's top college football experts pick a 5-team parlay that pays 20/1

Nobis won a national title as a linebacker at Texas in 1963
The reaction to this commitment was priceless

Davis abruptly resigned from the Crimson Tide in April 2016

#TrustTheProcess as Tom Fornelli offers his best bets for the first week of bowl action