A&M's Cedric Ogbuehi, the chubby kid Texas didn't want, now a star LT
Texas A&M left tackle Cedric Ogbuehi -- a potential top-five pick in the 2015 NFL draft -- wanted to go to Texas but didn't get an offer. Aggies reap the benefits of that snub.
• 3 min read
A ninth-grade teacher at Allen High School asked the class to write down goals.
Cedric Ogbuehi wrote down two.
1) Drive a nice car.
2) Play football for the Texas Longhorns.
He's not even halfway there. His used Chrysler 300 doesn't exactly sparkle. And Johnny Manziel wasn't the only Texas A&M star Mack Brown didn't want.
Ogbuehi was "fat and sloppy" back in 9th grade, his brother C.J. jokes, far from the 6-foot-6, 310-pound behemoth left tackle and potential top-five NFL Draft pick that leads the Aggies into Williams-Brice Stadium on Thursday night against South Carolina.
That's what made Texas' snub so personal -- by his senior year, he had shed what he calls a "chubby" physique and started to look like he does now.
Texas had watched Ogbuehi work out as a senior and, as Ogbuehi remembers it, chose center Dominic Espinosa and guard Trey Hopkins instead. Ogbuehi said he shrugged off Texas' decision. His coach didn't remember it that way.
"The sense I got was, 'I'll show them,'" Allen High School coach Tom Westerberg said.
Now that goal went fulfilled.
Ogbuehi considers himself the premier left tackle in the game, and, yes, he's eyeing the top overall pick in May's draft.
You don't have to take his word for it. CBS Sports draft analyst Rob Rang considers Ogbuehi the best senior in college football and makes a compelling case as a top-five pick in the draft.
Ogbuehi probably could have been a first-rounder in 2014 but eschewed the draft, in part because A&M decided to help him with his insurance premiums for loss of value/disability.
This will be his first time playing left tackle. He was a backup defensive lineman turned right tackle in high school. He played guard and right tackle at A&M but now slides into Jake Matthews' role.
He sounds perfect for the NFL off the field. He goes out on occasion but isn't trying to channel former teammate Johnny Manziel.
"I'm really kind of boring -- football, work out, back to the house, play some video games," said Ogbuehi, 22.
Adds older brother C.J.: "He acts like Tim Duncan. Totally calm and stoic."
Ogbuehi got that from his father, Chris, who runs a nursing assistant school with Ogbuehi's mother. Ogbuehi's parents are from Nigeria, which Cedric last visited in high school, though he's too young to be a diehard fan of former Chiefs tailback Christian "Nigerian Nightmare" Okoye.
The family never gets a rise out of Chris, and Cedric mirrors that approach. This helped him make a calculated decision to stay in school when skipping out for the draft seemed logical -- especially for a guy who claims he runs the 40 in the 4.7s, topping all offensive linemen times at last year's combine. 
He saw the value of taking over for Matthews, the No. 6 overall pick to the Falcons. Aggies offensive coordinator says the two are quite similar -- both show up every day and quietly work hard.
If Ogbuehi has his way, he'll one-up Matthews in about eight months.
"Just with my preparation, how I work, I think I'm the best [left tackle in college]," Ogbuehi said. "I don't think about [personal goals] much. We're focused on the ultimate goal, which is having a good team."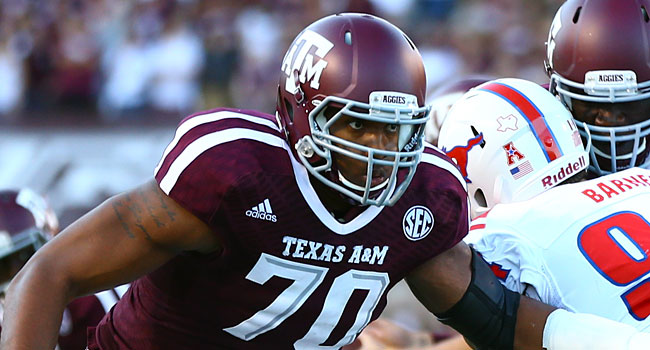 Texas A&M isn't as far off as some think, Ogbuehi says, praising new quarterback Kenny Hill's confidence and the raw athleticism as young receivers such as Ricky Seals-Jones and Speedy Noil.
The defense, one of the SEC's worst a year ago, has recruited well at defensive line the last two years.
"I'm seeing a lot of young talent, guys ready to become the new stars," said Ogbuehi on moving on from Manziel and Mike Evans. "Seeing a really good team."
C.J. isn't about to discredit his little bro's statements. He's always been impressed with Ogbuehi's conviction.
When many family members wanted Ogbuehi to attend Oklahoma after the Texas snub, he chose A&M. The reason: This is what I'm doing.
When agents blew up his cell phone and uncles and cousins persuaded to enter the draft, Ogbuehi said no thanks.
"I told [family] Ced always makes the right decision," C.J. said. "He always wins everywhere he goes. Just let Cedric use his gut."
The gut is a six-pack now.
The Nittany Lions came up huge when they needed to against Iowa

It just might have been the best game of the season so far

Projecting the new AP Top 25 poll college football rankings after Week 4
Stay with us all day Saturday for updates and highlights from Week 4 of the 2017 season

Georgia dismantles Mississippi State between the hedges Saturday night

The Horned Frogs looked a lot like their old selves on Saturday afternoon in Stillwater