An inside look at Baylor's offensive light show
Art Briles, Bryce Petty and more explain the Baylor Bears' offensive prowess that led to a Big 12 title and playoff championship dreams.
• 7 min read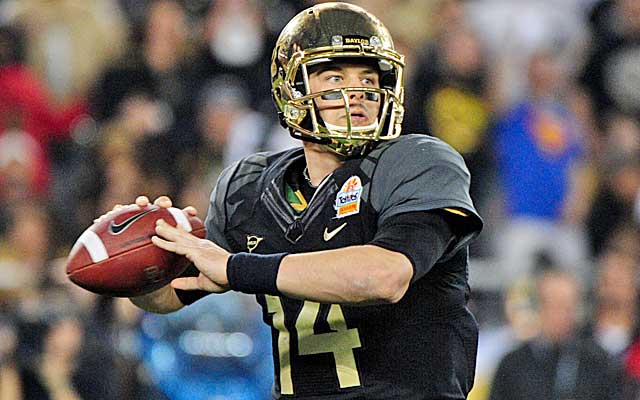 More on Baylor: Offseason buzz | McLane Stadium will host pregame 'sail-gating'
WACO, Texas -- Don't worry about that gray, uneasy Waco sky from last week. It will be neon green and yellow in six months or so.
The Baylor offensive light show is upping wattage.
Among power conferences, Baylor has had the best offense in back-to-back-to-back years with three different quarterbacks. There's a Big 12 title to show for it.
Baylor revels in this success on an off day in March. Spending a few hours with Art Briles, quarterback Bryce Petty and receiver Antwan Goodley inside Baylor's facility provides insight into why confidence permeates meeting rooms and offices.
When it comes to confidence, Briles doesn't as much exude it as he treats it like a scoreboard -- he's going for 70 every time.
"All I know is we're holding the belt and everybody wants it," Briles said.
Everybody's watching
Briles removes his dirty white hat to absorb the office view -- almost-finished McLane Stadium about a mile to his left, practice fields below, a team nutrition bar under construction to his right.
These things make Briles feel at home. But he smells imposters beyond the practice field.
Apparently it's the rest of college football. It wants Baylor's secrets. A reporter in his office doesn't see it, but he does.
"There are people peering over our fence," Briles said. "That's the way it's always been. Our stuff has always been unique. It's different. It's ours."
That 'stuff' is an offense that posted 618.2 yards per game -- 53 yards more than anyone else in Football Bowl Subdivision last year and just short of 1989 Houston's national record 624.9.
Briles' career mushroomed from rural Texas high school ball to anchoring the no-huddle 4x100-yard relay in part because Briles makes slight changes every year to thwart onlookers.
Players say nearly every offensive meeting includes at least one new formation or tweak to a play. Without divulging trade secrets, Briles and offensive coordinator Philip Montgomery, who's been with Briles since the 1990s and is known for seeing three plays ahead in the booth, say a priority this spring is getting creative with Baylor's athletic diversity at receiver -- from 6-foot-3 Jay Lee to 5-foot-10, 220-pound Antwan Goodley.
But playcalling can wait. Now's the time for schemes and dreams. Briles makes sure every offseason workout is treated like the first.
"Defenses are catching up. They are making adjustments," Briles said. "Leading the nation three years in a row with three different quarterbacks -- that sparks interest. But what's the past is last."
Keeping Art in the fish bowl
Entering a head coach's office the size of a two-bedroom downtown flat, one of the first things you see is Briles' colorful fish tank -- blues, pinks, yellows.
Briles says the tank is an ice-breaker for recruits, but the symbolism is obvious ...
Baylor is trying to keep its big fish.
Texas might have wanted to snag him. Maybe the Redskins, too. Those are two reasons why Briles makes a reported $4.2 million salary at a school without the tradition of at least three Big 12 schools. He's coveted and skilled.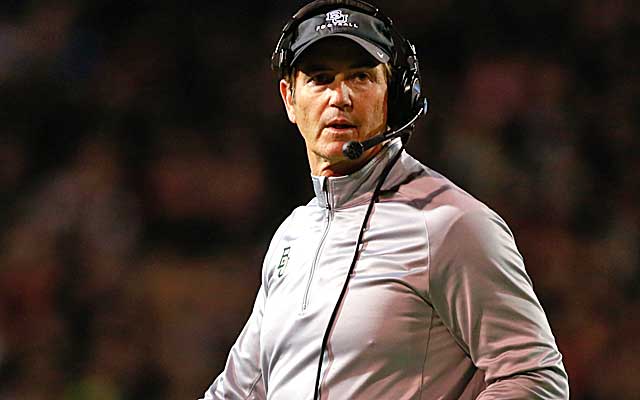 Briles isn't touching the Texas stuff. He has "a lot of unfinished business" at Baylor and that's where his focus was all along, he says.
A Big 12 source says Texas wanted to interview Briles after the Fiesta Bowl loss to UCF. That interview never happened.
Camouflaged by Texas' resources and cachet is the fact the Big 12 is an equal opportunity conference -- any undefeated school will make the College Football Playoff most years.
Baylor's roster might be better than Charlie Strong's at Texas.
"I didn't want to build a house and let someone else live in it," said Briles, who revived a once-miserable program. "We've got talent in the fold. Let them loose and let em' play."
#WIDERECEIVERU
Briles would put success stories Kendall Wright, Josh Gordon, Terrance Williams, Tevin Reese and Antwan Goodley against anybody to claim the best wideout factory in college football. Miami, Oklahoma State and others might disagree, but it's hard to argue Baylor's four-year stretch.
Briles doesn't need established players to punctuate his argument. He points to 2014 recruits K.D. Cannon, Davion Hall, Chris Platt and Ishmael Zamora.
"Pull out your sheet, let's name four (receivers) better," Briles said. "There's not. I can say that with full confidence. I've been around football a long time."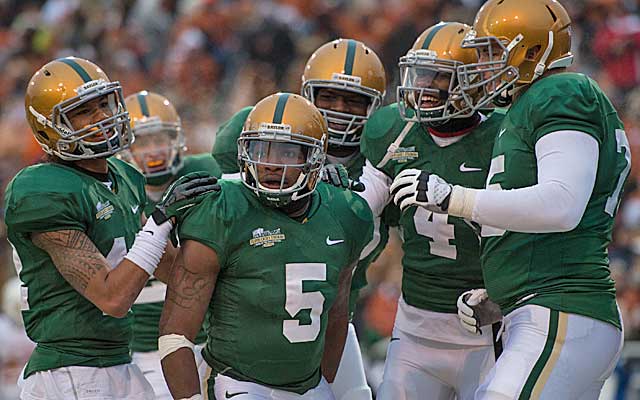 Cannon is the country's fourth-ranked receiver according to 247Sports.com, followed by Hall as the fifth-ranked 'athlete,' Zamora the 49th receiver and Platt the 83rd receiver.
Winning has vaulted Baylor into a recruiting universe where more stars are available.
But what lifted Baylor's receiver rep were under-recruited players capitalizing on opportunity. Of the five standouts listed earlier, none were widely considered national top-50 receivers out of high school, while Gordon and Wright were fringe top-75 guys.
"We were two- and three-star guys, so we had a lot to prove," Goodley said. "We went out there and proved it."
Duck commander
With a debut of three interceptions and 4,200 yards, Bryce Petty might want to thank his duck-hunting for accuracy.
A teenage Bryce and his dad, Todd, hunted for ducks in Midlothian, Texas. Since Bryce rarely missed, dad was "always trying to take my ducks," Bryce said.
Bryce is grateful he didn't have the stereotypical pushy Texas football dad. He believes he's having success because he could toss a football with dad without a scolding.
Dad was a tight end. Petty looks like one. He's every bit of 6-3, 230.
"During the offseason we throw once a week together -- that's a lot of fun for me," said Petty, wearing glasses and a blue Nike beanie during an interview. "
Time with dad is the easy part. Waiting two years behind RG3 and Nick Florence was hard.
Though confident, he wasn't sure how he'd do in his first year as starter. Other than that trip at the goal line against Oklahoma State -- "that's been a fun joke (around here)," said Petty, smiling -- he smashed all expectations.
"I needed a chance to prove it, not only to you guys but to myself," Petty said.
Shut down the Heisman talk
Goodley said the players "want to get it for (Petty)." A Baylor business professor asked Petty about it the other day.
Heisman talk surrounds Petty, who quickly shoots it down.
Petty returns to school as arguably the country's top senior quarterback, but his response to any Heisman buzz is this: Did you see my last five games?
Petty calls that late-season stretch -- 115-of-201 passing for 1,543 yards, 11 touchdowns, two interceptions and two losses -- good but not great.
Good won't win Baylor championships.
Or Fiesta Bowls.
"What makes you a great quarterback isn't the individual awards you get, it's about wins," Petty said.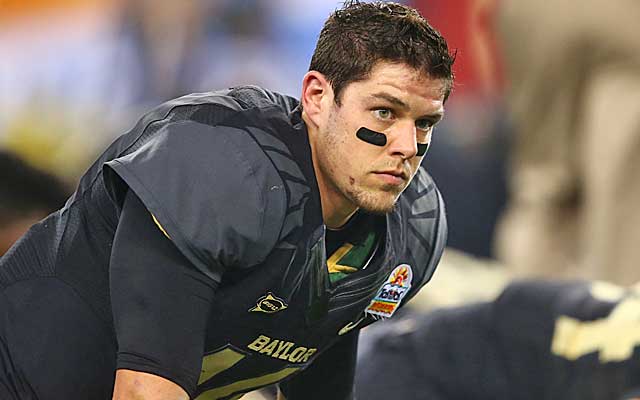 The lowest point was the 52-42 loss to UCF in the Fiesta Bowl, with Baylor as a 17-point favorite.
He didn't feel NFL-ready after that one, validating his decision two months earlier to stay in school.
"Unfortunately the last game is what people remember," Petty said.
Daddy's working on his hands
Goodley's one of the country's most intriguing receivers because he offsets his height with a tank-like frame.
Creating separation from receivers trying to jam is rarely a problem for Goodley, who finished the year with 71 catches for 1,339 yards and 13 scores.
But he dropped a few passes last season that stuck with him. He wants to be more reliable.
So the last time he was home in Midland, Texas, he caught a few easy passes from his son, Antwan III.
"We're working on his hands," Goodley said.
All about rhythm
Whenever Baylor makes a first down on the first three plays of a series, Briles says, it scores a touchdown 64.8 percent of the time.
This isn't Briles' attempt at advanced metrics, but a stat that accentuates Baylor's culture.
Give us 10 and we'll take 80. The team's momentum dictates how aggressive it will be.
This plan worked tremendously for 11 games last year. It didn't work in the 49-17 loss to Oklahoma State in November that stunted Baylor's national title hopes. In the first half, the Bears started four drives with first downs and finished with three points.
The way Briles sees it, not even the Showtime Lakers put up 120 a night.
"You change because the clothes are dirty -- ours haven't gotten dirty," Briles said. "We're still going to do what we're doing, do it as well or better as anybody in the United States, no question...We're not concerned with ever breaking rhythm."
Baylor has won 29 games the last three years with a revolving door of quarterbacks and a knack for thriving with unheralded players.
Now they get a quarterback for a second year and get into the door with top recruits. Will that access taint Baylor's organic grassroots dynamic or pump a growing beast with creatine?
You probably know which answer Briles will select.
"To a 17-year-old kid, we're as hot as any team in America," Briles said.
A concert is a nice way to break up preseason camp

Mills was arguably Georgia Tech's most important player coming into the season

Hugh Freeze's phone records reportedly show another troubling pattern for Ole Miss
They aren't necessarily great teams, but they're teams I'm really interested in following this...

The Irish will wear them on Nov. 18 against Navy

The fourth-year coach of the Nittany Lions led the program to the 2016 Big Ten Championshi...