Andersen, Gordon say no injury issue in Wisconsin RB's second half
Though saying there was a 'scenario' at halftime, both Gary Andersen and Melvin Gordon himself say the Badger tailback wasn't injured in the second half.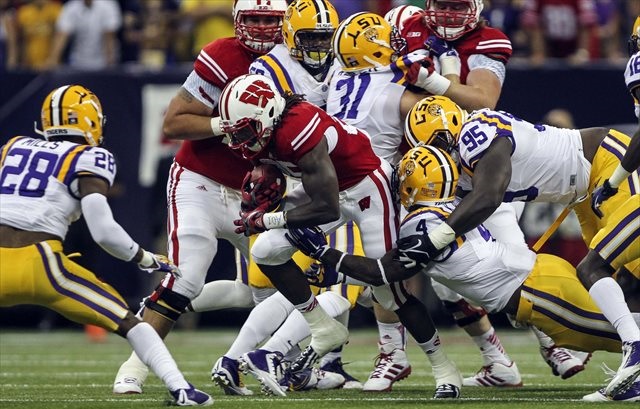 On Wisconsin's first snap of the second half, Melvin Gordon rushed 63 yards to set up a Badger touchdown, giving him a staggering 139 yards on only 13 carries. 
And after that, the potential All-American carried the ball only three times on Wisconsin's five remaining possessions, as Wisconsin saw a 24-7 lead evaporate into a 28-24 defeat at the hands of LSU . So why did the Badgers' biggest offensive weapon all but disappear from the game after his rampant first-half success?
Neither Gary Andersen nor Gordon himself provided a concrete answer in their postgame comments to the press, with Andersen reportedly even saying that he himself didn't know why Gordon slipped out of the gameplan. But both agreed on one thing: It wasn't due to an injury.
"There was a little bit of a scenario with Melvin being ready to go at halftime, but he came out, hit the long run and seemed OK," Andersen said, saying he believed Gordon to be "fine" after that. 
But Gordon seemed to brush aside any suggestion anything had gone awry at the half:
Gordon: "I was good. Little sore. Obviously you get hit, big hits in the game. That's what type of game it is. But I'm A-Okay, man."

— Zach Heilprin (@ZachHeilprin) August 31, 2014
It's worth pointing out that even if Andersen and Gordon are playing coy about an injury of some nature -- why would Andersen just make up something entirely about a halftime "scenario" that made Gordon seem not "OK"? -- it wasn't serious enough to keep Gordon off the field entirely; the senior made one memorably crushing block in pass protection down the stretch, for instance.
The truth, as always, likely seems somewhere in that squishy gray area that satisfies no one -- that Gordon had something minor at halftime that affected Andersen and staff's usage plans, that the circumstances of the half and panic-inducing nature of LSU's comeback affected it further, and that if Andersen had to do it over again, yes, he'd find a way to get Gordon the ball more often (and maybe keep it out of the hands of Tanner McEvoy, who finished the game averaging barely 2 yards on his 24 attempts).
"Stuff* happens" isn't an explanation that's going to make anyone happy in the wake of such a galling defeat. But it's true: Stuff* happens. 
*You know what I mean.
The 21-year-old quarterback was expected to start for the Cougars in 2018

The Fighting Irish will be without some playmakers in 2018

It may have been impossible for Sumlin to meet the expectations set for him in College Sta...
Some players are more easily replaced than others

The 2017 season is in the books, and several big-name stars are jumping early to the NFL

Love was second in the nation in rushing with 2,118 yards in 2017