Another Bear boy: Bill Battle leads Bama after death of Mal Moore
Bill Battle, a former Bear Bryant player, founded Collegiate Licensing Company. Now he's Alabama's AD after the death of Mal Moore.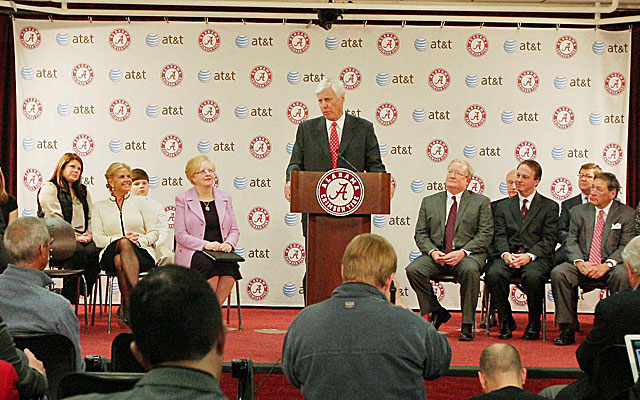 Bear Bryant was Bill Battle's first client.
The iconic coach who had drilled a young Battle in the fine art of gassers five-plus decades ago listened to a pitch from his former player 30-plus years ago.
The conversation went something like this: Let us manage the rights to your name, coach, your image.
Thus was born Collegiate Licensing Company in 1981. After Bryant, Alabama became CLC's first university client. What was once the property of homey on-campus bookstores became a national and worldwide revolution in college souvenir sales. Any of those trinkets, jerseys, balls, shot glasses, pennants you buy from Ol' State U. They're likely to require a CLC license. That streamlined a process into a win-win for the manufacturer to wholesaler to consumer. That CLC license became the gold standard.
You can see how a basically little-regulated industry back then could explode into a multi-billion-dollar industry. Scores of folks have been prosecuted -- counterfeiters, basically, -- after trying to sell souvenirs without one of those licenses. Today, CLC is a defendant in the Ed O'Bannon lawsuit that threatens to change the collegiate model. Battle, who formed the company, is now at the center of Alabama.
The 72-year old former player on Bryant's first national championship team was approved to become Alabama's next AD shortly before Mal Moore passed away in March. Battle's job at this point, basically, is not to screw things up in Tuscaloosa. Alabama, arguably, has never been better in its chief industry -- football. To that point Battle said the preparation of Nick Saban's staff is "all that on steroids" compared to Bryant's staff.
A third consecutive national championship this season would be unprecedented. Because of that, an Alabama degree may have never been worth more than it is now. Battle is slightly younger than the man he replaced but has the desirable qualifications. He was a member of Bryant's first full recruiting class. As a coach, he guided Tennessee to three seasons of at least 10 wins (and top-10 finishes) in the 1970s. As a businessman, he is the Bear Bryant of the collegiate merchandise industry.
CLC was sold to IMG in 2007 for a reported $100 million. Battle served as president and CEO until 2002. You might have figured that Battle doesn't need the money from his current position. But Alabama needs the stability in these heady times.
In this interview Battle talks about a variety of subjects -- Alabama, CLC, Bear Bryant and himself. This is how the No. 1 football program looks from the top down right now.
CBSSports.com: What would Bear Bryant think of all this right now -- three out of four and two in a row?
Battle: "He'd be very pleased with the results. Obviously, that's a very rare thing to happen at any age. I think he'd really be proud of how the coaches work, of how the coaches prepare. He was one who never left a stone unturned in preparation. Coach Saban and his staff are all that on steroids.
"To win it all you've got to really be good, but you've also got to have the ball bounce your way. Two years ago, the game against LSU, Alabama wasn't behind on a single play until the last play of the game. Everybody thought they were out of out it. Alabama then stuck to their knitting and their business and other teams that were above them faltered.
"This last year, the same thing. Texas A&M [loss], you think they're out of it. They continue to do what they're supposed to do. You really do have to have good luck along the way. You can look at any team that has won the national championship. The way coach Saban thinks about this is not about one game or one season, what he calls 'the process.' It's a pretty good way to live life.
"Human nature [is], as he explains this as well as anybody, adversity is always easier to deal with than prosperity. When times are good you get fat and lazy and sorry and think you're better than you are and you forget how you got where you got. You think you can mail it in. At the highest levels of competition you can't do that."
CBSSports.com: Do current Alabama players realize that if everything goes bad for them now or in the future, they've still got Nick Saban on their resume?
Battle: "If you've been around here much, what's happening on this campus is really amazing. The opportunity that these athletes have for an apprenticeship in football ... is great but what they get in facilities in their lifestyle, places for them to train to learn about nourishment, nutrition, health and beauty ... But on the academic side, the opportunities to learn about life skills. There's as much preparation on that side as there is on the football side."
CBSSports.com: Has an Alabama degree become more valuable because of the football success?
Battle: "Absolutely, I think so."
CBSSports.com: Was Coach Bryant better the further away you got from your playing days?
Battle: "It doesn't mean he was a better coach. What I meant was the experience was a lot more enjoyable the further you got away. We knew early on that our class was the first full class he recruited when he came from Texas A&M. The former staff had about half the players signed. We knew we were part of something special after a couple of years there. It wasn't all that much fun a lot of the time. What you had to do to prepare to win was tough and hard and wasn't easy. It got to be a whole lot more fun the further you got away."
CBSSports.com: What are your thoughts on the O'Bannon case? (Battle's old company, CLC, is being sued along with the NCAA and game manufacturer Electronic Arts in what could be a landmark case over the NCAA's use of players' names, images and likenesses.)
Battle: "I believe that the NCAA is right in what they have been doing. I don't think what has happened has been exploitive [to players]. My personal thought is the case is without merit. Here's the bottom line: When you look at big picture, intercollegiate athletics in America is bigger than anyplace in the world. It's really pretty special what goes on in this country. -- 20 sports, 300-400 student-athletes and you got excellent facilities, good coaching, good academics, a good experience. It's a great apprenticeship.
"If you're a business and you say, 'OK, let's pay these guys. We've got 20 sports, maybe two are profitable and 18 aren't.' If you say you've got to pay these guys who are making this money, you can't pay them without paying everybody else.
"To fund a semi-pro team or a professional team would very likely cut out all the non-revenue sports. We need to be really careful making sure we understand where we are and what we have and how we can lose a lot of what we have. I don't know how the case is going to come out. I hope the right answer prevails. I hope it's in favor of how intercollegiate athletics operates now.
"The CLC of this case is the messenger. I'm still not sure why we're named. I know why, but I don't see why there's merit. We basically did what universities and NCAA and the licensee wanted to do to help facilitate it and put it together. When you look at the lawsuits that are filed every day, I'm never surprised."
The Bulldogs jumped up to No. 7 after an emphatic win over Mississippi State

The Penn State running back made a case that he's a legit Heisman Trophy contender

Georgia jumped four spots to No. 8, while Florida State dropped 14 spots to No. 25
Louisville and TCU get big-time bumps after conference rivals fell on Saturday

The Nittany Lions came up huge when they needed to against Iowa

It just might have been the best game of the season so far